Birthday etiquette view in Congress
Young party leaders join social media campaign to observe Narendra Modi's birthday as 'National Unemployment Day'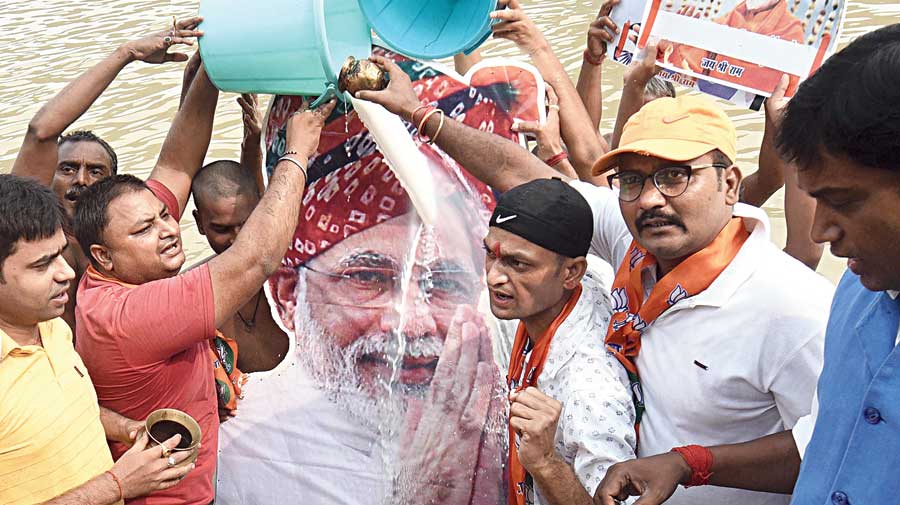 ---
---
The Congress on Thursday joined a social media campaign to observe Prime Minister Narendra Modi's birthday as "National Unemployment Day", overruling reservations from within about getting involved in something that could set a distasteful precedent and deciding to sacrifice sobriety at the alter of an unprecedented crisis.
While the Youth Congress has been running a "Rozgar Do" (Give us Employment) campaign for the past few months, the parent party decided to also support the "National Unemployment Day" movement that social media activists ran on the birthday of Modi, who turned 70 on Thursday.
The Congress had been divided over joining the campaign, with many senior leaders feeling that this would trigger an unseemly trend of spoiling birthdays of leaders and other important occasions while the younger crop averring that it would be prudent to align with what appeared to them to be youths' sentiments and also pointing to the need to counter the BJP's brand of politics.
"There was no need to link this with the Prime Minister's birthday even as we highlight the problem of unemployment with full force. Making a point doesn't mean we cry down other's pleasures. Linking the protests with the Prime Minister's birthday is getting personal. Trust the BJP to hit back hard; we can't match them in low-level tactics. If this was happening on social media, we could have quietly enjoyed it," said a senior Congress leader who described the decision as "juvenile".
But this was indisputably the minority opinion, held mostly by conservative leaders who care for etiquette in public life. Younger leaders think differently and they passionately supported the idea of joining the "National Unemployment Day" campaign, arguing that the BJP had demolished every established norm of sobriety in politics and pointing out that the general public expected a "befitting reply".
Siblings Rahul Gandhi and Priyanka Gandhi Vadra lent their support to the Twitter campaign that trended globally through the day.
By evening there had been over 4 million tweets using the hashtag "NationalUnemploymentDay" and two other similar hashtags. Days earlier, there had been a youth-fuelled campaign to "dislike" social media content featuring the Prime Minister, with people decrying the lack of jobs and the government's decision to go ahead with the engineering and medical entrance exams amid the pandemic. Several Congress leaders, including Rahul, had supported the campaign.
The "National Unemployment Day" movement flummoxed the BJP's famed social media army as well, leaving party supporters to begin campaigns with hashtags such as "HappyBirthdayNarendraModi".
While the Youth Congress had decided to observe Modi's birthday as "Unemployment Day" much earlier, former party chief Rahul lent his support on Wednesday morning by tweeting: "Massive unemployment has forced the youth to call 'National Unemployment Day'. Employment is dignity. For how long will the government deny it?"
However, Rahul avoided explicitly linking it to Modi's birthday. He also took care to wish the Prime Minister, who replied by thanking him.
Priyanka, the Uttar Pradesh Congress chief, also avoided directly linking Modi to the campaign, saying that youths wanted jobs and timely examinations, results and appointment. Senior leaders such as Ahmed Patel, Anand Sharma, Ashok Gehlot, Amarinder Singh and Bhupesh Baghel tweeted wishing Modi on his birthday.
But many other leaders posted video messages justifying why this particular date had been chosen to mark "National Unemployment Day".
Congress spokesperson Supriya Shrinate said: "We want to gift Modiji (a pair of) spectacles on his birthday so that he can see the jobless. There is no hope for the youth because the economy is in ruin. Be it big business, MSMEs, self-employed or daily-wage earners… everybody is in trouble. Worse, this government doesn't understand the crisis. Modiji, before you cut your birthday cake, think of the parents who went hungry to educate their children, think of those educated youths who don't have jobs."Another spokesperson, Gourav Vallabh, said: "Why 'Unemployment Day' on PM's birthday? Because the youths, farmers, businesses and the middle class had in 2014 supported Modiji, who had promised to create two crore jobs every year. Modiji gave them unemployment in return. Two crore salaried people have lost their jobs in the last five months. Students fill up forms but exam dates are not announced. Students clear exams but results are not declared. Those selected don't get appointment letters. Crores of youths are waiting for jobs."
Congress spokesperson Ragini Nayak said: "Modiji turns 70 today. He has completely mismanaged the economy. Around 90,000 youths have committed suicide in the last one year — because of joblessness, because of loss of livelihood, because of closure of industries. They don't know how to run the economy and now want to shift all the blame on corona. The truth is that the unemployment rate had peaked much before corona struck. The government was hiding data on employment."
Another spokesperson, Pawan Khera, said: "Modiji, this is happening because you betrayed the trust reposed in you by the nation. The youth know you are very touchy about your image on social media and hence this trend on unemployment to open your eyes."