Happy birthday, Narendrabhai
'Ordinary mortals like humble me are given only one year of birth, thou art born twice for you are the Lord's special bhakt'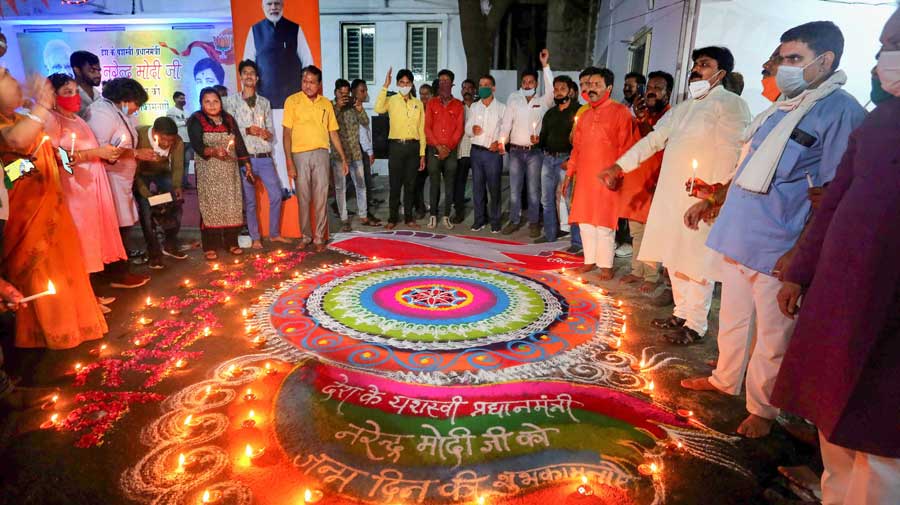 ---
---
Happy b'day, Narendrabhai, on your 70th (or is it 71st?) anniversary. I ask because ordinary mortals like humble me are given only one year of birth, thou art born twice for you are the Lord's special bhakt. He has sent you twice over to this benighted nation to make Bharat Congress-mukt. You have opened the way to making of India a Hindu Rashtra.
We celebrate your birthday/s because we were unable to celebrate the swayamvara at which you broke the bow of godless sickularism. And then, true to the vow you had made to yourself, you rejected the mundane pleasures of a "grihasti" to prepare your soul for the greater tasks to which you had been called. Has there been a nobler exile than yours since the Maryada Purushottam exiled himself to the pitiless jungle for 14 years? He, of course, went with his new bride. You, Courageous One, went all on your own. Future generations will reverence you with cries of, "Jai, Shri Modi".
We could not attend your convocations either, neither at Delhi University nor at Gujarat University, not because convocations were not held but because only those who had attended classes, taken tutorials and passed exams were included in academic processions (wearing funny hats on their heads).
Ordinary once-born human beings do so to adorn themselves with a piece of paper that certifies to their being "educated". What need had you of such meaningless certificates when you had procured your credentials meditating in the deep caves of the High Himalaya?
Others with such qualifications become Godmen. You had a larger destiny as a Leader of Men.
So, you placed your saintliness at the feet of Balasaheb Deoras and Guruji Golwalkar and Dr. Hedgewar and the noble Veer Savarkar himself. They raised you and placed your feet on their heads — for they had been sent only to talk; you had been sent to act. And, so, your administration transported the bodies of 60 Hindu martyrs from Godhra to Ahmedabad, thus setting ablaze a thousand descendants of those who had violated Bharat Mata for a thousand years. And the gods in the heavens sent Raghava (to whose holy name these wretched anti-Hindi Madrasis needlessly attach an 'n') to rescue you from the shaitans who were trying to taint you.
The Lord rewards those whom He loves — that is ancient Truth (on par with our ancients' discovery of plastic surgery, aerodynamics, gravity, and their revelation to you alone, Great One, of radar not being able to penetrate cloud cover). It is you, Narendrabhai, who have brought all this to our knowledge, which had been hidden from our eyes by these wretched Nehruvians (chhihchhi, even to mention that name soils our tongue despite your having spent thousands of crore getting the Chinese to build the Statue of Unity under your "Make in India" programme to wipe the very thought of the Evil "Pandit" from our collective memory).
You invited the US President, Do-naaldbhai Trumpbhai, to come to our praachin dharti although the WHO had notified a global health emergency three weeks before Trump kicked off his 2020 election campaign in Ahmedabad. The two of you are nothing if not the Embodiment of Courage. So, you lined up a lakh of people, standing cheek by jowl, to welcome Trumpji, and another 125,000 to greet him in the world's largest cricket stadium, packed like sardines into the stands, even if that meant Ahmedabad would become for months thereafter the worst Corona-hit city of its size in India.
We have now gone forward arm in arm with Do-naaldbhai, to become, respectively, the world's Number One and the world's Number Two in Covid infections.
There is no limit to bhaichara. We have shown America that whatever the risks to our people and whatever the sacrifices of life we have to make, we Bharatis would say "Howdy" to anyone who said "Howdy, Modi"!
We have also thus shown the Chinese that Trumpji and Modiji are like two mattar in a pod. So, the Chinawallahs dare not take an inch of our territory. They crept like thieves into Ladakh under cover of darkness even though we had paid them every naya paisa for their contribution to the only statue
in the world that dwarfs the Statue of Liberty. That was under your clarion call, "Make in India". We showed them that meant "Contract in India". Yet, it did not deter them from sneaking into our territory without informing our Narendrabhai. Which is why he told the nation on nation-wide TV that the Chinese had not entered our territory at all and were nowhere to be seen on our pavitra bhoomi. How could they dare come in without the permission of our Leader? Provided we bang all our pots and pans and light all our diyas when the Leader orders us to, we can always drive away both the Chinese and the Covid which they exported globally from the very city, Wuhan, where Xiji and Modiji walked hand in hand.
Our economy is on a downward slide because we are being tested by Heaven to see whether we are fit to be His bhakts. We should tighten our belts, hold in our breath and meditate when we want to eat to show that under Modiji's Raj, we can all walk home hundreds, even thousands of kilometres, to show our enemies our true grit.
Our true enemies are not only those on our borders. They are among us. You can tell by the clothes they wear, Pakistanis all, hiding, as Amitbhai said before he went to hospital, like "termites" in the nation's woodwork. That is why Kapil Mishraji threatened the police that if they did not act on his instructions, they would be dealt with after Trump left as they deserved to be. And Anurag Thakurji, noble son of a noble father, coined his evocative Gandhian slogan, "Golimarosaalon ko". It made the Mahatma proud!
Instead of celebrating our dear Leader's birthday, these anti-national deshdrohis are crying like babies over Mishraji and Thankurji not being taken into custody. Why should such patriots, such ardent nationalists be interrogated? That is why, instead of them, hundreds (thousands?) of ghuspathias are being rounded up.
After all the missed opportunities of the past, thank you, Narendrabhai, for giving us such a generous choice of birthdays to celebrate. Bharat Mata ki Jai! Vande Maataram! Jai Siya Ram!
A former Congress MP, Mani Shankar Aiyar says he is called Manibhai Shankarbhai by his friends and acquaintances in Gujarat