Twinkle Khanna's fun reels on being a bookworm, introvert and wannabe singer
The actress is the author of three books — The Legend of Lakshmi Prasad, Pyjamas are Forgiving and Mrs Funnybones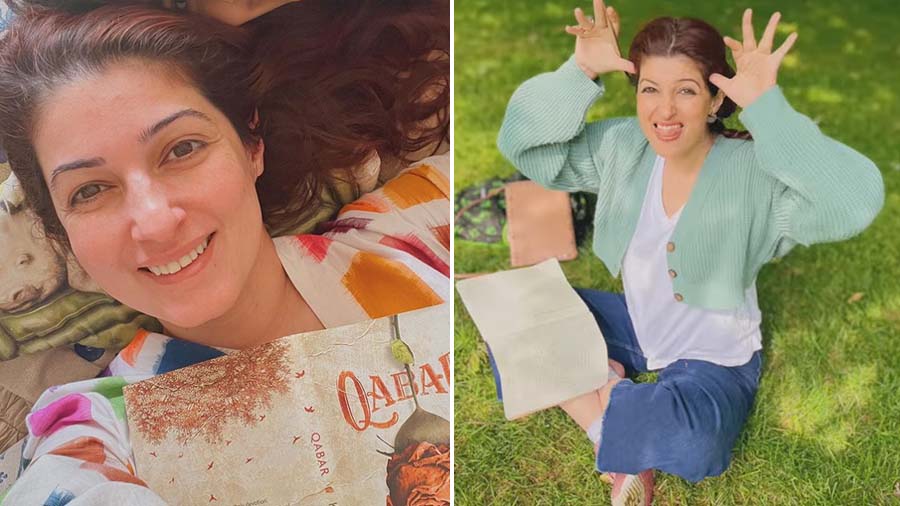 Twinkle Khanna
@twinklerkhanna/Instagram
---
Calcutta
|
Published 12.09.22, 12:22 PM
|
---
Actress-turned-author Twinkle Khanna's sharp wit shines not only in her writing, it's there in her Instagram reels too. The elder daughter of Rajesh Khanna and Dimple Kapadia is a voracious reader who can settle down with  a good book anytime, anywhere. Here are some reels by Twinkle that show her funny side and flair for comic acting.  
Only a bookworm knows how a block of unread books on their shelf can make them panicky. Twinkle getting haunted by her unread books is spot on.
From Chetan Bhagat to Khaled Hosseini, no author is safe from their books getting copied and sold at cheaper prices on the streets of India. Twinkle also found the pirated versions of her books selling on the streets, but she took it as an achievement — "the real acid test of being a bonafide bestseller".
Avid readers often compare books with their screen adaptations and tend to point out mistakes. This reel Twinkle shared on Instagram is relatable for all such nerds.
The Mela actress has her priorities straight with her coffee and three friends. But she also has a message for those who ask introverts to socialise more. "If you are an introvert then you are constantly asked why you are not more sociable. Does anyone tell the extroverts to sit at home and spend quality time with themselves?" she writes, bringing a smile on the face of all the introverts out there.
It's every mother's dream-come-true to stop cleaning up after everybody and Twinkle – a mom of two — mirrors that in this reel.
What starts off as a possible song cover of Adele's Easy on Me turns into the funniest video of Twinkle struggling to exercise while singing 'go easy on me' to her cycling equipment.