TSP AWARDS - The Telegraph True Spirit Puja awards salute the festive spirit of the winners
Read more below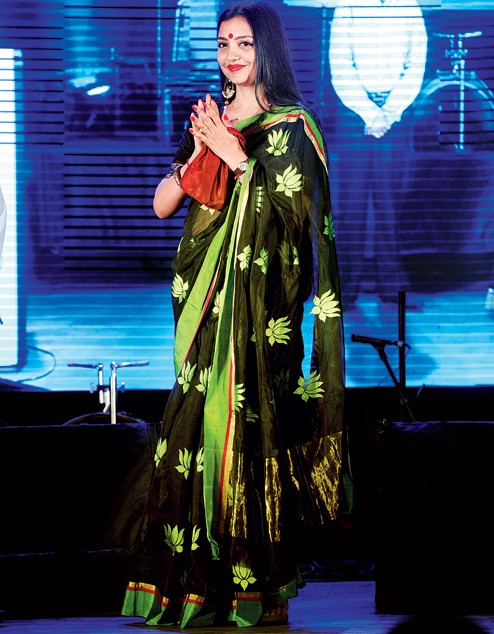 ---
---
The 12th Cesc The Telegraph True Spirit Puja Awards celebrated the winners of 2014 with music (by Sanjay Mondal and Group, and Parambrata Chattopadhyay) and munch (think piping hot samosa and chai!) at Vidya Mandir on Saturday. Snapshots from the fun evening...
"I really appreciate the way The Telegraph True Spirit Puja is organised. This is the first time I've been associated with it and I congratulate all of you who have participated. Aschhe bochhor abar hobe," said June.
Dum Dum Park Bharat Chakra Club won the True Spirit Model Puja Award. A cheque for Rs 50,000 was handed over to the club by actress June. "It's a dream-come-true moment for us. We are overjoyed! Abir (Chatterjee, actor) had come to our pandal as a judge. When he walked into our pandal, he said: 'It is like my own puja!' He comes to our puja every year and has also played the dhaak," said Pratik Choudhury, the club secretary.
Behala Buroshibtala Janakalyan Sangha, adjudged a 5 Star Puja, also took home a cheque for Rs 20,000. "We feel the ambience of our pandal and the message it conveyed worked in our favour," said Rabin Mondal, the club secretary.
Chetla Agrani Club won the 5 Star Puja award along with the second prize in CESC Digital Popular Choice. "We will celebrate this double win with a Bijoya Sammilani programme soon," said treasurer Suvendu Samanta. The 5 Star Puja prize fetched the club a cheque for Rs 20,000.
Sammilita Lalabagan Sarbojanin members received the 5 Star Puja award and
Rs 20,000 as prize money from June and Amitava Shome, general manager, customer relations, CESC Ltd.
Calcutta-based Sanjay Mondal and Group set the mood for the evening with their unique brand of music. Led by Mondal, a team of young children from Tangra floored a packed Vidya Mandir, reciting Bengali rhymes and making music with discarded items like water bottles, paint jars and utensils. "Once more, once more!" requested the audience. "I have been following their work for a long time, even before they went to India's Got Talent," said actor Parambrata Chattopadhyay, before taking the stage for his gig.
We all know him as an actor and a filmmaker, that he can also sing like a pro came as a surprise to many. "I am really scared after watching Sanjay Mondal and Group's performance. I am not at all prepared and I am not a singer! Please do clap along so that I feel encouraged," said Parambrata, before bowling the crowd over with one song after another. Ekhon anek raat, Ranjana ami aar ashbona, Ke tumi nandini were followed by the Tagore song Tomar khola hawa on audience request, concluding with Telephone, which got the loudest cheers.
Interact Club of Chowringhee High School won the first prize in CESC Digital Popular Choice. "Our theme was 'healthy heart, healthy you'. People have voted for us because we had the true spirit in us! We were dedicated and people liked our simplicity," said Perminder Dasani, the club superviser.
Hossenpur Kishore Sangha finished third in CESC Digital Popular Choice. "Our theme was environmental hazards. This award would motivate our puja committee to do better next year," said club secretary Uttam Dhara.
Mukti Gupta (right), managing director of Mukti Group, and Akanksha Pandey, area sales manager, Dabur, gave away some of the awards.
Santoshpur Lake Pally, the winner of True Spirit Model Puja 2013, bagged the Havells Safe Puja award. P.S. Aich, senior general manager, Havells, handed over the prize. "We have immense respect for True Spirit Puja," said Rana Dasgupta, the club general secretary.
The four winners of 4 STAR Puja
Abasar Sarbojanin Durgotsab Committee collects the 4 Star Puja award and a prize money of Rs 15,000 from Parambrata.
Ballygunge Cultural Association with the 4 Star Puja award. "Besides the futuristic theme, we stressed on fire safety steps and medical amenities," said Saptarshi Basu, the club's organising secretary.
"We had expected to do well this time. With this award, we have got the encouragement to do better next year," said Ajoy Majumdar, club secretary of the 4 Star Puja winner State Bank Park Sarbojanin Durgotsav.
The young members of Tala Barowari Durgotsab with the 4 Star Puja award. "We had last won in 2009. Other Durga Puja awards stress on idols and pandals but True Spirit Puja gives importance to safety measures and social commitment, so the happiness is of a different kind,"said the general secretary of the club, Avishek Bhattacharyya.
3 Star Pujas
Jodhpur Park Sharodia Utsab Committee
Kashi Bose Lane Durga Puja
Alapani –– Salkia, Howrah
20 Pally Sarbojanin
Dum Dum Park Yubak Brinda
Rajdanga Naba Uday Sangha
Rashmoni Bagan Kishor Sangha
Tangra Gholpara Sarbojanin
25 Pally Sarbojanin
Alipore Sarbojanin
2 Star Pujas
Tekiapara Sarbojanin — Manicktala
Kumartuli Park Sarbojanin
Ahiritola Sarbojanin
Patuli Sarbojanin
Baghajatin Place Sarbojanin
Shikdar Bagan
Behala Notun Dal
Barisha Tarun Tirtha
Ramesh Dutta Street Sarbojanin
Hindusthan Park Sarbojanin
Text: Ratnalekha Mazumdar
Pictures: Pabitra Das