The HookUp Plan just dropped its third season and it lives up to its rollercoaster fun ride status!
Watch the Netflix series for the laughs, the humour is understated and subtle, the kind that keeps you chuckling in bursts long after an episode is over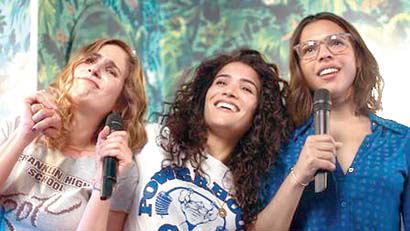 Josephine Drai, Sabrina Ouazani and Zita Hanrot in The Hookup Plan.
The Telegraph picture
---
Published 11.01.22, 12:19 AM
|
---
There is very little in the Netflix series The Hookup Plan (Plan Coeur) that hasn't been explored before in the romantic comedy category of film/show making. However, there is a spice of reality that hits the right nerves when it is en francais! The French television show spanning three seasons, streaming on Netflix, about three inseparable friends Elsa Payette (Zita Hanrot), Charlotte Ben Smires (Sabrina Ouazani) and Emilie Chestnut (Josephine Drai), comes with an extra dose of reality that makes for a refreshing watch. In season one of the show, Elsa is soon turning 30 and still mourning the demise of a toxic relationship with Maxime (Guillaume Labbe), her ex-boyfriend from two years ago. Her two best friends decide that the only way to pull Elsa out of her romantic rut is a night of torrid sex easily available at a certain cost –– literally. Enter a very handsome escort Julio 'Jules' Saldenha (Marc Ruchmann) who is paid to play the part of a great first date for Elsa, unbeknownst to her.
Over the three seasons, we see the friends through four years of ups and downs in life. Navigating the woke world of social media and making efforts to be inclusive and allies, the women go through failed dates, unexpected romances, fiery career choices, broken weddings and teary reconciliation. The third season just dropped on Netflix and as much as we loved the evolving journey of these three girlfriends, we'd be happy if there wasn't a reboot of the show for the immense closure we got on the last episode! Tying in the effects of lockdown on these Parisians, the third season suddenly takes a more sombre turn with 'adult' problems like an unexpected pregnancy, infertility and deadly diseases showing up unannounced. However, the show doesn't lose out on its flavour –– the one of authenticity and the ability to take life in its stride. Elsa might be the protagonist of the show, the unintentionally hilarious 'little girl' of the group who needs constant supervision, it is however Charlotte or Cha who steals the limelight with her journey. Her strength and resilience to take life by its collar and take it for a fun ride is a lesson on survival. She can walk into a thrift store, try on the clothes standing at the aisle itself and then noisily criticise how nothing is worth buying and walk out. She can also launch a company with a fantastic business idea and sheer hard work while knowing nothing about business management or a degree from a fancy school. If Cha puts her mind to it, it will get done. Even if it's the coupling of her always-sad single best friend with an unexpected gigolo.
The show turns feminism on its head, showing people that acceptance is easier than denouncing something based on societal understanding. The women don't judge (if they can help it) and their frankness regarding everything sex is a refreshing change from the 'hush-nudge-poke' reaction we have learnt to imbibe from supposedly forward-driving shows a la Sex and The City! It really isn't a big deal if you slept with your brother's best friend –– what matters is how you feel about it the next morning. It also doesn't matter if you don't have a job, as long as you have friends to tide you over because they only see the best in you. There is a scene in the third season when Emilie and Charlotte give lessons to the alpha male Maxime on what it means to be a feminist. "Do all women want kids?" They ask him and he replies tentatively with a questionable 'yes' only to be slapped on the arm with a stick! 'No, they don't, the women scream.' This scene especially makes a mark with each woman choosing or rejecting a different kind of motherhood in the series.
Watch The Hookup Plan for the laughs. The humour is understated and subtle, the kind that keeps you chuckling in bursts, long after an episode is over. At 22-odd minutes an episode, with a total of 20 episodes over three seasons, the speed isn't too overwhelming without a moment of boredom either. The city, the fashion, the food and careless abandon so signature Paris, keep you glued till the end. The emotional surprises are so random and unexpected that you will find yourself ROFL-ing as a notoriously handsome escort from Paris walks all over your heart! Be warned!