Unpaused, built around a world that's come to a pause
A deeply affecting and thought-provoking anthology of the times we are living in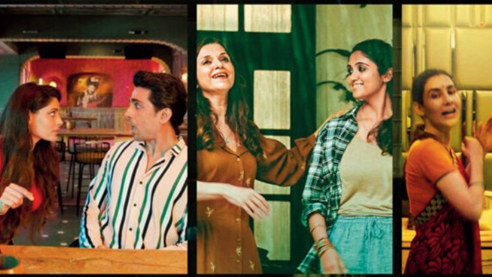 With as many as six directors helming five shorts (the first one, titled Glitch, is directed by Raj & DK), Unpaused, that plays out over 113 minutes, is tonally uneven, but that actually works to its advantage.
Sourced by The Telegraph
---
Published 18.12.20, 10:21 PM
|
---
Historically, crisis has been fertile ground for creativity. And what's been a bigger crisis in recent times than the virus that the world has been collectively battling for many months now? In a year where life has come to a pause arrives Unpaused, an anthology of five shorts, each of which is either a symptom of or a reaction — and in most cases, both — to a watershed moment in the history of time, which, without doubt, will be documented in a variety of ways for years to come.
Currently streaming on Amazon Prime Video, Unpaused brings together some of the most woke names in the business, both in front of and behind the camera, to craft tales of hope in the middle of hopelessness, giving us deeply affecting and thought-provoking accounts of how the pandemic has physically distanced us, but has, in fact, bridged emotional schisms and made the world aware, in more ways than one, how human interactions form the core of the lives we lead.
With as many as six directors helming five shorts (the first one, titled Glitch, is directed by Raj & DK), Unpaused, that plays out over 113 minutes, is tonally uneven, but that actually works to its advantage. The Covid-19 crisis may be global, but our ways to cope with it, and the lessons that have come with it, have understandably been individual. The anthology simply reflects that.
At least three of the shorts — The Apartment (directed by Nikkhil Advani), Rat-a-Tat (helmed by Tannishtha Chatterjee) and Chand Mubarak (directed by Nitya Mehra) — touch upon new beginnings, looking at life through an altered prism, reconnecting with humanity and casting a long, deep look outside the cocooned, comfortable existence we all have grown accustomed to.
The Apartment succinctly touches upon the loneliness of the high rises that we live in — made even more palpable by lack of human touch this year — and is effectively performed by Richa Chadha and Ishwak Singh. For someone who has been on a mental rollercoaster (more downs than ups) in the last few months, brought on by reasons more than the pandemic, it was 20 minutes I resonated with the most. Rat-a-Tat, in contrast, is heartwarming in its idea of two women (Lillete Dubey and Rinku Rajguru) connecting over quirky circumstances, and in the bargain, shrinking the age gap between them, but the writing unfortunately doesn't hit the sweet spot, even if the performances do.
It's Chand Mubarak — buoyed by a superlative Ratna Pathak Shah — that stays on with you, touching upon the gradually developing camaraderie between an uptight senior citizen (played by Shah) and an ever-smiling autorickshaw driver (Shardul Bharadwaj). She's someone who's chosen not to have a family, he's a migrant who's been separated from his family, and, though on opposite sides of the religious and socio-economic divide, the two gingerly strike up an equation. Before long, she's taken off her mask and started going on rickshaw rides to take in the fresh air by night, the two connecting as much on life and loss as the sweet Phantom cigarettes that are so much a part of childhood nostalgia for most of us.
Director Nitya Mehra — the showrunner of the Amazon Prime Video hit Made in Heaven — narrates a story that isn't novel, but it warms one's heart and shows that confinement need not always be physical.
The quirkiest story in the mix belongs to Raj & DK, the men behind The Family Man, who fashion a dystopian tale where the world, many, many years later, is still grappling with the virus. It's Covid-30 now, and the human population has been divided into "hypos", who never leave their homes, and "warriors", who are constantly on the frontlines and are still tirelessly working to eradicate the virus. Ahan (Gulshan Devaiah) is a paranoid hypo, constantly spraying himself with every kind of sanitiser available, whose 'virtual date' with a warrior Ayesha (Saiyami Kher) threatens to disrupt his promise of never stepping out of his house. But does love know any boundaries, and how long can a Siri-like voice on his phone act as a substitute for a living, breathing person? Gulshan, as expected, infuses the part with both oddity and relatability, with the other winner in Glitch being Pankaj Kumar's camerawork dominated by pop colours.
But the story that hits home the hardest is the one that reflects the collective shame that we as a country are guilty of. Vishaanu (directed by Paatal Lok maker Avinash Arun Dhaware) is a bittersweet look at the migrant crisis, exemplified through the eyes of a couple (played by Abhishek Banerjee and Geetika Vidya Ohlyan), who are struggling to get back to their village during the lockdown, but still manage to find moments of happiness in these trying times. Vishaanu is a scathing look at privilege, and what it means to be a have-not even when one is pushed into the realm of the halves. The final moments of the short — the family walking the streets of the big city at night, their meagre belongings perched on their heads and hanging from their shoulders — is an image that lingers.
The beauty of an anthology is its diversity, with something packed in for everyone. Unpaused will make you reflect and resonate, smile and sob. A lot like what 2020 has done to all of us.