Masterchef finale
It's finale day on MasterChef Australia! t2 lists all that we have loved in Season 8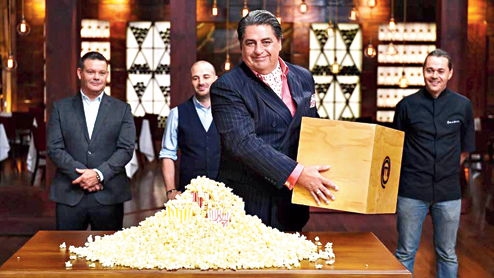 ---
---
Three months and 79 episodes later, the grand finale of MasterChef Australia plays out tonight (STAR World at 9pm). Before we know who among Elena-Matt-Harry will take home the coveted title, t2 revisits all that we have loved in Season 8 of the competitive cookery format...
The contestants: Watch a couple of MasterChef Australia episodes on the trot and the contestants become like family. It's been the same for seven seasons now, but this year has been a little more special, simply for the diversity of the contestant mix. The best thing is that all of them come with their backstories — like Brett who took a break from being a pilot to pursue his food dream, or Adam, an adventure company owner whose passion for cooking made him give it all up for a while. This season has also seen a brother-sister duo — Jimmy and Theresa — as contestants, with Theresa coming in with an interesting nugget... she's a former soap star who has appeared on shows like Supernatural and Home and Away.
WOW NIGELLA! Like other seasons, Season 8 has also been about big names in the culinary world walking into the MasterChef kitchen to tutor, mentor and judge the contestants. Marco Pierre White made his customary appearance and made it oh-so-special once more. So did Heston Blumenthal with his weeklong pop-kitchen format — the venues ranged from the Melbourne Star Giant Wheel to the underground parking lot at Melbourne University. Our pick of the season? Kitchen goddess Nigella Lawson stayed put for an entire week, starring as guest judge… and boy, did she make it fun! From waking up the contestants at the 'MasterChef House' for a midnight snack to flirting the Nigella way — "I like a man in a flower T-shirt," she told blushing contestant Matt Sinclair in an episode — Nigella was one of the top draws of the season.
The challenges: Each episode came with a different task, but a few remain our favourites. The reinvention test involving apricot chicken was one, as well as the theatre involved in recreating pastry chef Anna Polyviou's dessert "Mess". Our pick? The Brighton Beach challenge in which the contestants whipped up savoury ice creams like bacon, mustard and prawn!
Chalo America: The middle of the season saw the MasterChef bandwagon roll into the US — giving us a series of very watchable episodes. We especially loved the Food Truck Challenge in which the contestants whipped up gourmet-like food to sell out of a truck, and the Degustation Challenge with celebrity chef Curtis Stone. For that one week, MasterChef Australia almost doubled as a travel show, taking us from the Santa Monica bay area to Inglewood Estate in Napa Valley.
The learnings: Besides enriching our food vocab — 'granita' to 'bisque', 'sous-vide' to 'quenelle' — Season 8 tutored us on some kitchen do and don't too… remember how Harry and Brett lost a challenge because they had left a poop vein in their deliciously cooked prawn? Or when Mimi landed in the elimination round when she mistook ricotta for goat's cheese? And thanks to contestant Matt Sinclair, who whipped up a Duck Risotto in the auditions, it's no longer the 'death dish' on MasterChef Australia... boom, boom shake the room!
Priyanka Roy
What's been your fave moment from Season 8? Tell t2@abp.in