Karnasubarner Guptodhon trailer: Abir Chatterjee is back as Sonada this Durga Puja
The film directed by Dhrubo Banerjee, also starring Arjun Chakrabarty and Ishaa Saha, is releasing on September 30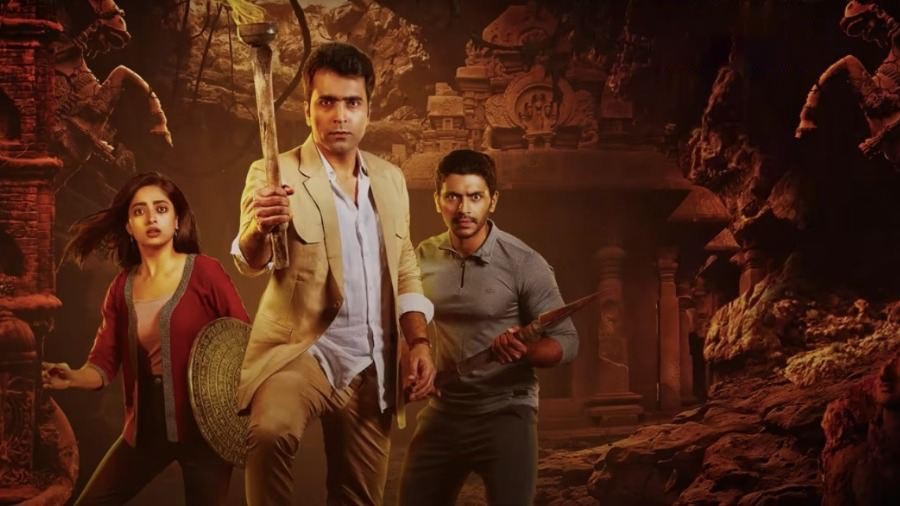 A poster of Karnasubarner Guptodhon
---
Calcutta
|
Published 12.09.22, 05:19 PM
|
---
Sonada is back. After a gap of three years, director Dhrubo Banerjee is returning with the third installment in his immensely popular Sonada franchise — Tollywood's very own Indiana Jones.
On yet another adventure that will unravel forgotten chapters of Bengal's history, Sonada's destination this time is Karnasubarna. He will be joined by Abir and Jhinuk in his quest for hidden treasures. Karnasubarner Guptodhon is releasing this Puja, on September 30. The trailer of the film has already been viewed nearly 2.5 lakh times. The trio of Sonada (Abir Chatterjee), Abir (Arjun Chakrabarty) and Jhinuk (Ishaa Saha) stormed the box office with two films — Guptodhoner Sondhane and Durgeshgorer Guptodhan. The third film will also have Barun Chanda, Sourav Das and Kinjal Nanda in key roles. 
The trailer promises an action-packed thriller. Subarna Sen, aka Sonada, is a historian by profession who often gets embroiled in quests for lost treasures that uncover hitherto unknown aspects of Bengal's long history. In tune with this theme, Sonada visits Karnasubarna, the capital of Bengal's best known monarch, King Shashanka. Sonada has to battle it out with the menacing Bhujanga Hajra (Sourav Das) as he sets out on his mission to locate Shashanka's riches. 
Abir Chatterjee has played two of Bengal's most favourite sleuths — Feluda and Byomkesh, with his latest Byomkesh film releasing just last month. However, in the trailer of Karnasubarner Guptodhon, he retains his charm as Sonada, effortlessly getting into the skin of the character. He has skilfully created an identity for Sonada, distinct from Feluda and Byomkesh. Arjun is his usual humorous self as Abir and Ishaa is boisterous as Jhinuk as well. It is Sourav Das who steals the show with his ferocity as the baddie. 
Like the previous two films, the screenplay for Karnasubarner Guptodhon has been co-written by Dhrubo Banerjee and Sougata Basu. The music composed by Bickram Ghosh carries the signature mark of the franchise. If the trailer is any indication, one can expect the ethereal beauty of Jangalmahal to be brought alive on screen by cinematographer Soumik Haldar.