What better platform than Dance India Dance to make my TV debut on: Kareena Kapoor
The 10th edition of Dance India Dance (DID) promises to be the biggest ever with 120 cameras, 360° stage and Kareena Kapoor Khan in the judge's seat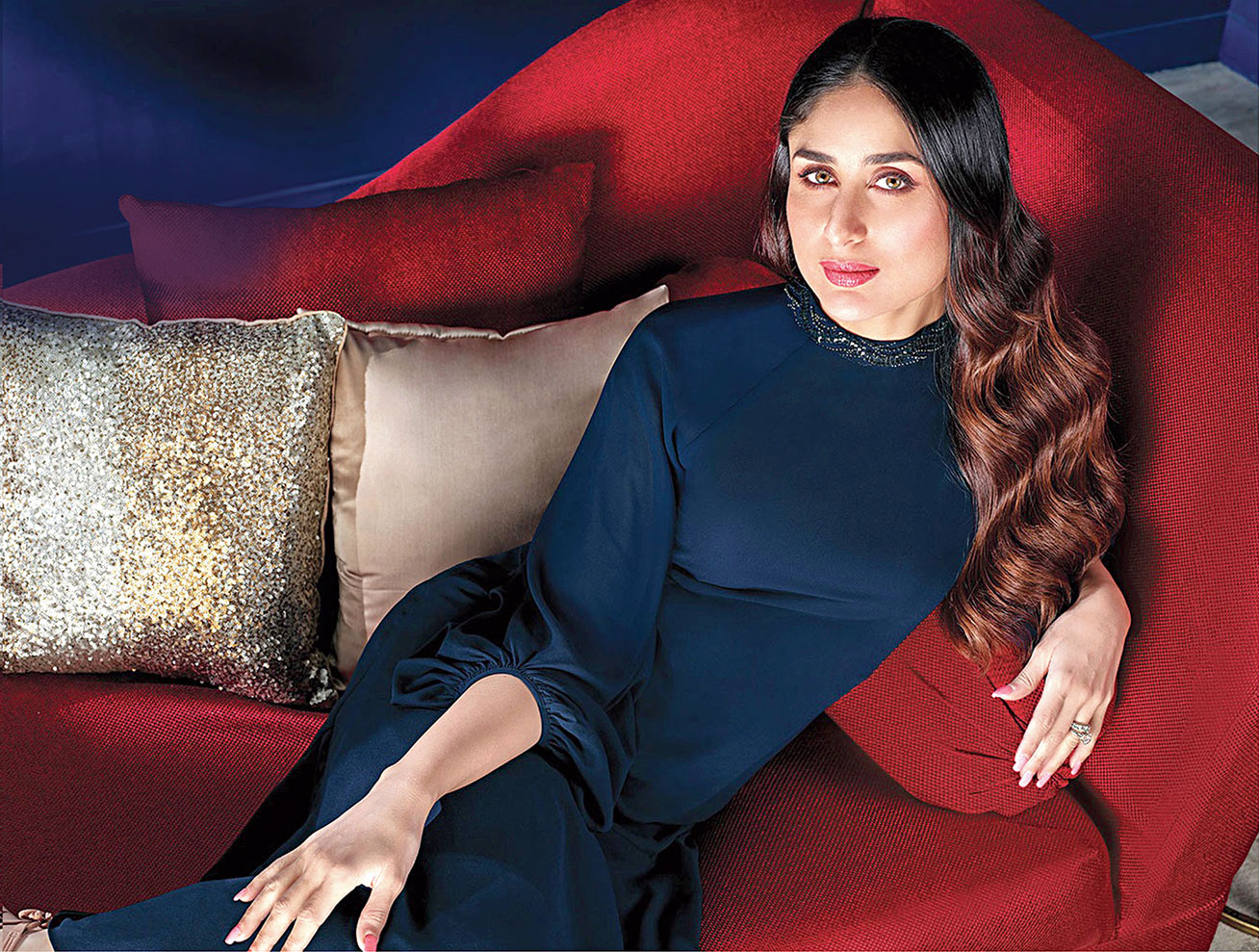 The pay packet has to be good because you put in a lot of hard work on television. If a male judge is getting so much, a female judge can: Kareena Kapoor
(Sourced from Wikipedia)
---
Published 09.06.19, 10:35 PM
|
---
The 10th edition of Dance India Dance (DID) promises to be the biggest ever with 120 cameras, 360° stage and Kareena Kapoor Khan in the judge's seat. A t2 chat with the diva turning heads in a pantsuit, with minimum make-up, on the sidelines of the launch at Reliance Studio in Mumbai's Film City recently.
What made you say 'yes' to TV?
When an actress says 'yes' to a TV show, the show needs to be of that level. I don't think India has seen any dance show which has run successfully for over a decade. TV debut hona tha toh it had to be with the right show, the right spirit, the right visibility. The last two days we have been shooting, I was wondering kya hoga, kaise hoga, mujhe kya karna hoga — everything is so new. Saif (Ali Khan, Kareena's husband) is nervous for me. He is constantly asking: 'Are you okay? Kya ho raha hai? Are you being able to do it?' But yesterday I went home very satisfied. 
Indian heroines usually accept TV at the fag end of their career. But you are still at the top of your game.
Hum logon ka mind chhota hota hai that once an actress crosses 40, she has to go on to TV. But the digital world has opened up so much that there is no barrier any more. The performance Shefali Shah has given in Delhi Crime, I don't think any top female star can beat that performance. She is married and is a mother of two kids. But everyone is watching that show. We need to open our minds. It isn't as if TV is smaller than the big screen. The kind of spend going into DID, I think the show is as big as a Karan Johar film. So why are we always distinguishing between big screen and digital and TV? We are all talents out here.
How are you feeling on the verge of your television debut?
I am more nervous than the contestants. Like them, it will also be a journey for me. I am new to television, and to DID. Recently I did a radio show so I thought why not television now? DID has always been the stage that has supported the talent of the mango people, the aam aadmi. What better platform to make my TV debut on? People who know me, know that all my decisions are from the heart. So my judging, too, will be from the heart. The contestants have crossed many hurdles to reach here. They need dilon ka sahara.
You must have had offers before?
In the last five years, I have been offered many shows but I've always said 'no'. TV involves long hours — 12 to 14 hours — and I don't work more than eight hours after Taimur's birth. I am a working mother and I have to be at home. I like to be there before he eats dinner. That's the time when I don't want to be with anyone other than him and my family. That was the only hurdle we had to cross with Zee TV because they have to shoot for 12 hours. The first day they let me off early and yesterday they left me late. So they are balancing it out.
Is there any show or platform that Kareena will never say 'yes' to?
Never say never! One never thought Sacred Games will be such a huge success. When Saif started it, he said he just went with the story. The biggest of stars, like Meryl Streep, are on digital medium. If there's a show like Delhi Crime and Sacred Games, I will say 'yes' most definitely.
Yours is being touted as the highest-paid TV debut for an Indian actor.
Definitely the pay packet has to be good because you put in a lot of hard work on television. If a male judge is getting so much, a female judge can. And yes, it is actually the first time ever that any mainstream actress has forayed into a dance reality show at this point in her career. So I've got what I completely deserve for the hours I put in.
As judge, what will you be focusing on?

The three of us will be focusing on different things. Bosco (Martis, choreographer) will look at the feet. Raftaar will look at music and lip sync as he is a rapper. My focus will be on energy and expression. When we watch someone dance, we look not at his feet but at his face. You are talking about expressions but Bollywood dances have become more acrobatic.
It will not be like that on our show. Yesterday we shot an episode for the first time. There was a classical dance performance which got a standing ovation from the judges. That was one of the best acts. So it won't be just acrobatics. Of course, that also is a dance form which is great to look at. The young generation does that and there is nothing wrong in it. But DID is a platform which encourages not just one or two forms. Whether it is contemporary or robotics or animation or classical, we will have it all.
Which dance form do you personally prefer?
I like both classical and contemporary. But classical involves more expressions. It has different technicalities. My personal taste is more towards classical dance.
Did you train in any dance form?
Mera hamesha ek regret raha hai ki main Birju Maharajji ke saath dance nahin kar paayi. I have never learnt classical dance. I have always been an ardent admirer of classical dance. I love watching classical dance shows. I was a great fan of the late Srideviji. Unke gaane dekh dekh ke hi heroine bani hoon main.
Kal ek dus saal ki ladki perform kar rahi thi, mujhe ek instant connection hua uske saath. When I was her age, I was also dancing with the same kind of passion in the bathroom. I never wanted to go to school. Khud ko mirror mein dekh ke I wanted to become an actress, be like Karisma (Kapoor, sister), the way she used to dance…. Yeh ishq haaye from Jab We Met. It was the first time we shot in Spiti Valley and it was so beautiful, apart from it being -2°C and freezing. I am yet to see such a free-spirited song on screen. A fiction show you follow
None of the Hindi ones. But I watch a lot of Netflix and Amazon (Prime) — like Made in Heaven. They are such brilliant actors.
A TV show you watched as a kid Which song of Karisma did you dance the most to?
Le gayi le gayi (Dil To Pagal Hai). Which songs did you enjoy dancing to the most in your own films?
In my career, I was lucky to enough to enjoy all my songs, whether it was Yeh ishq haaye from Jab We Met or Mauja hi mauja which had Bosco and me come together or Chammak challo (Ra.One). Asoka had such beautiful dance moves in different styles, be it Raat ka nasha or San sanana. Right through, dance for me has been about the right amount of energy and expression as well as having fun rather than getting the moves right.
The Kapoor family has produced some fine dancers. Who were you the most inspired by?
Dance runs in the Kapoor family blood. Raj Kapoor had his unique style which you could not compare to Shammi Kapoor or Shashi Kapoor. Similarly, you cannot say Ranbir dances like Karisma. Hamare khandan ki yahin khubsoorti hai ki we have always adapted to different dance forms.
Everybody in my family is excited with my TV debut. My father (Randhir Kapoor) and mother (Babita) have watched the show for the last seven-eight years. So when I told them I was going to judge it they were thrilled.
Will we get to see your son Taimur on the show?
He is just two-and-a-half years old. I don't know!
Is he interested in dance?
Right now, he is interested in everything! We will have to wait and see what he wants to pursue. Be it acting, dance, cricket or football, his parents are there to support him.
No, he does not. He doesn't know what he wants to watch. But, of course, it is inevitable that as he grows old, he will decide what to watch.
Are you doing the Netflix series on Poo, your Kabhi Khushi Kabhie Gham... character?
No. Right now the only thing I am doing for the next three-and-a-half months is DID.
You know, Karan (Johar) is a friend. We are always discussing things. But nothing is finalised. Has he given you any tips on judging shows?
He is such a good dancer, he should be a contestant himself. Unke har show pe unka ek performance hota hai which everyone reacts to. Hopefully, some day we will get to do a show together because he is so much fun.
Karisma is also making her digital debut.
Yes, with Mentalhood. She is the original diva of Indian cinema, the dance queen. We are waiting to have her on DID as a celebrity judge. Hopefully we will have the sisters together.
What about your film projects?
Takht will start in December. I am super excited to work with Karan again after K3G. This would be such a different role. It is an exciting time for me. I will start shooting for Angrezi Medium in July. I am leaving now for it. I am excited to be working with Irrfan (Khan). I have worked with Shah Rukh (Khan), Salman (Khan), Aamir (Khan), Saif…. But it would be a different world to work with Irrfan. Even if it was a small role, I would have done it. I am also doing Good News with Akshay (Kumar) and Kiara (Advani). It's a very entertaining film with a novel concept. It will release during Christmas.