You don't ever do a performance thinking this is my best: Katrina Kaif
Katrina Kaif on re-learning to connect with her characters and on achieving the dreams she had set out with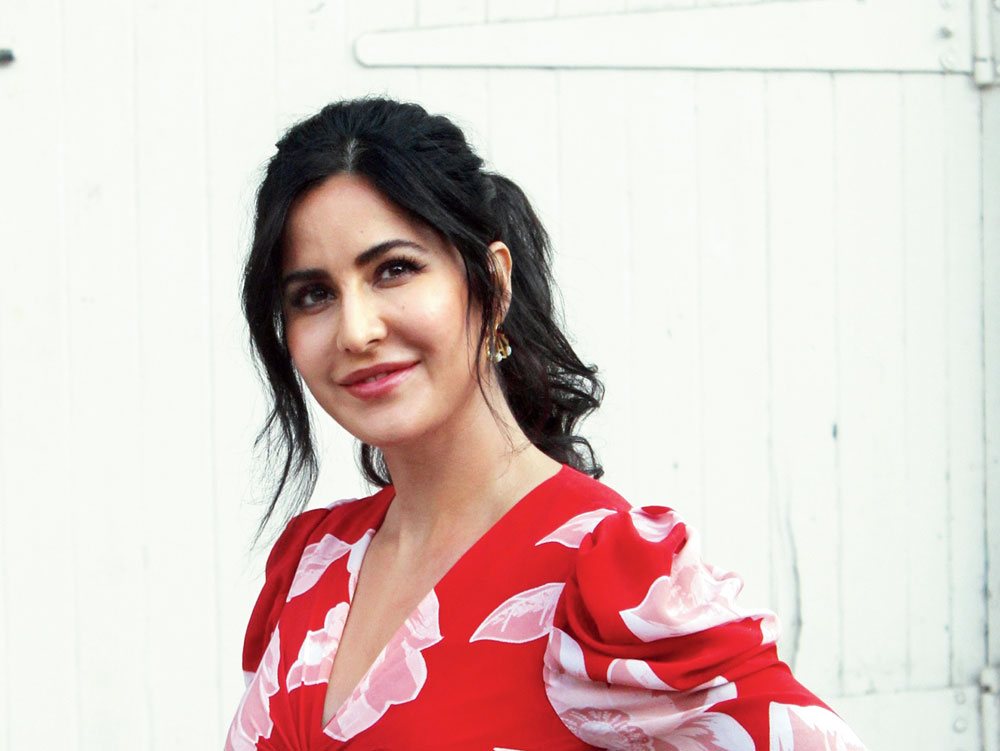 ---
---
Katrina Kaif has been cloistered inside a freezing studio for so long she's forgotten to eat lunch. She calls out to her team to get her a snack. Only, unlike us mere mortals, Katrina's snack isn't fried or sinful. She's handed a plate with two bowls, one with sliced banana and the other with melted, smooth peanut butter. "I hate fruits," she confesses, crinkling her nose even as she dips a piece of banana in peanut butter. "I've been to The Telegraph office. So much they feed you — all the cupcakes and Bengali sweets," she adds with a faraway look on her face.
It feels wrong to interrupt someone's reverie of cupcakes and sandesh, but I have only a 10-minute window to chat with Katrina. Excerpts.
You were so good in Zero! Has there been a compliment for that performance that's stuck with you?
Thank you. The compliments were phrased the exact same way as you said it, and that's enough; that's all you want to hear as an actor. You can dissect it and try to break it down, but the fact that it just resonated with everyone and that I got that love and feedback, was the reward in itself.
I think the level of response was unexpected for me, because I was just doing my job. You don't ever do a performance thinking this is my best. Aanand (L. Rai, director) sir was always clear about it — just go and do each scene on its merit.
I hear, the way you prepared for Zero has changed how you want to now prepare for your roles?
I think so. Before that, I felt like I was aiming a little in the dark and there were a lot of hits and misses. What's happened in the last two years is that I've been able to learn a little more, get more technique and information, and maybe just apply myself a bit harder. Having genuine interest in my craft and taking it further has helped me learn more, like you do with anything in life. Honestly, that's all that I've tried to do. I've started working with a few people to personalise things more, and better understand how to build up a character.
Why now after all these years in the industry? Was it something specific that triggered this move?
I found myself feeling very saturated and uninspired to go on a film set; things had become monotonous. Hair, make-up, sitting around for two hours — it all seemed a bit vacant and vapid. And when I started making these connections, breaking down scenes and characters and finding the process to it, it gave me a new joy and much deeper connection to what I was doing.
With Bharat, there's been so much talk about you having five days to prepare for the role?
No, no, no. No chance! I would never have done it. There was a little under four weeks, and when I read the script, I loved it and the character. So, I told myself I'd try and throw myself into this and make whatever I can out of it. And just the right people came into my life at that point in time, to work on this project with me, it's as simple as that. I took up this journey with them together, and had the most fantastic experience of doing this film.
How did you then go about getting a sense of who Kumud is, and getting under the skin of her character?
It was first finding the mindset, then breaking it down to who she was, and filling in the blanks between the lines; the lines on paper are just the end product. She's a strong, self-made woman working in the Delhi Employment Exchange. So, what does she think about when she gets up in the morning? What are her ambitions and goals? Where would she go when she goes home? What mindset is she coming into that office with? What kind of a girl is she? What is she thinking? It was just about finding all of that.
With me, there's always an additional workload. If this were in English, this would be my work and that would be it. But here, there's an equal, if not more, amount of time and hours added to perfect and get comfortable with my dialogue delivery. It's not just about understanding — I read and write Devanagri and it's been that way for years — I understand what I'm saying a hundred per cent. It's about perfecting that diction; it still is about comfort levels because English is my first language. So, I have to put in the hours to get to a comfort level where I come on set and have no thoughts about the dialogue. Then, there's the normal work that goes into personalising the character, making it true to you and connecting to it emotionally.
You've always been called one of the most hardworking people in the industry. Is this amount of work that you're putting into the characterisation giving you more joy than the work you were doing earlier?
Oh definitely. I would break it up into three phases for myself.
There was the beginning, where I was just learning about the film industry. You come with a lot of joy and youthful exuberance and everything is just a learning experience.
Then, there was the experience of learning a lot from my directors, and having the on-set experience of growing as an actor — films like New York, Raajneeti and Zindagi Na Milegi Dobara. It was a phase when everything was fantastic and every film was going well.
Then, there was a bit of a phase where I was going through a low point in my life — films like Fitoor and Baar Baar Dekho didn't do so well. With Baar Baar Dekho, I was really into the film, but there were other reasons why it didn't work. There was a sense of fatigue that had set in though. And just before Zero, I found another way to connect.
This is your sixth film with Salman Khan. Has he changed over the years as a co-star?
He really is the same, he doesn't change much. His approach to work has always been the same. He works hard, he's spontaneous, he knows the script even though it might seem like he doesn't. He puts in the work and is an actor that gives you your space. He doesn't interfere and lets you do your thing with the director. When he sees you bringing something good to the table, he'll compliment you on it.
What does he think of the new actor in you?
Salman and I don't discuss this at all — there is no discussion about what I've done before I come on to set, he definitely is not aware of it (laughs). It's just not the way we communicate on our work. He sees what you do, and he'll compliment you on it, that's it. And he did compliment me a lot on this one. But you always have to take what he says with a big bucket of salt, not a pinch. The important thing though is that he and Ali (Ali Abbas Zafar, the director of Bharat) both felt there was something, a freshness and newness which we were achieving and feeling while we were all on set. And that's good.
This is your 40th film in 16 years…
…That's not that many films when you look at other actors. I don't know about Shah Rukh (Khan), but Salman has done 80-plus films, and Akshay (Kumar) would have done heaps and heaps.
If you had to pick five films for someone who doesn't know about your career, which ones would they be?
I would pick Bharat, Zindagi Na Milegi Dobara, New York, Raajneeti and (some people might laugh at this one) Ajab Prem Ki Ghazab Kahani. Comedy is serious business, it isn't easy to do. Raj Kumar Santoshi's timing is just at another level. So, he enacts the scene for you — first he would enact Ranbir's part and then my part, and the light men and all would have tears in their eyes because he was just so funny.
You came into this industry wanting a career like Hema Malini's. Are you happy about where you are today?
I'm happy with where I'm going. I do have my off moments, I get irritable and insecure but there's also a deep sense of gratitude for what I've achieved. It's not everyone who can say that they had XYZ dreams, and I came with very clear dreams or maybe they were just ideas. This (the Hema Malini comment) was something I had said in an interview after my first film, and not everyone gets the chance to say something like that and then achieve it, which is why I feel this big sense of gratitude.
When you've already achieved so much, what continues to drive you?
The taking it forward part. How do I better myself? A certain amount has happened, it's now about furthering myself in work that's challenging and appeals to me. Now, I need to be satisfied and feel good about where I am. I'll still try and find balance in my film choices, but what drives me more today is personal choice, and the taste in what kind of characters I play. What is it that I want to be doing in those three months?
And where does Sooryavanshi fit in?
Sooryavanshi, I think, is the kind of film I'd do when I want to balance things out. It's fun, entertaining and commerce. Rohit Shetty has a crazy understanding of his audience. It's not a fluke; it's very precise, almost like a science. And I have a lot of respect for that kind of cinema; I'm not turning my back on that. Bharat is in another genre, but it is a big, huge entertainer in terms of scale as well. If you can get that with a solid author-backed role, there's nothing like it. Then you're happy.
You also want to produce movies. What kind of films do you see yourself making?
I think something a little smaller, a little more offbeat, something a little experimental that I would like to work on. I'd like to team up with someone and do it as a passion project, without too much pressure. There are a few ideas and concepts I'm already hearing and locking on. So, let's see. Fingers crossed.