Former fellow VJs Mini Mathur and Cyrus Sahukar come together in Mind the Malhotras
Amazon Prime's new Indian offering Mind the Malhotras is an adaptation of the Israeli sitcom La Famiglia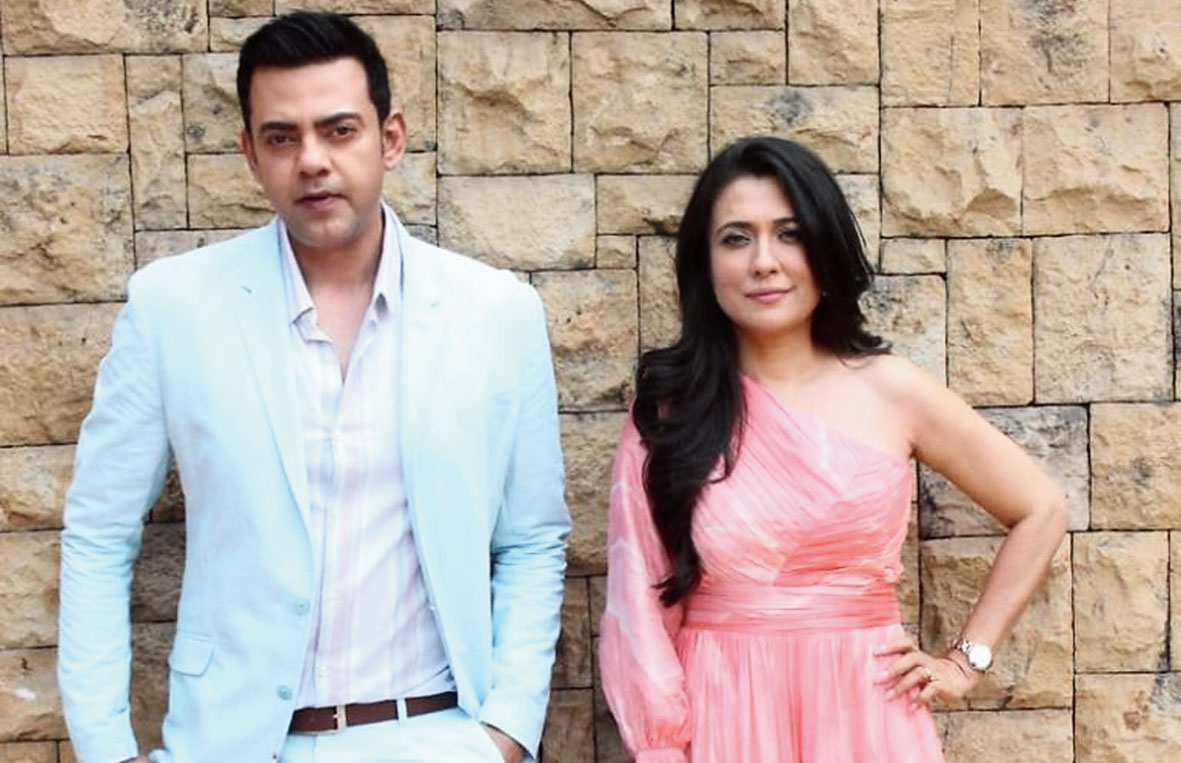 ---
---
In the late '90s, they started off as VJs on MTV on the same day. And Mini Mathur and Cyrus Sahukar have been friends since. The duo will now be seen in Amazon Prime Video's new Indian offering Mind the Malhotras. Sahil Sangha and Ajay Bhuyan direct the adaptation of the Israeli sitcom La Famiglia, that's now streaming.
t2 caught up with the friends and co-stars at JW Marriott Hotel in Mumbai recently to talk about the show and the other shows they are bingeing on.
Who are the Malhotras?
Mini Mathur: Weirdos! (Laughs) The Malhotras are Rishabh and Shefali who have twin girls and a little boy. They're your everyday, normal couple... just on the weirder side. They live in constant fear of being divorced or their marriage ending because all their other friends are getting divorced around them. As a preemptive measure, they've taken to therapy because they don't want to be in the same place, and it reveals such dark, weird, crazy stuff that they're doing to their children, and to keep their relationship alive. The therapist, who's himself a bit of a kink, suggests various ways to deal with situations which they sometimes follow through with and sometimes don't. At the end of the day, they're a couple who have each other's backs and love each other.
Cyrus Sahukar: Rishabh has the anxieties and dilemmas of the average good guy. He's the guy who doesn't want to go out and drink every night, doesn't want to live a life of fantasy parties, but is also petrified of what the future holds. How's he going to survive all this and get everyone in the family to calm down, so that he can live a peaceful life? He's completely unaware of his own lunacy and anxiety... he's in denial.
He's also someone who doesn't have the same reactions as everyone else in the house. He had kids very young, so he's growing up with the kids. He's figuring it out with the kids as they're figuring it out, so when they turn to him for advice, his response would be that they're all finding their way and to be patient. He's also someone who started by not enjoying therapy too much but is now enjoying it and learning wonderful, new things.
Mini: Shefali is a control freak, always trying to get Rishabh to be less lazy and more proactive as a parent. She likes the proverbial white picket fence, how they're viewed by the outside world, how their kids are doing and still she has this crazy badass way of dealing with things which is all wrong.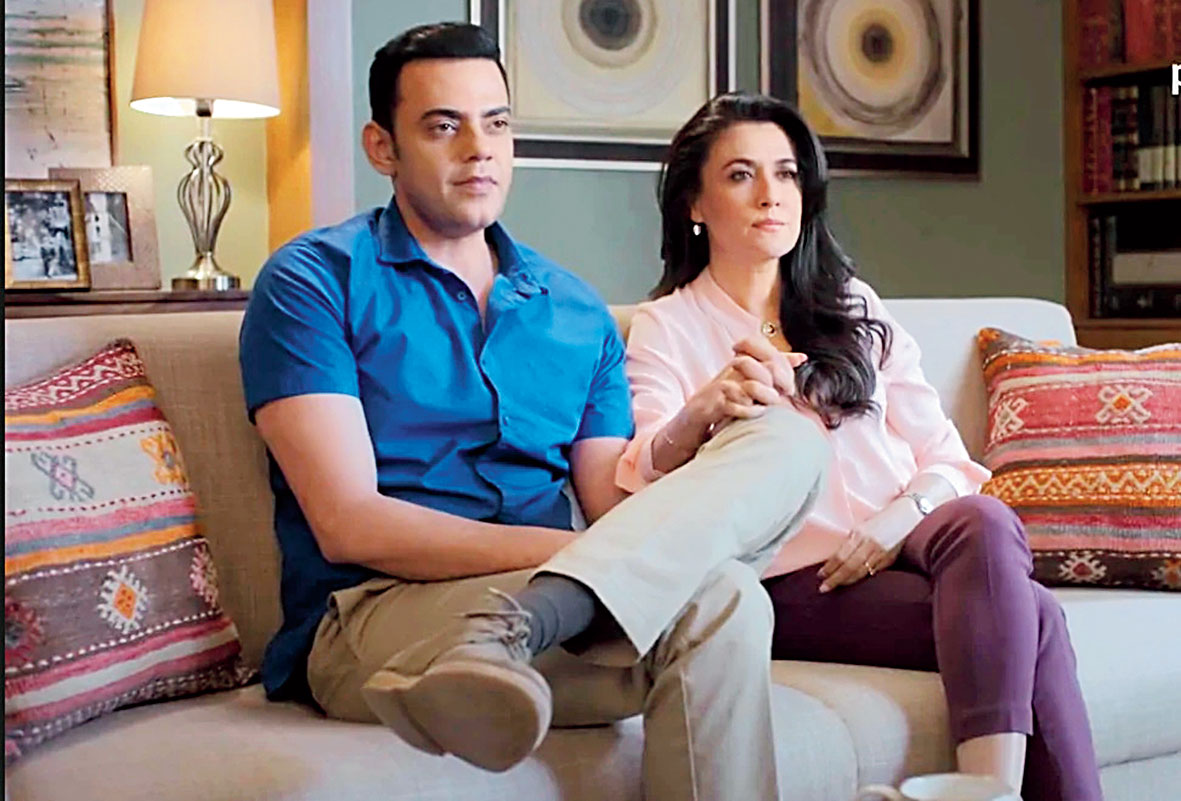 When this came along, what was the hook for you? Was it a chance to work together or was it just the story and characters?
Cyrus: For me, on paper, I would have a lot more issues trying that role because I've never played a father to anyone... I don't know what it feels like. But Sahil Sangha is a close friend and was someone I had worked with before and he's a phenomenally lovely person... we're very close friends.
When I knew Mini was on board, it made me really happy because comedy is tricky and a little scary. When you have someone you really vibe with, who you've known for ages, that level of comfort and environment became very attractive for me to jump in.
Mini: For me, it was multiple layers. I've never been drawn to fiction on TV, I've never felt part of it. I don't fit into the kitchen politics situations or the goddess and naagin zone. I couldn't see myself wasting six months of my life, with a nine-to-nine schedule on a set where the subject doesn't resonate with me.
The moment the web world opened up, I began to see spaces open up for all kinds of actors and all kinds of roles and genres. There's crime, thrillers, drama but very little comedy. I thought this could be a clutter breaker. I had heard so much about Sahil from Cyrus while he was working on his debut film (Love Breakups Zindagi). So, I was all for it. When he said he was thinking of Cyrus, it was a done deal for me.
Have you worked together since the MTV days?
Cyrus: Yeah, we did quite a bit. In fact, we shot together just last month itself. We have a show on air called Discovery School Super League. It's like the Bournvita Quiz Contest, and is on Discovery. It's by Byju's (a learning app) and we just did it last month.
Mini: Before that, we did a show called Wife Bina Life on STAR (Plus), where we were in Pune for 40 days and the only thing that made us survive it was each other.
Cyrus: It was damn lonely... we were shooting in this place called Corinth.
Mini: Staying there for 40 days and eating butter chicken and naan as comfort food.
Cyrus: It's a popular marriage venue and I've attended at least 20 weddings there while we were shooting and seen all kinds of people perform — Mika, Sukhbir... (laughs)
Both of you started as VJs at pretty much the high point of Indian television. How do you now look at the new medium of streaming that is still in its infancy?
Mini: I personally feel it's a great space for people who don't belong to TV, don't necessarily have to belong to a film slot. What I also find wonderful about it is the diversity of content. Earlier, it was one size fits all, dumbed down for the maximum number of people to connect with. Because of OTT platforms, you have different kinds of programming that appeal to different niches, large enough to be called humongous audiences.
As a performer, this couldn't have come at a better time. This is my debut and here I am, playing somebody my age, playing someone who's around me. Where would you ever have something like this as the subject of your show? It's so modern, so urban and so now.
Cyrus: This is a great time to be a part of the media. There is just so much work! On streaming platforms, there's a lot of content coming out — some of it will be good, some average, some great. And that's always going to happen. But what it's also going to do is build the culture slowly and surely, of better writing because you're going to need it. If you have a 100 shows to make, you need a culture of writing. Suddenly, there will be people who'll only want to be writers, and that's going to be very exciting to see. There will be new roles, new aspects of content and if there ever was a time, this is it for people to come in and be part of something.
What are your thoughts on the homegrown streaming shows that we've made so far?
Cyrus: I haven't viewed a lot. The last show I saw was Made in Heaven which I binge-watched and really liked. It was really well written, and Reema (Kagti) and Zoya (Akhtar) did a really good job with the writing and direction. It was not convenient.
Mini: I loved the fact that it was boldly fun for the niche. You don't get it, don't watch it.
What are you bingeing on right now?
Mini: Oh boy! I'm still bleeding from Season 8 of Game of Thrones. It's been a personal break-up. I also just finished the second season of The Marvelous Mrs. Maisel, which wasn't as amazing as the first season. I saw You and Killing Eve as well. The writing is on another level.
Cyrus: I have to check out Killing Eve. The last thing I saw was Game of Thrones. I've been thinking of watching Chernobyl.
Mini: Also, The Man in the High Castle. Kabir's (Khan, husband) watching it and I've been watching it in and out of slumber.