Gunjan Saxena: an engaging and emotionally resonating tale
The film may chronicle the heroics of a woman, but it's as much a story of the father who was the wind beneath her wings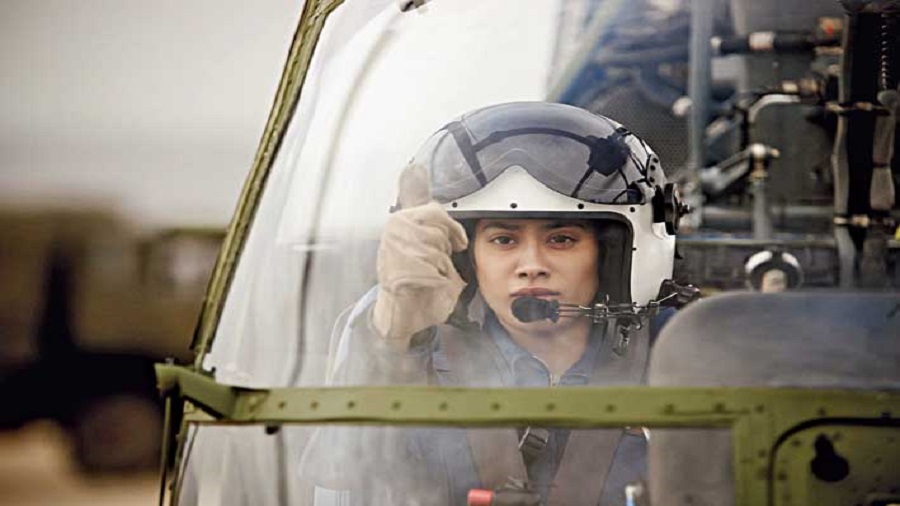 ---
---
There is a 'Pankaj Tripathi face'. One that we often get to see in Gunjan Saxena. The eyes are closed, a slight smile hovers at the edge of the lips and he nods, a tad imperceptibly. In this film, it's sometimes used to mask irritation or disappointment whenever he encounters a concerted or subconscious effort to clip his daughter's wings, but it mostly arises when he wants to tell Gunjan that, no matter what, he forever has her back. It's the face that every daughter would have seen at some point, if not always, in a supportive father. The father who encourages his daughter to shatter many a glass ceiling, but stands rock-solid behind her whenever she shatters. And then helps her to piece herself back together.
Gunjan Saxena: The Kargil Girl may chronicle the heroics of a woman who soared above every stumbling block that a conditioned society threw in her way, but it's as much a story of the father who was the wind beneath her wings. Gunjan (played by Janhvi Kapoor), propelled by passion and an eye on the sky, has the strength to break into a male bastion because it's dad Anup, with Tripathi's thehraav giving #TheWorldIsAllRight feels, who constantly powers her with plates of her favourite cassata ice cream and the words, 'Plane chahe ladka udaaye ya ladki, usey pilot hi kehte hain'.
Based on the life story of its eponymous shero, the first woman pilot of the Indian Air Force who plunged into combat during the 1999 Kargil War and came up trumps, Gunjan Saxena is at once a poignant and powerful watch that brings to life the triumph of an underdog, stitches together a relationship story and skilfully examines gender dynamics then and now (effortlessly asserting that the then is still the now). Sharan Sharma, making his directorial debut here, crafts an engaging and emotionally resonating tale, with Gunjan's innate ability to rise above all odds not only making you root for her, but teasing a tear out of you often. Because every woman has been in Gunjan's shoes at some point in time, if not in her pilot's uniform.
A knee-high Gunjan's tryst in the cockpit of a passenger plane in the 1980s gave rise to the dream of being a pilot some day. An ambition that she didn't allow the sneers of peers, the trepidation of a mother (Ayesha Raza Mishra) who wants her to "settle down" and a brother (Angad Bedi), conditioned by patriarchy, to get in the way of. Supported by a father who constantly put naysayers in their place with, "Jab plane ko fark nahin padta usey kaun uda raha hain toh tumhein kyon padta hain?", Gunjan sets off to realise her dream with single-minded determination. When her efforts of enrolling for a pilot's course are all but dashed, a flicker of hope emerges when the Indian Air
Force calls for its first batch of women pilots. Gunjan expectedly aces it, but soon realises that before she straps on her seat belt and soars into the skies, she will have to fight sexism in a world which has no place for women.
Playing out at 112 minutes, Gunjan Saxena is an engaging watch, with the film touching upon how sexism is inherently ingrained in a society where women are repeatedly expected to conform. Gunjan starts off with a dream but it soon becomes a mission of sorts, fired as she is to prove to the world that she's where she's ought to be. Even when her unempathetic superior (Vineet Kumar Singh), dispassionately, and often with derision, tells her, 'Yeh jagah ladies ke liye bani hi nahin hain'.
Gunjan Saxena may tread the familiar beats of an underdog story, but the journey is so compelling that you remain invested. Gunjan, always believing that it's her ability and not her gender that will determine the trajectory of her career, finds herself battling a sexist set-up at every step. Locker room jokes abound, subordinates don't want to salute her because she's a woman and her colleagues deliberately drop out of co-partnering sorties. When they do opt to share the cockpit with her, their inherent male superiority pushes them to take control.
Sharma, working out of a script he's co-written with Nikhil Mehrotra, takes a story that's anyway powered by the threads of emancipation, courage and patriotism, and effectively looks at patriarchy, often subtly and sometimes on the nose. Gunjan fighting the good fight is topped with that scene of her explosive outburst, coming somewhere towards the middle of the film, where she calls out everything from sexism to "nakli mardaangi" and where the words, "Aapka darr hain ki yeh madam kahin sir na bann jaaye... nahin toh salute karna padega", hit hard. But the film, winningly and refreshingly, never romanticises her struggle.
Supported by a strong ensemble of actors (a special word for Manav Vij who plays Gunjan's gruff but supportive superior), Gunjan Saxena rests almost wholly on Janhvi's shoulders. The rough edges show up often, but this is a turn that inherently calls for some gaucheness, especially in the beginning, and Janhvi channels her awkwardness well, gradually warming to the part. She's very endearing in the role, and by the time Gunjan goes into combat, we see Janhvi's performance evolving into one more confident than in the initial stages of the film. Janhvi is, undoubtedly, an inspired choice for the part.
The end credits roll with vignettes from the remarkable achievements of Gunjan Saxena who carried out as many as 40 daredevil missions during the Kargil War. But more importantly, at just 24, she won a victory for every woman out there. Gunjan flew, so that the 1,625 women in the Indian Air Force today can soar.

I liked/ didn't like Gunjan Saxena because... Tell t2@abp.in