Enter Rinzing
The grapevine has it that the two men, known to bat a different stroke each time, have made a film that will astonish the audience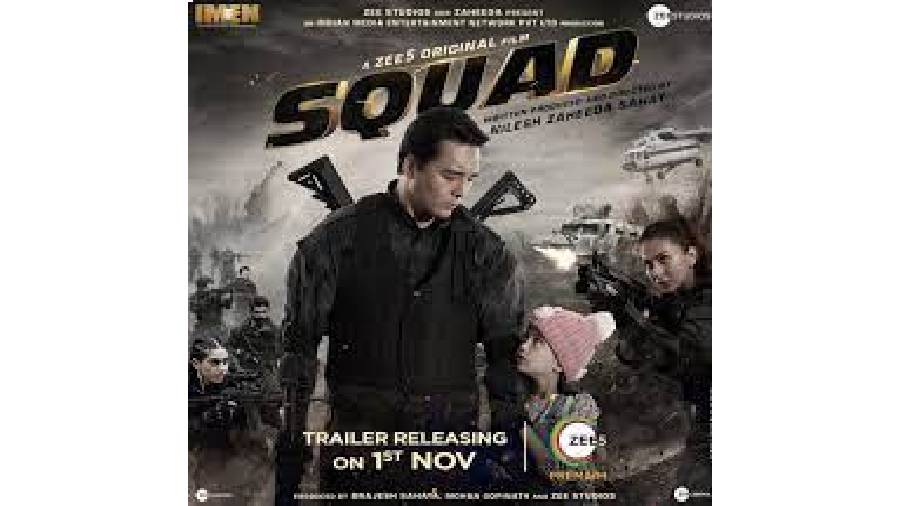 Poster of , Squad, Rinzing's first film.
Wikipedia
---
Published 14.11.21, 12:10 AM
|
---
A little bird whispers that Aditya Chopra's favourite actress, whose first name rhymes with Rani, has partnered two game-changing men over a film that will disrupt conventional thinking.
Ayushmann Khurrana is an actor who can go bald (Bala), go limp with impotence (Shubh Mangal Saavdhan) or cross-dress (Dream Girl) and still walk away with box-office approval. He can be an upright officer (Article 15) or be married to an ungainly heavyweight and have the audience heaving with sympathy (Dum Laga Ke Haisha). He is undoubtedly the gutsiest hero today but even he is said to have stretched himself in a film set for a December release. 
Meanwhile, director Abhishek Kapoor has turned himself into a brand that stands for cinematic courage with films such as Kai Po Che! and Kedarnath.
The grapevine has it that the two men, known to bat a different stroke each time, have made a film that will astonish the audience. That for the first time, Hindi commercial cinema will see a heroine who has undergone gender reassignment surgery. When the hero falls in love and has a full-on sexual romp with her, you can imagine the ensuing boudoir riot.
It's inclusivity that goes beyond homosexuality.
Come to think of it, with all its flaws, Hindi cinema has been upping its ante on breaking mindsets in many ways.
Last week, India rightly applauded when transgender folk dancer Matha B. Manjamma Jogati was conferred a Padma Shri and President Ram Nath Kovind was blessed by the sari-clad recipient in traditional transgender style. But let's also compliment the Hindi film industry for its comprehensiveness down the ages.
Today, there is a calibrated attempt to bring the Northeast into the mainstream. But ever heard of Tshering Phintso? That's Danny Denzongpa, the Sikkimese actor with distinctive features who was embraced by Hindi cinema way back in the 70s. In his early days, there were stories of him being chased by the public who mistook him for a Chinese.
It took a while for the industry used to Kapoors and Chopras to welcome him as one of their own. But it is to Hindi cinema's credit that he was rarely cast as a villain from any place known for its slanted eyes. Danny was accepted as any other Indian, even playing Shashi Kapoor's brother in Fakira, a huge hit in the 70s. By the way, Danny is also a Padma awardee.
Whether Mithun Chakraborty, who thought he'd be typecast as a tribal after Mrinal Sen's Mrigayaa, or John Abraham, who feared his name would be a barrier, Hindi cinema has been exemplary in its inclusiveness. Tamil superstar Vijay's first name is Joseph and Jamshad Cethirakath goes by the name Arya. But Hindi cinema has been open to names and looks from all regions and religions for decades now. With a touch of the exotic that came from his Turkish mother, Jackie Shroff didn't look a typical Gujju nor did he have to call himself Jai Kishan for acceptance.
Hindi cinema provides niches for all. Tiger Shroff has a slot of his own for bullet-speed action and matching twinkle toes. When he made his debut with Heropanti in 2014, it was said that Danny's son Rinzing too wanted to be an actor. Two days ago, Squad, Rinzing's first film, dropped on Zee5. His uniqueness is that he's 6'3", has a deep voice and would like to make action his forte. Rinzing is not even looking at romance — in Squad, the emotional bond is with a little girl.
An International Business and Theatre graduate from Richmond University, UK, he wants to be just the right size for his dream cars. He once ogled an Aston Martin but couldn't shut the convertible. "And my eyeline was above the windshield." Rinzing sticks with his Mercedes C 63 AMG.
Will this celebrity kid find a Dwayne Johnson kind of space for himself? If talent and destiny will it, Hindi cinema will keep its doors wide open.
Bharathi S. Pradhan is a senior journalist and author