Amrita Chattopadhyay on her screen journey
'The advantage of a national project is that you have the chance of auditioning'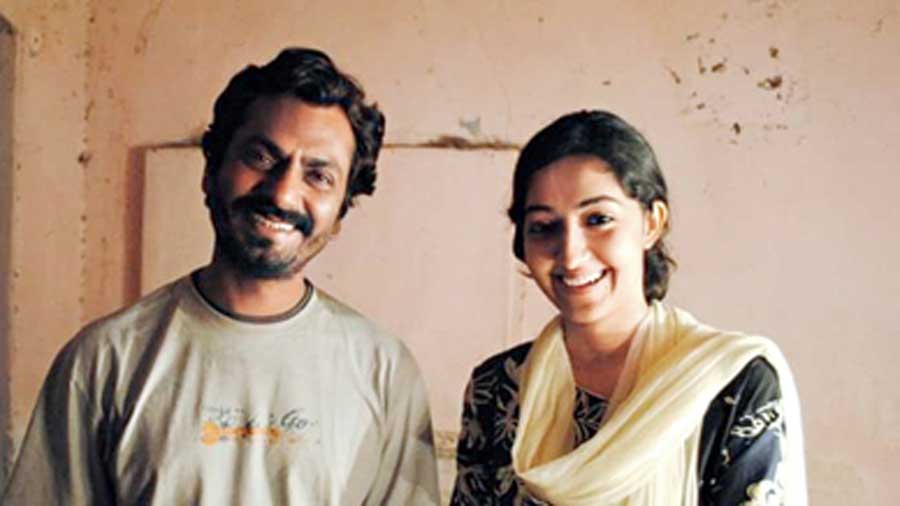 ---
|
Calcutta
|
Published 20.11.20, 05:19 AM
---
Amrita Chattopadhyay shot for her first Hindi film Anwar Ka Ajab Kissa (directed by Buddhadeb Dasgupta) back in 2013, when she was still studying. In her own words, she was slightly "naive, clueless", an overenthusiast who wanted to act. Seven years on, she jokingly says that she is less 'clueless' about the surroundings but still overenthusiastic for good roles. Anwar... streams on Eros Now from November 20. A t2 chat with Amrita...
What are your memories from the shoot of your first Hindi feature film Anwar Ka Ajab Kissa?
It's a crazy feeling! Back then (in 2013), I had just started out, and this was my first film. I was studying, a friend who is part of the film told me about the audition. I went and gave the audition. When I got the part, it was a bizarre dream-come-true moment, being a part of this film directed by stalwart Buddhadeb Dasgupta, and starring Nawazuddin Siddiqui. All my sequences in the film were with him. And I am a huge fan of both of them! So I was super excited about it. I even met Oscar winner Resul Pookutty during the dubbing session! Loved the whole experience, it was so enriching, and got to learn a lot. The simplicity of a superstar like Nawazuddin was amazing, and the fact that he kept on answering all my questions and shared anecdotes with me, though I was just a newcomer, was heart-touching. And of course Sir and Sohinidi guided throughout... I hugely admire Buddhadeb Dasgupta's films, the fact that he praises my work means a lot. I just want to work with him again.
Now that the film is coming out, performance-wise it feels like my Class V results are coming out after I have finished my Higher Secondary. Ha ha.
How did you get into films?
I started off with a serial in Zee Bangla produced by nideas. I was doing my graduation from St. Xavier's when I went to his (Prosenjit) office for a college project to do his interview and told him about my fondness for acting. Few months later I was contacted by the production house for an audition, which I cracked. After a few rounds of audition I got the part. That was the only mega serial I did. It ran for a year. I was doing my studies parallelly. Anwar Ka Ajab Kissa happened when I was doing my Masters. In 2014 I started working professionally, did my first Bengali film, Janla Diye Bou Palalo directed by Aniket Chattopadhyay, playing the lead character.
What fascinated you about acting?
I was exposed to films and theatre from a very early age by my parents. I am trained in classical music from Shrutinandan, and Bharatanatyam from Kalamandalam. I had a knack for acting, for the craft. I wanted to pursue it but didn't know how. After I started acting professionally I did several workshops to equip myself.
How did III Smoking Barrels (on Netflix) or the recent JL50 happen?
In both the cases, I auditioned and got the parts. Then came to know about the other characters, the fascinating co-actors I had the opportunity of working with.
How tough is it to pursue a career in Bombay when you are based out of Calcutta?
To be very honest, I was never consciously pursuing a career in Bombay, as I wanted to be part of Bengali films directed by my favourite directors. I had a long list of directors across the globe, I wanted to work with! A bucket list! A few of them have been ticked off, a lot more to go. I am a greedy actor, I would love to work in several languages. The advantage of a national project is that you have the chance of auditioning, which is a plus point I feel.
How is the journey been in Bengali films/ web shows till now? What are the challenges?
It has been a good one. I never had a godfather or a three-four- film contract with a production house, I chose the best from what I was offered. Directors who have cast me had seen my work, liked it and then cast me. I have about eight released films, seven web shows. I got to work with my favourite directors, and actors in the process. I try to chose my roles wisely. The main challenge is to reach people with my work.
Would you like to see a change in the way things function here?
Don't want to hear 'budget nei' always! (Laughs)
Tell us about your role in JL50 and the feedback you have got till now?
Yes, it means a lot when your work gets praised. I played Shantanu's (Abhay Deol) wife, Shreeparna, and the couple were on the verge of separation. After the streaming started, many people messaged on social media, industry seniors texted me personally, which is very humbling. I am thankful to director Shailendra Vyas for penning a unique story, and for giving me the role.
How was your experience working with Abhay Deol?
I love his acting, it was lovely working with him. He told me how he approaches a scene while rehearsing, and we had enriching conversations while filming. Even after the release of the series, Abhayda, who is in LA right now, told me that he remembers how intense the scenes were and how he liked my work. It means a lot.
I shot my scenes in Calcutta, as the story was mostly based in Calcutta, in a city pub and a villa by the Ganges.
What are your forthcoming projects?
I have about four independent feature films waiting for release — A Holy Conspiracy, co-starring Soumitra Chatterjee and Naseeruddin Shah, Chabiwala, Rani and Lord of the Orphans (co-starring Adil Hussain) by Ranjan Palit. I play the female protagonist in the first three films. I am on the verge of completing the film Rohoshyomoy co-starring Saswata Chatterjee.