A whimper called Saaho
Saaho smashed the hopes that Prabhas' biceps would win over the whole country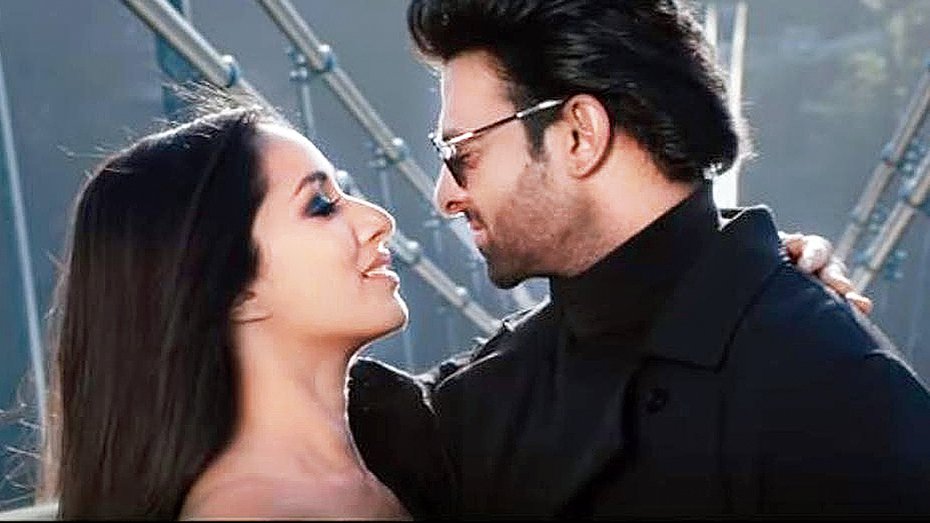 ---
Published 07.09.19, 07:27 PM
---
Every Friday has a new story to tell. On the last Friday of August, it seemed like Shraddha Kapoor was going to face another bleak streak in her career when the biggest film of the year turned out to be jumbo in its budget of Rs 350 crore and dumbo in its writing. Saaho was yet another film that was bitten by the Baahubali bug, in which the makers and the cast strutted with collars up in the mistaken belief that budget-heaviness alone was enough to create box- office history.
It's tiresome to repeat but Baahubali was more than just opulent cinema, it had a dedicated screenplay and fabulous visuals with romance and chemistry, rivalry and palace intrigue. Most of all, it had a sparkling freshness about it. Saaho was the opposite and it smashed the hopes that Prabhas' biceps would win over the whole country.
The most charismatic of them — from the experimental Kamal Haasan and man-of-the-masses Rajinikanth to Chiranjeevi, who was the first star to generate multi-crore revenue in the then undivided Andhra Pradesh — had tried to test their pan-India appeal through Hindi movies. And every one of them crashed. That Friday in August, Prabhas was added to the list of heroes from the South who couldn't replicate their regional stardom on the national stage.
As it happens when a film sets sail with gigantic expectations and sinks ignobly with wreckage for a screenplay, Shraddha Kapoor's stock too came down a few notches — like she'd soon be revisiting the low Rock On and Half Girlfriend phase of her career. But barely eight days later came Chhichhore, on the first Friday of September, and the pendulum swung in her favour again. Despite a few drawbacks, Chhichhore (directed by Nitesh Tiwari of Dangal fame), which is high on fun and friendships, and emits a strong social message, got a thumbs up from critics.
A successful film is important on a heroine's resume. So with Chhichhore, Shraddha, who is one of the better talents of her generation, does not have to sweat over Saaho not turning out to be a blockbuster.
On Friday, September 6, Sushant Singh Rajput also got rescued after a disastrous box office that had rejected earlier films like Raabta and Sonchiriya. Luckily for him, Kedarnath made money last year and with a respectable Chhichhore, he gets to consolidate his position. An additional reason to feel good about is that Sushant gets to play two roles in it — of a student where buddies and bonds matter and as a parent who has a responsibility towards his adolescent son. So, even if he'd already done the buddy-bonding in Kai Po Che, Sushant got something more to do in Chhichhore.
This Friday also had another story, an untold one that few know about. That Sushant Singh would have missed out on Chhichhore if Ranbir Kapoor had said "yes".
The whisper is that Nitish Tiwari met Ranbir to sign him up for Chhichhore but after he got a narration, the actor turned him down. Years ago, they had worked together in a children's film called Chillar Party but once Salman Khan had stepped into it as producer, Ranbir was left with only the catchy song, Tai Tai Phiss, in it.
However, that wasn't the reason why he said "no" to Chhichhore. One hears that Ranbir's problem with Nitish's offer was that it had too strong a resemblance to 3 Idiots. He wasn't wrong because there have been a bunch of campus films in the last decade, including 2 States and Student Of The Year, but it is an undeniable whiff of 3 Idiots that one experiences when watching Chhichhore.
So did Ranbir make the right decision to set aside a film that some would call the country cousin of 3 Idiots? He was perhaps justified in going with his gut feeling. However, one can't help but wonder if the supremely talented Kapoor would've added nuances to the hero's two distinct characterisations which Sushant would not even have thought of bringing into his performance. But since Ranbir didn't do Chhichhore, we'll have to put that wistful feeling on the list of "Things We'll Never Know".
Bharathi S. Pradhan is a senior journalist and author