Saaho is a colossal disappointment
The movie is a mindless waste of money, talent and opportunity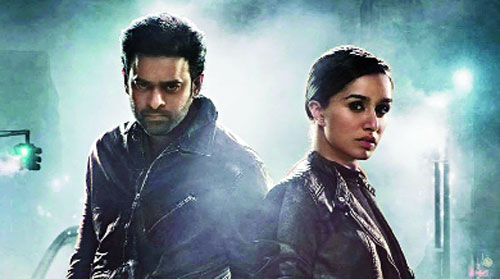 Prabhas and Shraddha Kapoor in Saaho
(Movie poster)
---
Published 02.09.19, 11:45 AM
|
---
There's no easy way to say it. Saaho — variously described before release as "the biggest entertainer of 2019", "tent-pole action thriller" and "event film" — is an absolute train wreck. Mounted on a budget of Rs 350-crore, with Bahubali man Prabhas holding centre stage, the film is a colossal disappointment and a mindless waste of money, talent and opportunity. Not to mention the viewer's time, playing out as it does over a mind-numbing three hours.
Directed by Sujeeth and released as a multilingual, Saaho aspires to be a slick actioner and a suspense thriller, but doesn't have the storytelling skills needed to back up its swag and stunts. The plot is
wafer-thin, often so convoluted that you have a tough time keeping pace (it's another thing that one is compelled to zone out after a point) and the screenplay is a maddening mess. Characters pop up at random, subplots are introduced without rhyme or reason and the numerous story twists, ranging from lame to laughable, make an
Abbas-Mustan thriller seem like a Stanley Kubrick film. Well, maybe not, but that's how hard this film has hit us.
Saaho opens in the futuristic metropolis of Waaji — a VFX-generated cityscape that, despite the huge money spent, looks like a bargain-basement version of Shanghai or Macao — which supposedly headquarters "the world's most powerful crime syndicate". All the members of this syndicate are, of course, Indian. Played with varying degrees of menace by Jackie Shroff, Chunky Panday and Mahesh Manjrekar, they have the same kind of walk and talk, sporting salt-and-pepper beards and blowing smoke rings in slo mo. Assembly generated, they look like versions of Bahubali's Katappa, but leave no impact, apart from inducing a dull headache.
There's a mention of a 'black box' — something like the 'rabbit's foot' in Mission: Impossible III, but not as creatively named — that the syndicate supposedly wants to lay its hands on and that is somehow, in a backhanded way, tied up with a series of high-stake robberies happening in Mumbai. Prabhas's Ashok is introduced as an undercover cop whose "whole life is off the record", but the man drives a custom-designed set of wheels that cost the film's makers Rs 5 crore. Subtlety is not Saaho's strong point.
Saaho travels from the congested streets of Mumbai to the towering skyscrapers of Waaji to another artificially-created landscape called Karana, whose inhabitants look like they have walked straight out of the sets of a Mad Max movie. In between, Ashok escapes to Austria just so that he can sing a romantic duet with ladylove Amritha (Shraddha Kapoor). There's also Jacqueline Fernandez somewhere in the mix, but her function is to strictly be a "bad girl" to Prabhas's "bad boy".
In the absence of a credible plot, Saaho hits the ground running with its action. Prabhas strides on to the screen in what is known in south Indian film parlance as "mass entry", the kind reserved for the likes of Rajinikanth. He swigs a bottle of Old Monk and is then challenged to finish off a fight with a clutch of goons within the time it takes the neighbour's pressure cooker to clock five whistles
(an apt metaphor for a film as overcooked as this). During the fight, he not only has to wrestle humans, but also computer-generated pythons and panthers. And well, the setting for the fight is not the African outback, but a crowded Mumbai chawl.
The other action sequences in Saaho range from mildly impressive to downright ridiculous. A pre-interval chase sequence is done well — and so is the plot twist just after it — but you can't keep your eyes from rolling a full 360-degrees when Prabhas flings a parachute off a cliff, then dives after it and manages to lay his hands on it to make a smooth touchdown at the last minute. In another, he flies around in a jetman, giving us a nightmarish Race 3 rerun (remember Salman fooling around in a wing suit?)
The tepid chemistry between the film's leads does nothing to revive the viewer's flagging attention. Shraddha's presence is strictly ornamental and the film is alarmingly gender prejudiced. Shraddha's Amritha is a cop whose billowing hair and pink-tinted lips are the focus in every frame she's in. She's content playing the serial damsel-in-distress and promptly falls in love with Ashok after he declares that a beautiful girl like her has no business being a cop. Well!
Saaho is a bloated mess, thanks to not only its muddled plot but also its dime-a-dozen side players. Neil Nitin Mukesh overacts through his scenes while Mandira Bedi, playing a steely criminal mastermind, gets it right with her crisp khadi saris, but with little else.
Looking to catch a show of Saaho just for Prabhas? Well, the Bahubali swagger is there all right, the charm shows up every now and then and the man is blessed with incredible screen presence. But Saaho, which will no doubt make pots of money thanks to hype and star power, isn't the film that Prabhas — aspiring to become more than just a Telugu film star — should bank on to make him a pan-India "darling".