You can be a Chanakya
Read more below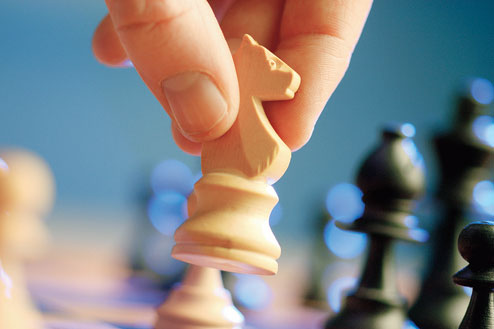 ---
---
Chemical engineer Partha Pratim Das has come a long way since the time when he had to set up phosphoric acid plants as part of his job at a metal mining company. Today, this young Indian Institute of Management, Bangalore (IIM-B), student advises Congress and Bharatiya Janata Party (BJP) candidates on strategies for fighting the coming Karnataka assembly elections.
Das is assisting politicians as part of his dissertation project for the public policy and management course at IIM-B. His goal is to become a modern day Chanakya (the famous kingmaker and political adviser in ancient India). In fact, Das has started a new company, called Chanakya, to provide end-to-end solutions to MLAs and MPs. He has now set his sights on the Delhi elections.
So what prompted the 28-year-old to chuck up his job of six years and pursue a course in public policy? "I had reached a dead end and was troubled by thoughts of long term goals and sustained development," he says. The soul-searching led him to the IIM course.
According to him, a career in public policy is "exciting and multi-dimensional" because it gives a person an opportunity to work with the government and have a say in important policy decisions.
In India, unlike in the West, public policy analysts are not hired by government agencies in a big way but he hopes that this will change soon. Like Das, there are many students who wish to be the "agents of change" and make a difference to the lives of people and this course can come in handy for them.
The course is also helpful for those interested in learning how policies affect their field of work in the development sector. Says Shreya Mathur, who is currently pursuing a course in public policy (PP) at Teri University, New Delhi, "When one is trying to create an impact on the lives of the marginalised, it is important to know how the work is linked to the policies meant to benefit the stakeholders."
What sets these students apart is their desire to participate in policies that can change the lives of the masses for the better.
Amit Seth, an IIM-B alumnus, completed the PP course in 2012 and started a company to provide affordable medical care to people. He has submitted proposals to different state governments to run primary healthcare centres efficiently. "I can run the centres efficiently and profitably for them," says Seth, who gave up his software job after working for 16 years, "to do something meaningful".
Public policy has now become the buzzword with new institutes such as the Jindal School of Government and Public Policy (JSGPP) entering the fray. Established institutions such as IIM-B and Teri University have also made the course available to a large number of students. Earlier, the course was only meant for civil servants. Several universities are also contemplating starting the course, say academicians.
According to Aseem Prakash, assistant professor and assistant dean, JSGPP, the reason for its rising popularity is the "failure" of disciplines such as public administration and development studies to address the problems of growth and equality in India. Moreover, in a developing economy, multiple actors are drawn in to suggest and frame policies. "A public policy professional with a multidisciplinary approach is most sought after," says Prakash.
Points out Shiv Visvanathan, executive director, Centre for the Study of Science, Society and Sustainability, JSGPP, "Governance is not restricted only to the state; multiple players are involved today."
So what does this course entail? At Teri University, the focus of the course is on sustainable development. Explains M.V. Shiju, department of policy studies, Teri University, "We have specific courses in the programme linking public policy and sustainable development. In the wake of the 2G Telecom, Commonwealth and other scams, we introduced a new course on ethics." Adds Shreya Mathur, a student of Teri, "The course is not about public policy in isolation. It combines public policy with sustainable development. Therefore, we get to know how policies operate in a given socio-cultural setting."
At JSGPP, the course is multi-disciplinary and is a mix of science, philosophy, political science, sociology, ethics, law and anthropology. Says Amith Kaushik Tanneru, a JSGPP student, "The course covers a variety of subjects. It equips students to look at one social aspect through various lenses." Visvanathan says, "The subject covers many disciplines and provides you with the skill to either work on disaster management or climate change or come up with new ways of designing a city or a new cultural policy."
At IIM-B, the first year of study focuses on course work which involves learning policy analysis, micro-economics, states and markets, social marketing strategy and leadership, among other topics. In the second year, the students work on preparing their dissertation, says G. Ramesh, chairperson of the public policy programme at IIM-B. Most of these courses have bureaucrats and government officials delivering lectures and conducting workshops on policies. "These activities are organised to give students a perspective beyond textbooks," says Seth, a biotechnology engineer who quit his job at Infosys to join the course.
What kind of aptitude is required for this course? A person interested in joining the course should have an analytical bent of mind and be able to think multi-dimensionally. "He or she needs to have a sound background in one stream but has to be ready to learn about other disciplines too," says Visvanathan, who believes the course is "difficult but exciting". The IIM–B and Teri courses require work experience. "Having some work experience helps in understanding the socio-political cultural nuances," explains Mathur, a student at Teri University.
The jobs in this field are varied. One can work as an advisor to parliamentarians on managing their constituency. According to Visvanathan, Bihar chief minister Nitish Kumar has a public policy professional from Harvard University advising him on policy matters.
International think tanks, UN agencies, international non governmental organisations, consultancy and specialist agencies in government ministries, and research organisations are other places where students can find work. Prakash of JSGPP believes companies will soon be hiring public policy professionals in a big way to manage their projects in different states.
The sky is the limit for those who can think differently and come up with solutions to everyday problems. As G. Ramesh of IIM-B says, "A course in public policy can catapult a student into an advisory position in any organisation." Way to go!
WHERE YOU WILL LEARN
Indian Institute of Management, Bangalore
Course: Postgraduate diploma in public policy and management (PGPPM)
Content of course: Catalysed by the Government of India and United Nations Development Programme, the PGPPM is packed with pathbreaking insights into policy making and management strategies
Duration: Two years
No. of seats: 30 for government officials and 20 for students (strength dependent on selection)
Eligibility: Five years' work experience and degree in any stream
What they check: CAT or GMAT results, a case analysis of a public policy submission
Cost: Rs 9.75 lakh for two years
Jindal School of Public Government and Public Policy, Haryana
Course: Masters in public policy (MPP)
Content of course: Multi-disciplinary
Duration: Two years
No. of seats: 40
Eligibility: Graduate degree in any discipline, including LLB, MBBS, BTech
(No age limit or work experience required)
Fee: Rs 6 lakh (tuition Fee), Rs 3 lakh (accommodation, food, laundry etc)
Entrance test: Online written test followed by an interview
Scholarship: Merit-cum-means scholarships (up to 50 per cent of tuition fee) and scholarship domicile quota (up to 100 per cent of tuition fee)
TERI University, New Delhi
Course: MA in public policy and sustainable development (Department of Personnel and Training, Government of India)
Duration: Two years
No. of seats: 10 seats (20 for civil servants)
Eligibility: Open to degree holders of any stream, plus five years' work experience
Cost: Rs 2 lakh (apart from the cost of the six-week foreign component) for non-sponsored students (not government or public sector units or corporate candidates)
Entrance: Submission of statement of purpose, interview
Foreign university programmes: Maxwell School at Syracuse University in the US; J.F. Kennedy School at Harvard University in the US; Woodrow Wilson School at Princeton University, the US; Lee Kuan Yew School at National University of Singapore
WHERE YOU CAN WORK
Think tanks like the Centre for Policy Research, New Delhi
Consultancy and audit firms which engage with the government
Corporate social responsibility divisions of companies
PR firms and communication divisions of companies that interact with the government
United Nations agencies, consultants/specialists in the government ministries, working with research organisations
Journalism