'You are greater than your circumstances'
Tips on how you can survive the pandemic and the future of MBA education in India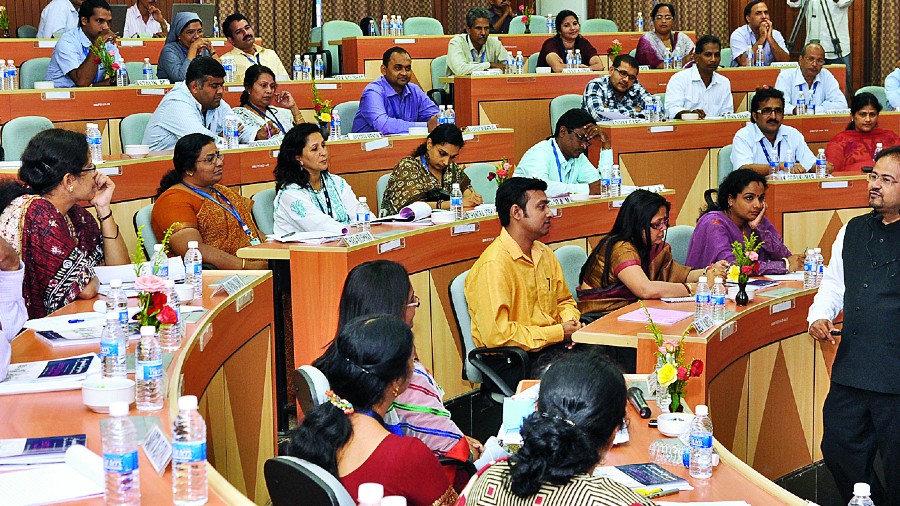 Professor Chatterjee takes a class at IIM Kozhikode in pre-Covid times
Sourced by The Telegraph
---
Published 26.01.21, 02:48 AM
|
---
Professor Debashis Chatterjee, the director of IIM Kozhikode, has taught leadership classes at Harvard University, the Indian Institutes of Management in Calcutta and Lucknow as well as several other B-schools over the past two decades. An institution builder and a prolific and internationally published author, he has many books to his credit, including Can You Teach A Zebra Some Algebra and Timeless Leadership. He spoke to The Telegraph over the phone on the future of MBA education and offered new graduates tips to survive the pandemic-induced crisis. Excerpts: 
What has been the impact of the pandemic on job prospects of fresh management graduates, especially from smaller B-schools?
Any crisis leaves a deep impact and there are always two sides to it — dark and bright. Some industries will now emerge from the debris of the pandemic, some will go down. I can see a fundamental shift in the world of commerce, industry and enterprise. The focus is moving from production to caring. Besides, technology is going to play a key role in this new world. More people will work from home enabled by technology. Many new jobs are going to emerge from this shift.
But what should they do in the meantime?
There are not too many jobs during this period of transition, but fresh graduates must use this time to gather experience. I know a person called Karma Yonten in Bhutan who wanted to clean up the garbage in his locality and eventually opened the first waste management firm in the country. Now he provides waste management service to cities and towns and also produces electricity from the garbage. There is another person in Singapore who used to collect fallen leaves from certain trees like oak and beech. Eventually, he started selling those for aquariums that help fish stay healthy. He made millions, if not billions. Select a peer group of enthusiastic and brilliant people to try your hands at a start-up. Firmly believe that you are greater than your circumstances.
Shouldn't B-schools change their curriculum keeping the evolving situation in mind?
Certainly. And top B-schools already have. At IIM Kozhikode we have introduced four new courses: PhD in management (practice track), postgraduate programme in liberal studies and management (PGP-LSM), postgraduate programme in business leadership (PGP-BL) and postgraduate programme in finance (PGP-Finance). The realigned executive postgraduate programme for working professionals has attracted more than 500 students. Our courses include business models for digital economy, scientific enquiry for social sciences and also innovation and design thinking. We had already introduced online teaching and learning modules way back in 2001.
Each and every B-school must reinvent itself now in order to be relevant and survive. They must groom the students in a new way. 
Don't you think management degrees and diplomas will lose their sheen?
Never. A proper management degree teaches you to adapt and innovate at a time of crisis.
Will online lessons dilute the intensity of an MBA course?
See, learning is all about dissemination of knowledge, be it through online platforms or traditional classes. Don't mistake the spoon for the soup. Knowledge is actually co-created by the teacher and learner. It depends on the relationship between them. It is possible to build that relationship through online platforms, but of course, face-to-face interaction is important. Creative elements of learning will always need the human element. I think the blended mode of learning is the best way forward.
Is work from home going to be the future of most jobs? Some companies are beginning to believe that this is making them more efficient and productive.
Work from home is nothing new, especially for Indians. Most Indians have been bringing home work beyond their office hours for decades. This doesn't happen in most countries in the West or Asia-Pacific. This doesn't leave a person any time to recover from work-related stress, blurring the line between professional and personal lives. To survive in this situation, you need immense discipline to organise your life. You have to learn to re-energise yourself.
I agree that work from home is increasing efficiency and productivity. At IIM Kozhikode I can see professors teaching longer hours and writing more research papers. But I doubt if this so-called productivity is sustainable in the long run. Sooner or later, there will be fatigue. You'll wish to go out. Getting confined to screens will lead to mental issues. Human beings moved from caves to the farmland to factories and office spaces. Now we are back inside a cave once again. A computer screen is nothing but a confined cave.