MCQ tests cannot measure a student's ability
Your Voice | Youngsters opine on how effective multiple choice tests can be for students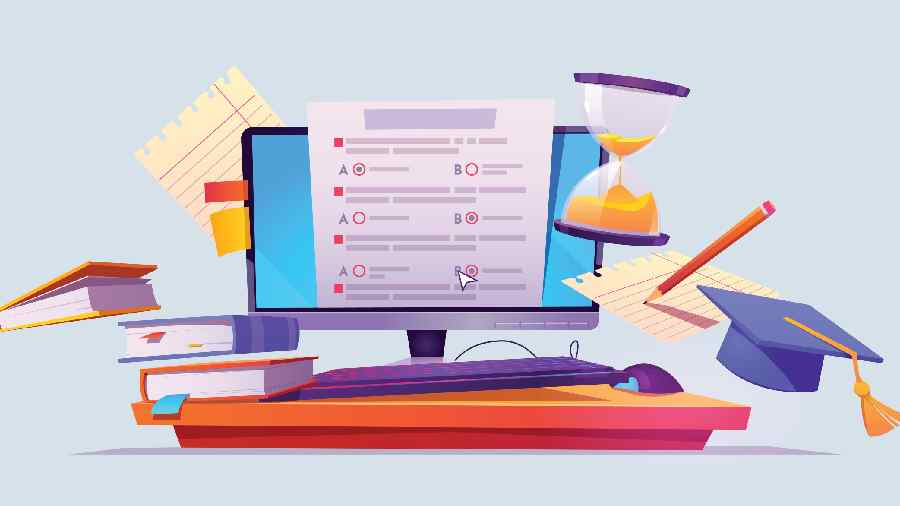 Representational image
Shutterstock
---
Published 24.05.22, 03:27 AM
|
---
MCQ exams demonstrate the student's understanding and memorising capability. The format is designed to confuse the students and test their confidence in the concept learnt. 
Srinika Banerjee  Class VIII, DAV Public School, Calcutta
Thorough learning
MCQ tests compel a student to go through the whole syllabus. Descriptive question patterns encourage suggestive study, leading to impaired learning. Thus MCQs are potential game-changers in education.
Shuvayan De Second year, Ramakrishna Mission Vivekananda Centenary College, Rahara 
Right skills
Some MCQs are straightforward but quite a lot of them require deeper analysis to answer correctly. To answer MCQs, one needs a detailed and vivid exploration of a topic. I think it really helps enhance thinking and reasoning skills along with cognitive skills.
Kamalika Halder Class XII, Convent of Jesus and Mary, Ranaghat
Clear concepts
A clear concept is necessary to answer MCQs. Here, rote-learning is not encouraged, each and every minute detail on a topic should be known to students. It is also less time consuming to answer, a boon during the pandemic.
Moubani Paul Class XII, St. Thomas' High School, Dasnagar, Howrah
YES
Wrong evaluation
MCQ tests can't evaluate critical analysis and core understanding of concepts. They cannot judge a student's writing skills, vocabulary and hands-on skills. Thus, they fail to distinguish between a bright and weak a student.
Debarpita Mandi Class Vlll, DAV Public School, Midnapore
Coaching centres
The introduction of MCQ tests, particularly the Common University Entrance Test (CUET), has resulted in the unprecedented mushrooming of coaching centres. Students belonging to the weaker sections are the most adversely affected as their parents cannot afford to send them to these highly commercialised coaching centres. 
Tenzing Kelsang Class XII, St. Joseph's School, North Point, Darjeeling
Lucky guess
The traditional form of exams lets students formulate their own answers instead of choosing from the options given, bringing out their true potential.
Devanshi Goenka  Class XII, Mahadevi Birla World Academy, Calcutta
Next Issue: HIGHER EDUCATION DOESN'T GUARANTEE FINANCIAL SUCCESS IN THE FUTURE    Hold strong views on this topic? Write in with your phone number, address, school or college and year to telegraphyou@gmail.com. The best answers for the motion and the most cogent arguments against it will be printed here