I salute the students of my country
'Students should revolt, using the only weapons they possess — their wit, their passion, their sense of right and wrong'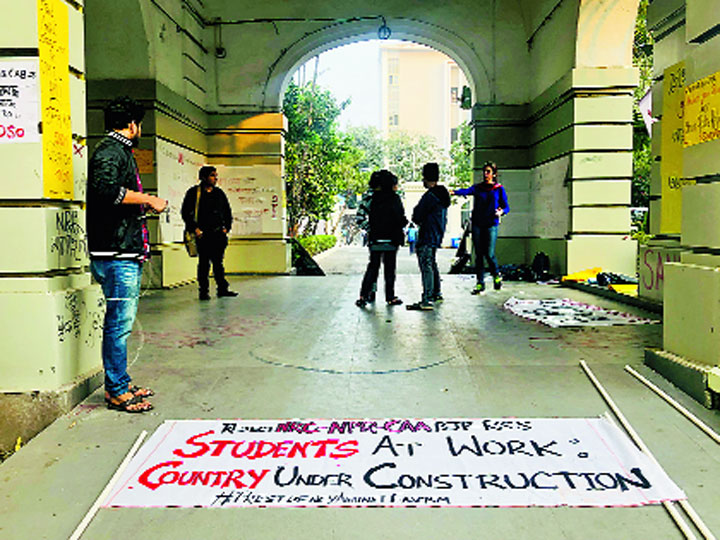 ---
|
Calcutta
|
Published 31.12.19, 12:47 PM
---
In The Zinn Reader: Writings on Disobedience and Democracy (New York: Seven Stories Press; 1997), a collection of Howard Zinn's writings, the great American historian tells of a time in the turbulent 1960s when "a student at Harvard Law School addressed parents and alumni with these words: 'The streets of our country are in turmoil. The universities are filled with students rebelling and rioting. Communists are seeking to destroy our country. Russia is threatening us with her might. And the republic is in danger. Yes! Danger from within and without. We need law and order! Without law and order our nation cannot survive.' There was prolonged applause. When the applause died down, the student quietly told his listeners: 'These words were spoken in 1932 by Adolph Hitler'." This story is part of a section titled "Obedience and Disobedience" where Zinn asks the question that many before him, including Mahatma Gandhi, had addressed — to what extent are we bound to follow the injunction to "obey the law" when the law itself is unjust?
As the government of our country enacts laws expressly designed to discriminate against people professing a particular faith, and unleashes the unchecked brutality of the state apparatus against students, not even sparing libraries in the process; as anyone who questions the government's actions is labelled "sickular", "urban Naxal", "anti-national", and worse; it is in the fitness of things that students should revolt, using the only weapons they possess — their wit, their passion, their sense of right and wrong — to express solidarity with their fellows in other institutions of higher education across the nation, and to protest the enactment of the patently biased and unjust Citizenship (Amendment) Act, 2019, and the National Register of Citizens.
This is not the place to discuss either the origins and transformations of the Citizenship Act, 1955, or the insertion of Section 14A into the Act in 2003, enabling the central government to "maintain a National Register of Indian Citizens"; suffice it to say that the spontaneous protests that have broken out in campuses across the country — typically without any "guidance" from established political parties or politicians — not only have their heart in the right place but also display a clarity of thought that is all too often missing in analyses by older, more "experienced" commentators.
Such revolts, such protests, are being met by deadly force (in Jamia Millia Islamia and Aligarh Muslim University) at worst and televised outrage at the lawlessness of those who are supposed to spend their days studying quietly, at best. But as Zinn reminds his readers, "Protest beyond the law is not a departure from democracy; it is absolutely essential to it. It is a corrective to the sluggishness of 'the proper channels', a way of breaking through passages blocked by tradition and prejudice. It is disruptive and troublesome, but it is a necessary disruption, a healthy troublesomeness."
I have nothing but respect for the unmitigated courage of the young women and men who are confronting armed police with nothing more than their slogans and posters, their unshielded bodies, and, sometimes, roses. I have nothing but admiration for the students who have dared to call out the hypocrisy, evasions, and servile partisanship of their self-declared "guardians". Sometimes I wonder, given the brutality and determination of the forces they are opposing, just how long they will be able to carry on their protests, how long they will be able to keep their revolt going, before the dark powers prevail. But that is just my middle-aged timidity speaking.
The author teaches literature at Jadavpur University