A firebrand fights fires
Manasi Shah speaks to Taniya Sanyal, the first female aviation firefighter in India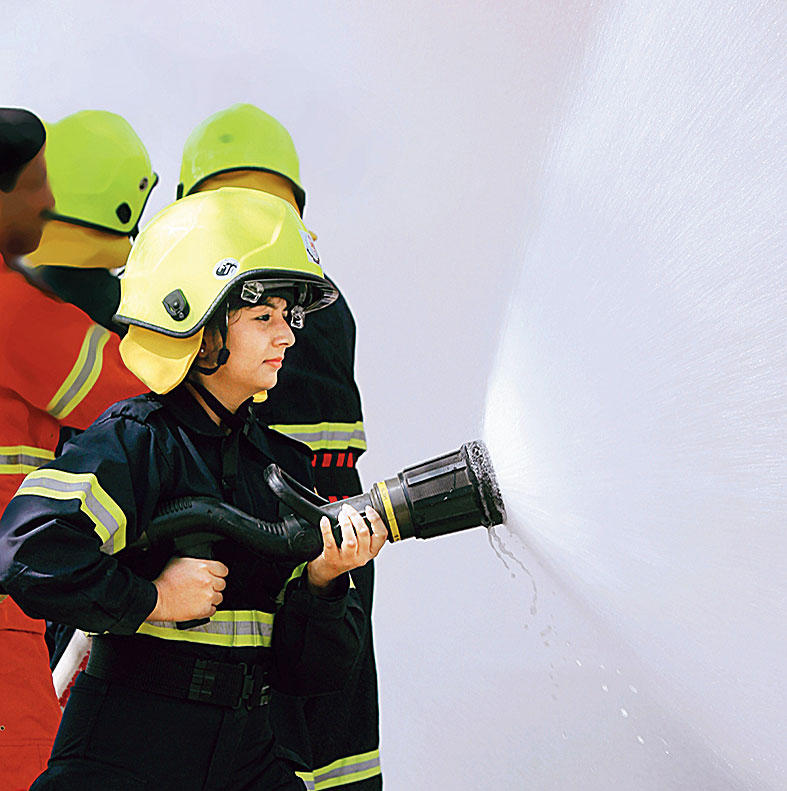 Taniya Sanyal
Telegeaph archive picture
---
Published 15.10.18, 04:11 PM
|
---
Firefighting is about discipline. Our mantra is Tranaye seva mahe, meaning we are always ready to help people when they are in trouble," says Calcutta-girl Taniya Sanyal, who was appointed the first Indian woman aviation firefighter by the Airports Authority of India (AAI) earlier this year. When The Telegraph called the 26-year-old Dumdum resident, her caller tune was Mahishasuramardini stotram — which is chanted on Mahalaya every year.
While there are women firefighters in other countries, Sanyal is the nation's first to have stepped into this male-dominated field, "This is the first time AAI has recruited female candidates. This field has not been explored by females before but that does not mean women are not qualified for this role."
On July 2, Sanyal joined AAI as a trainer with the designation of junior assistant in fire services. She is posted at the Fire Service Training Centre (FTSC) in Calcutta, where she trains others to become firefighters (pic below).
The aviation authority currently has more than 3,000 firefighters — all male — at its airports. With the number of airports in the country increasing, we will be needing more firefighters.
But what does it mean to be a firefighter? As an aviation firefighter one may be required to assist in the evacuation of people in life-threatening situations, fight fires using equipment such as hoses and foam branches, administer first aid, protect property endangered by fire, protect the environment (as necessary) in an emergency situation, participate in organised drills for fire control and rescue work, conduct fire safety inspections, test and maintain fire vehicles and other equipment, operate the Fire Control Centre at airports and observe aircraft arrivals and departures.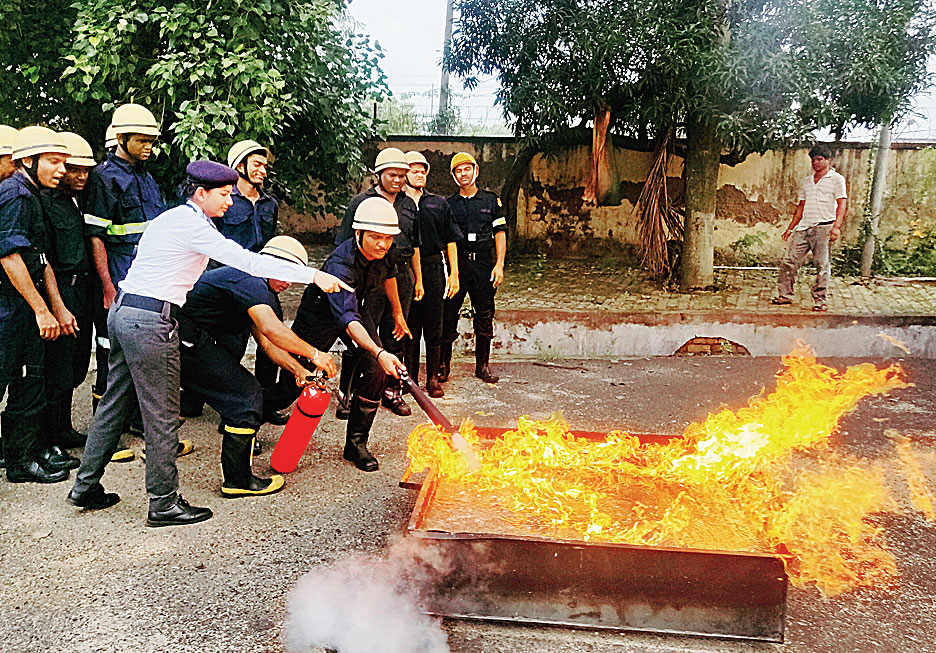 "Airport fire service is all about firefighting and rescue operations," says Sanyal and continues, "According to ICAO (The International Civil Aviation Organization) rules, our response time is 138 seconds."
Since she was a child, Sanyal wanted to do something which would bring a positive change in society. She was inspired by Kiran Bedi and also her grandmother, who was a government employee.
Sanyal took a four-month basic training at the Fire Training Centre in New Delhi. "Our daily schedule started with physical training class at six in the morning, followed by a squad drill session from 6.30am and an appliance drill that started at 7.30am and continued till 9.15am. We had theory classes from 10am to 1pm and again from 3pm to 5pm. We also had to undergo driving training for 15 days," she says.
We learn that the Airports Authority of India conducts its own recruitment examination. "The exam which I cleared was for junior assistant in fire services. First, they conducted an online written exam. The ones who qualified were selected for the driving and physical tests. Then they published the merit list according to vacancy," said Sanyal.
Sanyal completed school from Sinthee Ramakrishna Sangha Vidyamandir, graduated from Rammohan College and then completed her master's in Botany from Barasat Government College in 2015. Soon, however, she realised her calling was different. "I dreamt of doing something meaningful, something exceptional and that's what I am doing these days."
While Sanyal hasn't yet had the chance to douse a fire, she says that her training and fire drills have made her quite capable of handling such incidents.
Sanyal insists that more women should become firefighters, "Women symbolise power, that is Shakti. There is nothing that we cannot do. We just need to be focussed. There will be challenges of all kinds but you need to be determined to defy all odds. We can soar high in any field just like our male counterparts."
That explains the young woman's callertune and her courage to do something different.