RLSP reaches end of the road in NDA
Upendra Kushwaha has been given the cold shoulder by JDU, LJP and BJP, and has to look for tickets elsewhere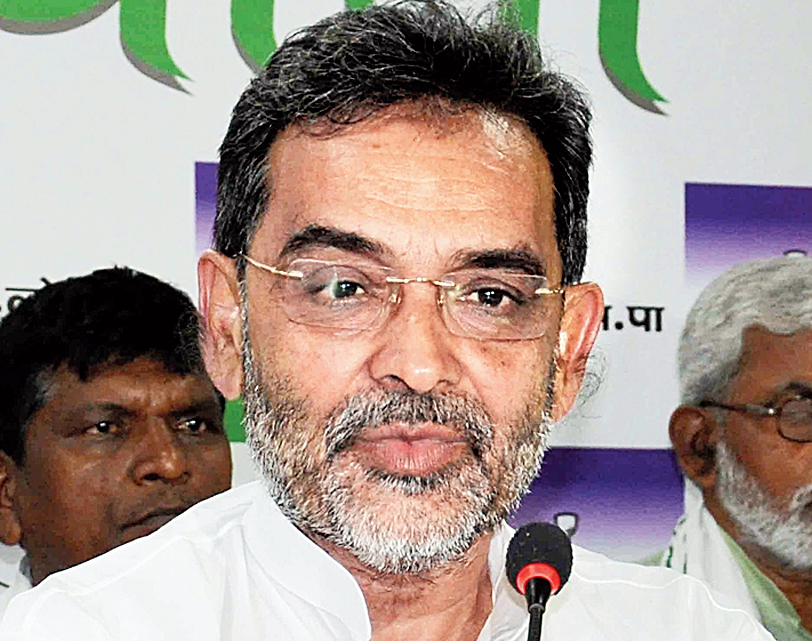 Upendra Kushwaha had given hints he would leave the NDA the day Nitish Kumar and Amit Shah announced their seat-sharing deal in New Delhi.
The Telegraph file picture
---
Patna
|
Published 14.11.18, 06:30 PM
|
---
RLSP chief Upendra Kushwaha is all set to move out of the NDA with his allies JDU, LJP and the BJP giving him the cold shoulder.
According to sources in the NDA, the JDU and the BJP will contest 17 Lok Sabha seats each and leave six for the LJP.
"The seat-sharing formula had already been chalked out. It had got stuck because of Kushwaha," said a senior BJP leader on condition of anonymity. "We'd given him enough time to take a call. But ever since Amit Shahji and Nitishji announced the equal seat-sharing formula in Delhi, Kushwaha has been making remarks that have created ripples in the NDA. So, finally, a seat-sharing formula without RLSP has been worked out, giving 17 seats each to the BJP and JDU and leaving six for the LJP."
The BJP leader also said the seat-sharing arrangement between the JDU, BJP and the LJP will be formally announced in New Delhi next week.
After this development, all eyes are on Kushwaha, who has no option than to leave the NDA because two strong NDA leaders — Chiraj Paswan of the LJP and Sushil Kumar Modi of the BJP — have rubbished his claim that Nitish had called him neech (lowly person).
Kushwaha had given hints he would leave the NDA the day Nitish and Amit Shah announced their seat-sharing deal in New Delhi. That day itself, Kushwaha met RJD leader Tejashwi Prasad Yadav. Two days ago, he met another Opposition leader, Sharad Yadav, in New Delhi, inviting Chirag's disappointment. Even on Wednesday, Chirag said: "JDU leaders have never said anything against Kushwaha, but he continuous to issue comments against Nitishji." These are not good signs.
The one NDA leader who wants Kushwaha to stay is senior BJP leader and Rajya Sabha MP C.P. Thakur. "At the time of war, the strength is always increased. Over here we are decreasing our strength. This is not a good sign. Kushwaha is strong NDA partner. If he leaves, we'll become weak, as he has a good hold on the Kushwahas," Thakur said.
On Thursday, Kushwaha again slammed chief minister Nitish Kumar over the law and order issue after one of his party workers, Amit Bhushan Verma, was shot dead in Paliganj area on Tuesday night.
"People are getting killed in incident after incident in Bihar and yet they talk of susashan (good governance). It seems Nitishji has changed the meaning of susashan. I am deeply saddened by the killing our RLSP leader. This incident has torn apart the government's claim that susashan exists in Bihar. These days innocent people are being chopped like carrot and radish," Kushwaha said after meeting family members of the killed party worker.