Assistance for 'every party, every community, every creed'
Mamata announces compensation, jobs for kin of post-poll violence victims
She urged the BJP to come to terms with the Bengal mandate and 'show some restraint', blaming the party for most of the violence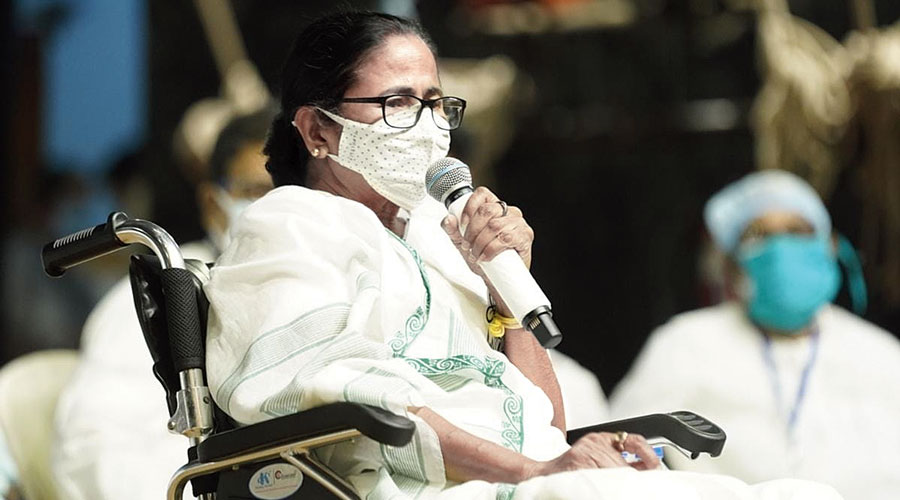 Mamata Banerjee
File picture
---
Calcutta
|
Published 07.05.21, 02:42 AM
|
---
Chief minister Mamata Banerjee on Thursday announced a compensation of Rs 2 lakh each for the families of those killed in post-results violence in Bengal irrespective of their political loyalties, emphasising her government would practise the inclusive politics she has promised.
The assistance is for victims from "every party, every community, every creed... any murder", Mamata stressed at a news conference in Nabanna.
She urged the BJP to come to terms with the Bengal mandate and "show some restraint", blaming the party for most of the violence.
"You know well that most of the violence took place by May 3, while the (Election Commission's) model code of conduct was in force. During that time, when the Election Commission was in charge of the state's law and order, 16 people were killed," she said.
"Of them, half owed allegiance to the BJP while the other half were Trinamul Congress workers... one was from the Sanyukta Morcha."The saffron ecos
ystem, smarting from the poll drubbing and unable to digest the failure of its Hindu consolidation bid, has been playing victim and continuing to push its divisive agenda that had bombed at the booths.
It has been portraying — often with fabricated social media content — the victims as BJP-supporting Hindus and the attackers as Trinamul-supporting Muslims in an apparent attempt to de-legitimise the election mandate and fuel calls for President's rule.
On Thursday, Trinamul turncoat Suvendu Adhikari, who ran a bitterly polarising poll campaign in Nandigram against Mamata, made an overtly sectarian remark in public when asked to comment on the alleged attack on the convoy of junior foreign minister V. Muraleedharan in West Midnapore.
"Nobody is safe in Bengal. Especially, Hindus are not safe here at all," said Adhikari, whose narrow and contested victory over Mamata in Nandigram has been one of the rare highlights of the election for the BJP.
State BJP chief Dilip Ghosh told reporters: "Whatever the state government here is claiming is false…. The situation here is as terrible as that of Afghanistan or Syria."
Mamata derided the Union home ministry for beginning to act tough with Bengal within hours of her taking charge as chief minister for the third time.
"This government is not even 24 hours old, and already stern letters are being sent (from the Union home ministry); (central) teams are being sent, (Union) ministers are being sent," she said. "I haven't seen anything like this in my life. May their good sense awaken; may democracy triumph.... Doing this will anyway yield them no benefits."
She added: "I ask the BJP to show some restraint, to accept the people's verdict, accept this mandate. Only because they have not yet been able to accept the people's mandate are these things taking place."
Mamata asked why similar teams are not sent to other (BJP-ruled) states during crises.
"Why aren't teams sent when there is a dearth of oxygen, of saline, of vaccines? When ghastly incidents take place at Hathras (site of a brutal rape and murder in Uttar Pradesh)? When riots take place in Delhi? When lives are lost to riots in Uttar Pradesh? When journalists are murdered?" the chief minister said.
Turning to Covid management, she said her government would get all air passengers to Bengal, even Union ministers, to undergo RT-PCR tests unless they can furnish certificates proving they are Covid-negative.
"The laws cannot be discriminatory…. If they test positive, they have to spend out of their own pocket and get quarantined for 14 days," Mamata said.
"We shall take care of everything for the poor but not for those who can afford quarantine at hotels and such facilities."