UP panchayat polls: Violence breaks out after results declared
The rural election results, announced from Monday to Wednesday, show the Samajwadi Party outperforming the ruling BJP as it had done in 2016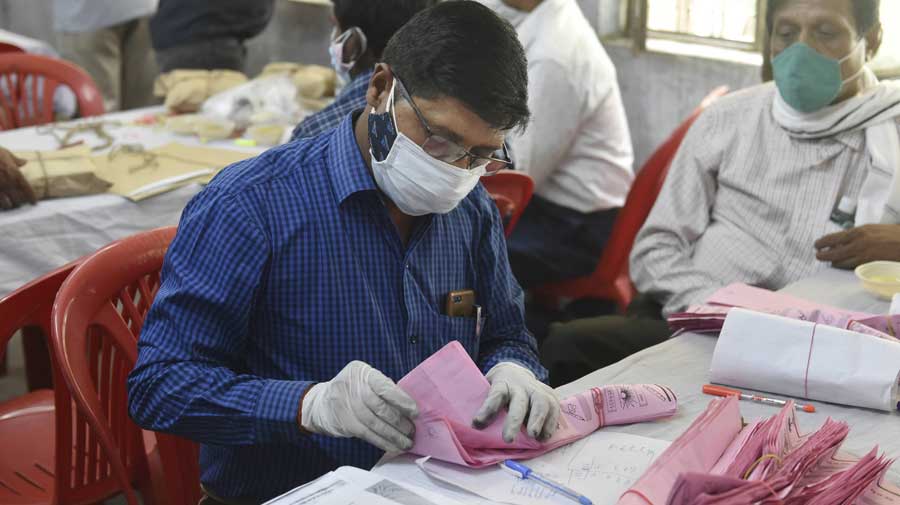 Polling officer counting panchayat election ballots at Polytechnic counting centre in Lucknow on Sunday.
PTI
---
Lucknow
|
Published 07.05.21, 01:04 AM
|
---
Violence has erupted across Uttar Pradesh following the announcement of the panchayat poll results, killing at least five people since Tuesday, while BJP leaders are sitting in dharna in every district against the post-Assembly-poll violence in Bengal.
The rural poll results, announced from Monday to Wednesday, show the Samajwadi Party outperforming the ruling BJP as it had done in 2016. Fingers have been raised against both parties for the violence.
BJP leaders and workers, including state unit chief Swatantra Dev Singh, have sat on dharnas for a few hours in front of their homes — complying with the Covid protocol — on Wednesday and Thursday in protest against the violence in Bengal after Trinamul's Assembly election victory.
Singh claimed the Uttar Pradesh police had been maintaining law and order effectively. "The Samajwadi goons are creating problems; the government will deal with them," he said.
Some of the prominent incidents of violence: 
# A man, Rama Shankar, was killed after a mob carrying sticks and sharp weapons barged into his home at village Tira in Gorakhpur, chief minister Yogi Adityanath's home district, on Tuesday evening.
The family alleged they had been attacked because they had voted for a Samajwadi candidate in the gram panchayat polls and participated in the victory procession. The police have registered a case against six people but arrests are awaited.
# A clash between supporters of two losing kshetra panchayat (equivalent to panchayat samiti) candidates in village Paikoli, Deoria district, killed a 65-year-old on Tuesday.
Amit Singh, one of the candidates, said: "People who believe I caused their candidate's defeat (by splitting votes) attacked my grandfather Bharat Kunwar Singh with a knife. He died on the way to hospital."
Gopal Prasad, a police officer, said: "We have registered a case against 10 accused and are trying to arrest them."
# Poonam Devi, daughter-in-law of a Bahujan Samaj Party-supported candidate in the gram panchayat elections, was shot dead on Tuesday night at village Isakpur, Azamgarh district.
Ram Awadh Rajbhar, former gram panchayat chief, had fielded his wife Karma Devi but she lost. Twenty people attacked the family, accusing it of causing the defeat of their candidate and killing Poonam.
Rajbhar's daughter Priti took a bullet too while Ranjit Kumar, a neighbour, was wounded with a sharp weapon when he tried to intervene.
Azamgarh superintendent of police Sudhir Kumar Singh said: "We have booked a dozen people. A hunt is on to arrest them."
# Criminals barged into a home in village Kandhikala, Jaunpur district, shot dead Santosh Verma, 35, and injured at least three members of his family.
Santosh's father Jawaharlal Verma told reporters: "We were attacked by BJP supporters because we had voted for an Independent candidate. The attack was planned by Amit Upadhyay, whose wife Asha Devi, a BJP-supported panchayat candidate, lost."
Jaunpur superintendent of police Raj Karan Nayyar said: "We have booked 10 people and arrested four."
# Rahisha Begum, resident of Bijnore, was killed soon after the zilla panchayat results were declared. She had been attacked because her family had voted for the Samajwadi candidate, a relative said.
# A mob pelted the police with stones on a highway near Asepur village in Allahabad district on Wednesday after a social media post claimed the returning officer was withholding the announcement of an Independent candidate's victory under BJP pressure.
The police fired in the air to disperse the crowd. Dhawal Jaiswal, additional superintendent of police, said the person who had posted the "false" message would be identified and booked.
# Matiur Rahman Khan, vice-president of the Congress's Rampur district unit, was attacked near village Lalpur Kalan on Tuesday night while returning home to the city after the poll results had been declared.
Khan, who had lost from Ward 15 in the zilla panchayat election, has been admitted to hospital.
# On Wednesday evening, violence erupted in Brahmpur block of Chauri Chaura, Gorakhpur, while supporters of two village panchayat candidates were protesting against alleged counting fraud.
As the police used mild force to disperse them, the crowd burnt a bus of the Provincial Armed Constabulary and the local block office.
Ravi Pratap Nishad, BSP candidate from Ward 60, said: "The electoral officer issued winners' certificates to Samajwadi candidate Gopal Yadav from Ward 60 and Ramesh Kumar, an Independent, from Ward 61 when I had already won from Ward 60 and (BSP colleague) Kodai Sahni from Ward 61."
Vijayendra Pandian, district electoral officer, said: "Virendra Kumar, the returning officer, issued the certificates to the wrong people. Nishad and Sahni have now received the winners' certificates and a case has been filed against Kumar."
# On Wednesday night, supporters of a defeated gram panchayat candidate allegedly attacked the family of winner Maya Pandey in village Bhelipatti, Deoria.
Ram Laxman Verma, 60, hired to make sweets at Pandey's home, was injured in the left eye. Pradeep Sharma, the local police inspector, said: "Three people have been taken into custody."
# Five people were injured in village Govindpur of Moradabad district on Wednesday. Dulha Hasan, who has won the gram panchayat election, said: "My supporters were attacked by supporters of Murad Ali, who lost the election."
Both were Independent candidates.
Nawab Singh, officer in charge of Mundapande police station, said a case had been registered against four people.
The Samajwadis have bagged 791 zilla panchayat seats, the BJP 601, the BSP 361 and the Congress 59. The smaller parties and Independents have won over 1,000 seats.