Mamata Banerjee's promise of preserving the inclusive tradition of Bengal helped her pull off the decisive victory in the Assembly polls, the district-level poll percentage figures suggest.According to the data, Trinamul has done well not only in the minority-influential areas but also castled the BJP in the tribal-dominated districts.
The BJP, which attempted polarisation hoping to consolidate Hindu votes, trailed in the eight districts — such as West Midnapore, Hooghly and Nadia — where over 60 per cent of the population are Hindus.
Rather, the BJP's high-pitched attempt to polarise Bengal seems to have helped Trinamul bag more than 50 per cent votes in seven districts where minorities make up over 20 per cent of the population. The seven districts are Murshidabad, North Dinajpur, Malda, East Burdwan, South 24-Parganas, Birbhum and Howrah.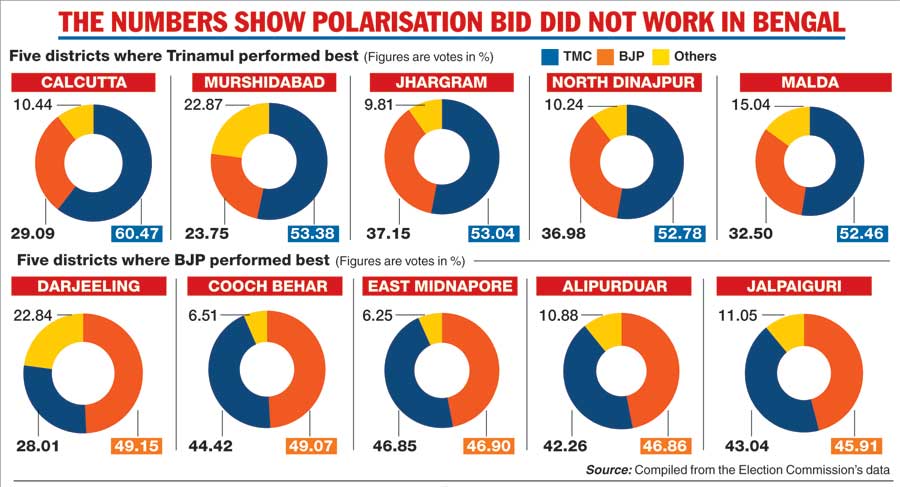 "The Trinamul swept these seven districts but the BJP failed to win the majority votes even in Hindu-majority areas.… The BJP also lost ground in tribal-dominated districts like Jhargram, Bankura, Purulia and West Midnapore, where it had performed better in the 2019 Lok Sabha polls," said political scientist Biswanath Chakraborty.
In 2019, the BJP was ahead of the Trinamul in 13 of the 23 districts but the number came down to 5 this time.