Didi talks need to swat insect called graft
Mamata Banerjee's comment assumes significance as scores of senior party leaders are embroiled in several corruption cases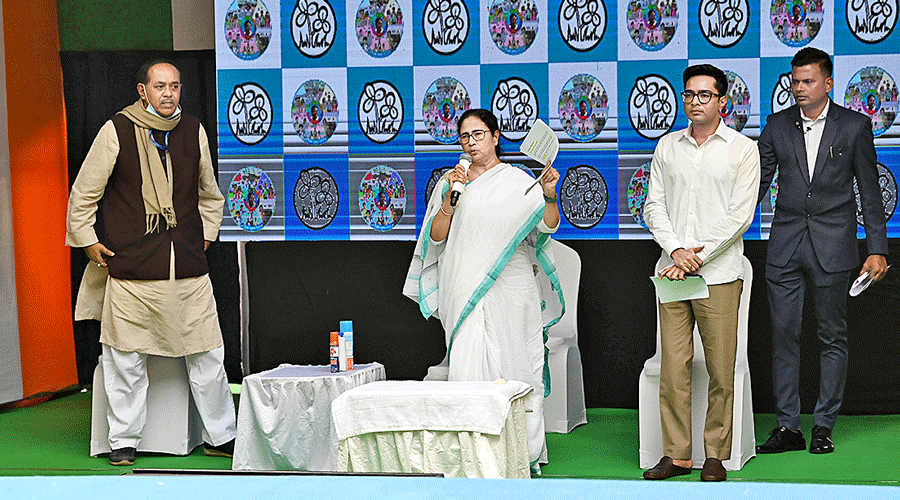 Mamata Banerjee at Nazrul Manch in Calcutta on Monday.
Bishwarup Dutta
---
Calcutta
|
Published 03.01.23, 03:00 AM
|
---
Mamata Banerjee on Monday spoke about the ability of an insect, if left unaddressed, to destroy an entire harvest.
The chief minister's comment at a Trinamul Congress event in Nazrul Manch, Calcutta, assumes significance as scores of senior party leaders are embroiled in several corruption cases.
"If one insect is born into a stack of paddy, if it is not fully finished, it could result in the entire paddy harvest getting infested with insects. Therefore, I must eliminate the insect before that," said the chief minister.
A day earlier, her nephew Abhishek Banerjee had threatened to "throw out by the neck" anybody with proven corruption.
The message, loud and clear, from the ruling party's supreme leader nipped in the bud speculation on whether the aunt and the nephew were on the same page with regard to the iron fist approach towards graft allegations against those in the party.
"The insect should not even be born. If it does, the insect should first be warned. It must be told to rectify itself and warned of consequences if it fails to.... If it fails to do so, then we do the needful," said Mamata. "Remember, not even I am above the party, or the people. Nobody is."
A senior in the leadership, however, said it remained to beseen whether any of the warnings materialised in tangible action.
"I have lost count of such warnings from her. But I can say with certainty that I have seen real action initiated against offenders, some incorrigibly habitual, maybe in a dozen instances in our 12 years in power," he said.
"I sincerely hope that these warnings from our top two do not remain in lip service."  In her address at the Nazrul Manch, Mamata repeatedly broached the subject of corruption, citing her own example in terms of personal probity.
She cautioned against the cardinal sin of avarice.
"If you are continuously thinking about satisfying your greed, then you must rethink for a while and stop. This is not acceptable. Try and curb greed, get a grip on it. Explain this to the youngsters. There is no greater certificate in life than that of people considering you an honest person," said Mamata.
"Progress honestly, correctly, with your head held high, without considering what you stand to gain. A life of honesty, more so in public service, is of paramount importance. There is no greater ornament. This is our culture, this is foremost," she added.