Jute-growing village gets a taste of tea
If more plantations come up in the rural pockets of Dinhata, it would create direct employment for many people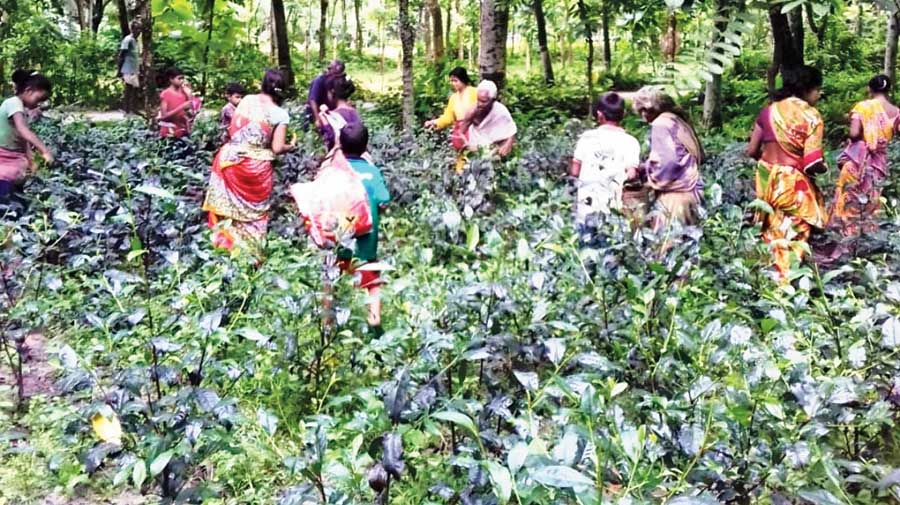 Women pluck tealeaves at the plantation in the village under Dinhata subdivision, Cooch Behar.
Main Uddin Chisti
---
Cooch Behar
|
Published 11.11.20, 12:48 AM
|
---
A new sight — that of a lush green tea plantation — greets people at Bajejama Pakhihaga village of Cooch Behar these days.
So far, the village under Matalhat panchayat of Dinhata never had a tea plantation. This area in north Bengal has primarily been known as an agrarian belt, with tobacco and jute its main crops.
The credit for the change in the crop basket goes to Partha Pratim Sarkar, a resident of Bajejama Pakhihaga and social worker.
Sarkar not only introduced tea plantation in the area by taking a plunge himself, but is also spreading awareness on how to grow tea leaves — a cash crop — among local farmers and migrant workers.
Around four years back, Sarkar started working on his plan to develop a tea plantation over 50 bighas that he owns in the village.
"The plantation is ready in around 30 bighas while work is going on in the remaining land. From the plantation, I started getting around 6,000 kilos of tea leaves a month from this season. I am sending the leaves to a tea factory in Madarihat and these days, I am earning Rs 18 to 20 per kilo," said Sarkar.
There has been a decline in the yield of tea leaves in large tea estates of north Bengal. This has led to the emergence of the small tea sector, and for the past few years, the small tea sector is contributing around half the total tea produced in the region.
"I believe that in the coming years, small tea plantations like the one I have will be the major supplier of tea leaves. It can provide an opportunity to farmers who often suffer losses by cultivating traditional crops and can also be a means of employment for migrant workers of our district," he said.
As of now, there are some tea plantations in Cooch Behar district but most of those are in Mekhliganj subdivision close to tea belts of Jalpaiguri.
The tea plantation has also created an opportunity for daily wage earners of the village, particularly those who are old and cannot do physically demanding work.
In small tea plantations, around three workers get around 200 to 250 days' work (of tea plucking) for every acre of land.
"My plantation is spread over around 10 acres of land and I am engaging around 30 workers these days. Many of them are middle-aged or old, and find it convenient to pluck tea leaves," Sarkar said.
If more plantations come up in the rural pockets of Dinhata, it would create direct employment for many people, he pointed out.
Sarkar's plan has encouraged a number of other farmers of his village and some others who are from adjoining areas. "Many of them have approached me to know how they can start the plantations. I have provided them some guidance and have also asked them to visit the tea board's office in Jalpaiguri and talk with small tea growers," he said.