Covid: Medicine crisis as Visva-Bharati halts pension
79-year-old Mukhiya is one of many from around 1,800 pensioners facing a cash crunch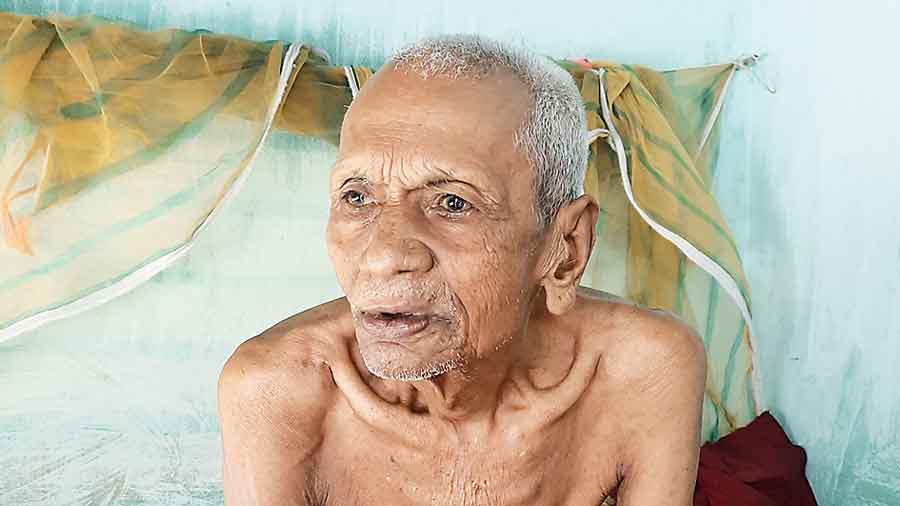 Nibait Mukhiya.
Amarnath Dutta
---
Santiniketan
|
Published 10.07.21, 12:26 AM
|
---
Nibait Mukhiya, a 79-year-old retired watchman of Visva-Bharati who lost his sight years ago, is having a tough time this July.
The aged man is surviving without medicines and proper food as he is yet to get his pension of Rs 12,000 for the month of June, in the wake of varsity authorities halting salary and pension of 4,000-odd employees while awaiting "government nod to open the accounts office".
"The money I had left got over in four days of July. Now, I have no medicine, no proper food. I even tried eating roti with salt," said the man whose wife Buchi now visits the bank daily to check if his pension has been credited. Mukhiya is one of many from around 1,800 pensioners facing a cash crunch.
"I can tell you of at least a hundred such families in dire straits. Varsity authorities are yet to let us know when we will get our pension," said Sisir Kumar Datta, the secretary of the Visva-Bharati Pensioners' Association.
Several officials and teachers said the varsity stopped paying salary and pension without proper notice. The pensioners' association wrote to Prime Minister Narendra Modi, the Chancellor of Visva-Bharati, on Thursday, on the hardships.
Visva-Bharati officiating PRO Anirban Sircar, the only official authorised to speak to the media, did not reply to this paper's calls or text message.
The varsity is closed amid Covid-19 curbs imposed by the state government.
Sources said that in an online meeting last month, the varsity's accounts department officials told VC Bidyut Chakrabarty that to do their job, they needed permission to reopen the office. Following the VC's order, officiating registrar Ashok Mahato wrote to the Union education ministry, seeking a nod to reopen the office. The ministry shifted the onus on the state. Mahato then wrote to state chief secretary H.S. Dwivedi.
"The accounts office opened during the peak of the pandemic. If that was a violation, why not now?" asked a professor.