Welcome to new India: Pacers 19, others 0
March of invincible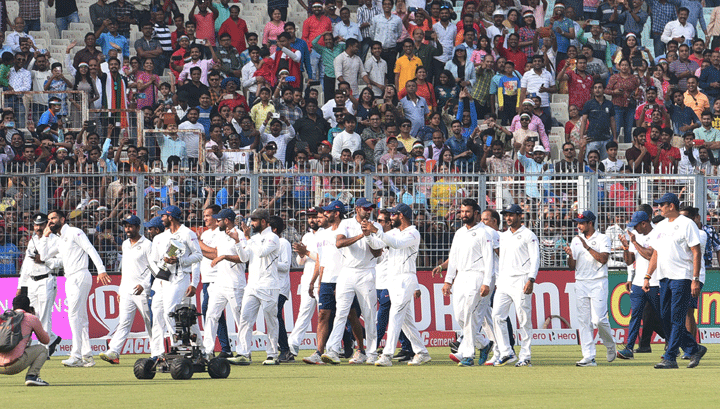 Team India players and support staff take a lap of honour at Eden Gardens after their innings and 46-run win on Sunday.
Picture by Gautam Bose
---
Calcutta
|
Published 24.11.19, 07:57 PM
|
---
The Times They Are a-Changin'. A nation obsessed with under-prepared and turning pitches is now reaping the riches of lively and bouncy wickets.
The result: a new-crop of fiery fast bowlers who can easily run through any batting line-up without much fuss.
Sourav Ganguly, the current Board president, had always dreamt of leading an all-pace attack and achieving success in overseas conditions. His plans never really took shape though it was during his days of being at the helm of Team India that the changing trend in mindset started to take its nascent steps.
With the likes of Javagal Srinath, Zaheer Khan, Ashish Nehra, Ajit Agarkar and Debasish Mohanty, Sourav sowed the seeds of a massive revolution in Indian cricket. A decade later, jaws are now dropping in disbelief at the emergence of a fast bowling unit that has prompted the world to stand up and take notice.
Virat Kohli didn't forget to mention Sourav's contribution at the prize distribution. "We have learnt to stand up and give it back. It all started with Dada's team and we are just carrying it forward," the Indian captain said.
South Africa arrived in India thinking a repeat of 2015, where the ball turned from the opening session, was inevitable. Instead they were taken by surprise by an attack that battered and bruised them into submission.
On Sunday as India wrapped up the series against Bangladesh in barely 47 minutes on the third day, the fast bowlers had taken all 19 wickets to fall in the Test — Mahmudullah couldn't bat because of a strained hamstring in the second innings.
The last time India had won a Test without help from their spinners was in Johannesburg last year, where they played four fast bowlers. The innings and 46-run victory at Eden Gardens was their fourth successive win by an innings, and seventh straight triumph overall.
While South Africa and Bangladesh have been poor losers, India's varied and lethal attack has been at its best. All this without Jasprit Bumrah and you have a fair idea how menacing this unit is!
Mohammed Shami's rhythm has been envious, not to speak of the upright seam that has yielded extra zip and movement. Ishant Sharma has learnt to be consistent and accurate, someone who can set up a batsman's dismissal.
Umesh Yadav may not have yielded much reverse swing with the pink ball but was incisive and brutal to pick up five for 53 in the second innings here. The way he set up Mushfiqur Rahim, who top scored with 74 for the visitors in this Test, was commendable.
Sensing that he was not averse to stepping out, Umesh shortened the length wisely inviting the batsman to go over the top. The ploy finally paid off as Mushfiqur needlessly spooned it in the cover region. That ended their dreams of making India bat again.
Virat spoke about the mindset bit. "If you feel fast bowlers are not in the game then you are already into a negative mindset. With the way these guys are bowling now, they can pick up wickets on any surface at home or away," he said.
"I think it's all about the mindset you walk in with. If you have a set template saying I might not be bowling that much in the game, then your body language is such... These guys are very hungry and I feel we are in the right kind of space to capitalise on opportunities and everyone is enjoying playing in this team. That's the standout feature about us."
Virat felt that they have been reaping the benefits of hard work over the last 3/4 years. "These (guys) were already there when I took over as captain. Shami was in the system, Ishant's been playing for a long time…Bhuvi was there. Umesh came into the scene in 2012, so he was there.
"Bumrah is a late addition, but all these other guys were already there. And everything happens with time. They gained more experience, now they're bowling well together which took a lot of time to figure out. They have their own fitness routines and everything.
"They take ownership of their own preparation, their own fitness and communication is very clear. If someone is going through a workload problem, we don't make them feel like it's up to you whether you want to take rest or not. We take that call for them. We want you fresh for Test cricket, don't worry about anything else.
"You go, you train, you come back. Get 20 wickets and that's the most important thing. And if they're fit enough, the workload is there…
"Shami is going to be picked for one-dayers, Bhuvi is always available to play Test cricket. So it all depends on how we manage them. And there has been good communication between management and the bowlers as well," Kohli said.