Mirabai Chanu lifts India out of bronze age in Olympic weightlifting
She seemed to know that her silver medal was — to quote her former coach Brojendro Singh in Imphal —"worth its weight in gold"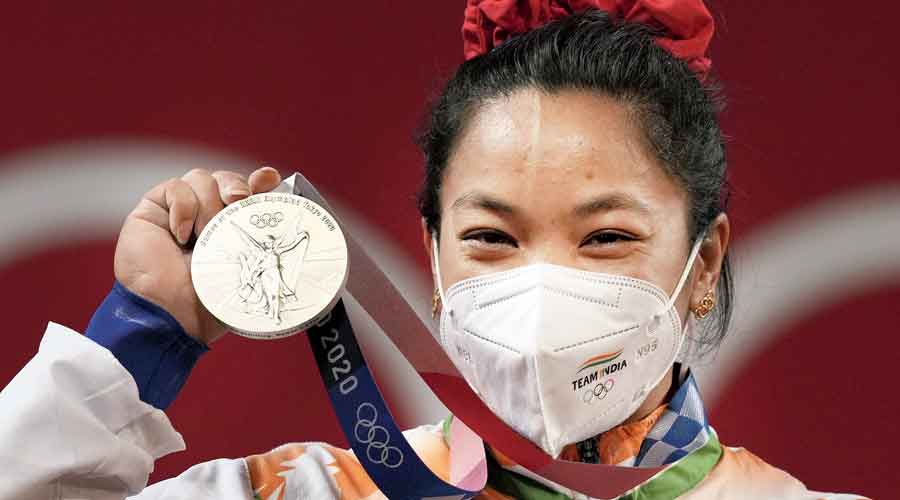 ---
Imphal
|
Published 25.07.21, 02:43 AM
|
---
As her aching arms dropped the barbell at her last attempt in the clean-and-jerk, her last reserves of strength drained by a gruelling contest, Saikhom Mirabai Chanu had the grace to smile.
She seemed to know that her silver medal was — to quote her former coach Brojendro Singh in Imphal —"worth its weight in gold".
For one, it hoists India out of the bronze age in Olympic weightlifting, 21 years after lifter Karnam Malleswari of Andhra Pradesh came third in Sydney 2000.
For another, the Manipuri girl's silver, earned in the 49kg category, put India second on the overall medals tally for a brief while — a feat the country had never before achieved, PTI reported.
This was the first time India had won a medal on the opening day of an Olympic Games, the agency added.
Chanu, 26, lifted a combined 202kg in the snatch (87kg) and clean-and-jerk (115kg), finishing 8kg behind China's Hou Zhihui and 8kg ahead of Indonesia's Aisah Windy Cantika.
As the realisation that she had won a medal sank in, Chanu wept and hugged head coach Vijay Sharma, before breaking into bhangra.
The silver is "a dream come true for me", Chanu, who holds the clean-and-jerk world record at 119kg, later tweeted.
I am really happy on winning silver medal in #Tokyo2020 for my country pic.twitter.com/gPtdhpA28z

— Saikhom Mirabai Chanu (@mirabai_chanu) July 24, 2021
But she told her mother around 1pm that she would keep striving for gold, her brother H. Binod Meetei told The Telegraph from the family's Nongpok Kakching home in Imphal East, about 23km from Imphal city.
It's in this village that a champion's steel was forged in adversity, where bundles of firewood marked the young Chanu's first shot at weightlifting.
"We were poor in those days. We used to fetch dry firewood to our home for cooking from places 1km to 3km away. Chanu (the youngest of six siblings) would bring more firewood tied to her head than the rest of us. She loved doing so," Binod, a farmer and part-time farm hand, said.
"She had that strength... she got hooked to sports early, asking mother about champion players. She used to say that if they could, she could too."
Chanu's formal training began in 2006 at a state government coaching centre in Khuman Lampak, Imphal, under Dhyan Chand awardee coach L. Anita Chanu, herself a former international weightlifter.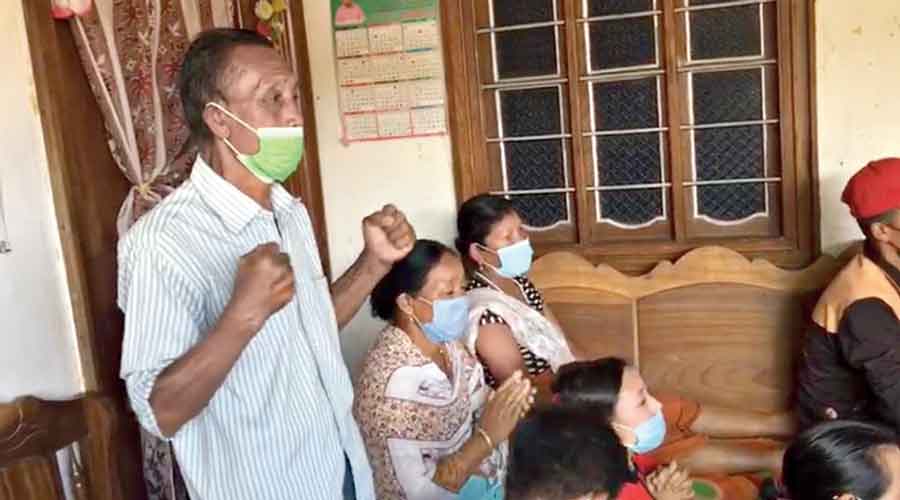 Saikhom Mirabai Chanu and a friend, Kh. Nungshiton Chanu, would hitchhike on sand-and-rock-laden trucks from her village to the centre.
One of the truck drivers, Ropen Singh, remembered her on Saturday: "Every day the girls waited to be dropped off at Khuman Lampak. After training they would return on any available truck."
Ropen was happy that "we too have played a part" in her success.
Brojendro, one of those to train Chanu between 2006 and 2011, said she was strong and focused and "never missed a day's training".
"Just once in these five years was she absent for about 15 days. When we visited her home we found she was down with chicken pox."
Asked what the medal meant for her as a Manipuri, Chanu said: "I'm very happy to win the first medal for India at these Games. I don't just belong to Manipur; I belong to the whole country."
Chanu's first experience of the Olympics had been traumatic: she left the platform in Rio in tears five years ago after failing to log a single legitimate lift.
Those ghosts were soon exorcised, though. She won gold at the World Weightlifting Championships in Anaheim, the US, in 2017 and the Commonwealth Games gold in 2018.
On Saturday, she told reporters: "I'm very happy, I have been dreaming of this for the past five years. I am very proud of myself right now. I did try for gold but even silver is a great achievement for me."
She thanked her coaches and her family, especially mother S. Tombi Leima, whose gift of Olympic-rings-shaped earrings she wore during the contest.
"It's a very proud moment for me and the whole village," her mother said.
Chanu had called her mother at 9pm on Friday to say her event was on Saturday morning, Indian time.
The family and a few neighbours watched the event live from their home. They even got a generator lest there be a power cut — which happens two to three times a day at the village.
"We were all expecting gold. She too was eyeing gold. We all prayed while watching," Binod said.
"But we are happy that she at least got the silver. She has done India and Manipur proud. She has still not given up on her gold-medal dream — she told our mother that when she called this afternoon."
Chanu is one of five Manipur athletes participating in the Games: two in hockey and one each in judo, boxing and weightlifting.
The celebrations were subdued in her village, as in Manipur as a whole, because of the pandemic.
Chanu's village has been among the worst hit. A mass testing drive was under way about 100 metres from her home while she was fighting her biggest battle so far.
"We had to ensure there was no violation of the Covid protocol. Lots of people wanted to visit us but we dissuaded them," Binod said.
"We also got ourselves tested around 3pm. Fortunately, we all tested negative."
Additional reporting by Umanand Jaiswal from Guwahati and PTI from Tokyo