Praise for Rafael Nadal's 'unbreakable spirit'
I don't think any other player in history could do what he did with that injury, says British player Liam Broady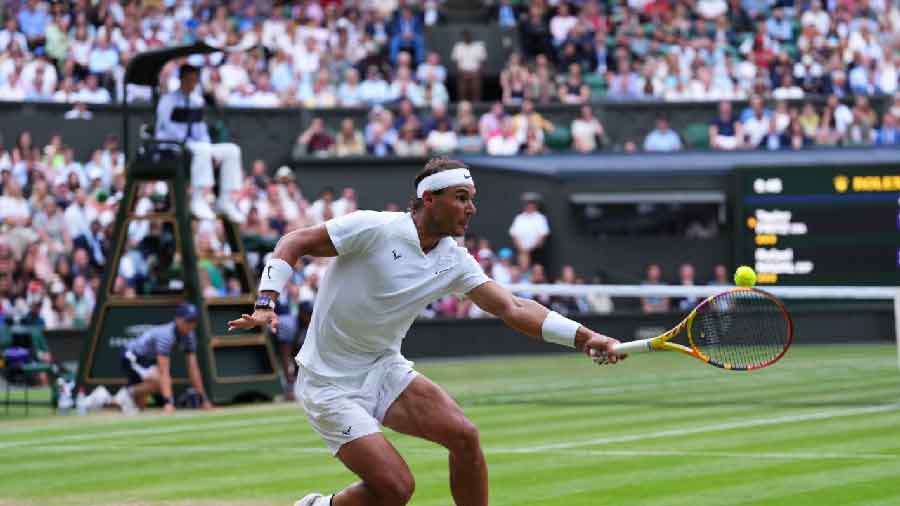 Rafael Nadal
File picture
---
Calcutta
|
Published 09.07.22, 12:59 AM
|
---
A man with 22 grand slam singles title. A man whose career is fraught with injuries. It may seem odd, but both statements describe Rafael Nadal.
When the Spaniard pulled out of Wimbledon citing a torn abdominal muscle on Thursday, ahead of his semi-final match against Nick Kyrgios scheduled for Friday, the tennis world was stunned.
It was known that he was injured, that he played and won the five-setter quarter final against Taylor Fritz with a lot of pain.
But over the years, one has got used to seeing Nadal playing with pain. What his opponents and fans have not got used to is seeing him give up.
Just the way he stuck around to beat Fritz with what has now been detected as a 7mm muscle tear. His father and sister were seen gesturing to him to retire from the match. But the second seed Spaniard kept up the fight.
Twitter was abuzz with support. "Just so disappointed for @RafaelNadal – such a shame his body isn't allowing him to continue – his spirit is unbreakable – hope he will be back soon – V AMOS Champ!!! #classact all the way," tweeted Martina Navratilova.
Prior to this, Nadal had already missed 11 grand slam events stretching back to his debut in 2003. He has also now pulled out during a slam five times.
"I made my decision because I believe that I can't win two matches under these circumstances," Nadal announced at a news conference at the All England Club on Thursday.
Nadal's first injury-enforced absence came as a 16-year-old in 2003 when he hurt his elbow in a fall during training and had to miss the French Open. The 36-year-old has been forced to sit out at least one tournament in every year of his career since.
Nadal has suffered a series of knee and foot injuries, as well as hamstring pulls, a wrist tendon tear, and an abdominal muscle strain, among other issues. He even played briefly with bandaged fingers after burning himself accidentally at a restaurant in 2011.
But he never seemed out of the zone of champions. In 2015-16, when he did not reach even a semi-final of a single grand slam, many thought his career was over. But since then, he had won eight grand slam crowns.
In recent years, a left foot problem forced him to miss the 2021 Wimbledon and US Open, and the Tokyo Olympics. A rib fracture at the Indian Wells final this year ended a 20-match winning run, which had included the Australian Open title.
When he won his 14th French Open in June, his left foot had to be treated constantly with pain-killing injections. He had said then that he would undergo pain-numbing radio-frequency treatment on his foot.
British tennis player Liam Broady tweeted: "It's sad there's only one semi final now but Rafa winning in five with an ab tear? Goat behavior. I don't think any other player in history could do what he did with that injury."
Kyrgios, who would have been his opponent in the semi-final, posted on Instagram with a picture of the two players: "different players, different personalities. @rafaelnadal I hope your recovery goes well and we all hope to see you healthy soon…till next time…"
After the match against Fritz, Sachin Tendulkar also heaped praises on him. "A super competitor who never ever gives up despite all adversities. Amazing game of tennis last evening @RafaelNadal," he wrote on Twitter.