The cameras can't spot Ravi Shankar Prasad & Prakash Javadekar
DELHI DIARIES: Why Nitish keeps harping on prohibition and how IT raids are disrupting campaigning in UP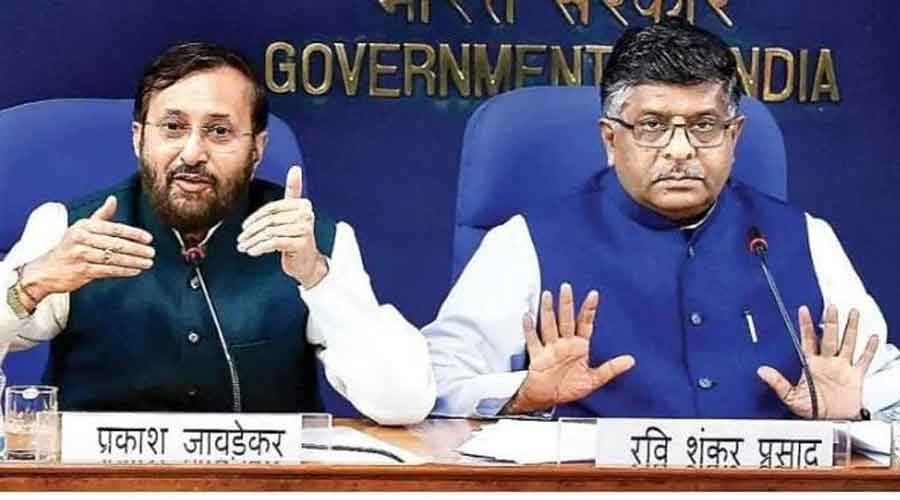 Prakash Javadekar and Ravi Shankar Prasad.
Twitter/@drishtisharma02
---
Published 26.12.21, 12:29 AM
|
---
Missing in action

The manner in which two high-flying leaders of the Bharatiya Janata Party have disappeared from the limelight after being dropped from the Union ministry has amazed Lutyens' corridors of power. The absence of Prakash Javadekar and Ravi Shankar Prasad was felt during the just-concluded winter session of Parliament and, before that, at the national executive meeting of the party. The two former ministers, who had been top spokespersons of the Narendra Modi government, were nowhere to be seen. Cameras simply could not spot them. They are subdued on Twitter too. Prasad, who shed the Rajya Sabha tag and got elected to the Lok Sabha for the first time in 2019, spends most of his time in his constituency, Patna Sahib. Many are of the opinion that he might be wary that the party may not field him again in 2024. Interestingly, on the birth anniversary of the former prime minister, Atal Bihari Vajpayee, which falls on December 25, both of them fondly remembered him and hailed the "great leader". Both appeared to be missing the good old days of the Vajpayee-Advani-led BJP. Many in the current regime may disagree though. They feel that the BJP's luck turned with Modi.

Old wine, new bottle
The ruling allies in Bihar, the Janata Dal (United) and the BJP, have finally agreed on something about the chief minister, Nitish Kumar: that he likes old wine in a new bottle. Everybody's ears pricked up at a gathering in Patna where senior leaders from both parties were hobnobbing while Kumar was speaking some 150 kilometres away at Gopalganj as part of his statewide tour that has been dubbed as 'social reform campaign' and is primarily directed against alcohol consumption. But things took a turn when one politician disclosed Kumar's love for repackaging the same speech. He said: "Just hear his speeches. Around 90 per cent of them are spent talking about bicycle and school uniform schemes for children, how he provided reservation for women in local self-government, why he implemented prohibition, built roads and did what not. He repeats these things in almost all his speeches, at times word by word."

The man of the moment, a BJP leader, also asserted that the speeches have not only become boring but they also show that the CM has no new achievement to showcase, except prohibition, which has relegated the agenda of development and better law and order completely to the back-burner. People from Kumar's party present there just kept quiet or laughed instead of countering him.

Raise a stink

Pushpraj (Pampi) Jain, a Samajwadi Party member of the legislative council, is a well-known perfume manufacturer. His friend and neighbour in Kanpur, Piyush Jain, is a manufacturer of chemicals used in pan masala. During a recent IT raid at the latter's house, the police told reporters that the businessman was financing the election campaign of some SP candidates. A government official confirmed that Piyush was sponsoring over 20 candidates in the 2022 assembly polls.
 It took time for Pampi to muster the courage to come out with the truth. "I manufacture perfume and have businesses in Mumbai and other places. The cold storage and petrol pumps shown by the media as that of Piyush are actually mine. There is rumour that I am associated with Piyush just because we both are Jains," Pampi clarified. By then, the taxmen had found Rs 175 crore in Piyush's house.
 Senior BJP leaders are claiming that the raid has spoiled the election campaign of its main rival in Kanpur and adjoining districts. IT raids on the SP spokesperson, Rajeev Rai, in Mau and the party members, Gajendra Singh and Jainendra Yadav, have also disrupted their campaigns in other parts of Uttar Pradesh.

Elusive truce
The founder of the Hindustani Awam Morcha (Secular) and former Bihar CM, Jitan Ram Manjhi, is keen on projecting himself as the foremost Dalit leader in the state. But he recently used profanities against Brahmins, generating much heat. He tried to apologize, but ended up adding fuel to the fire. A BJP leader was so angry that he announced a reward of Rs 11 lakh for anybody who would cut off Manjhi's tongue — he has been thrown out of the party. Soon, court cases were filed against Manjhi.
 
The former CM gave truce another shot and said he would organize a 'Brahmin-Dalit unity feast' but only those Brahmins who have never consumed non-vegetarian food or liquor and have not committed dacoity or theft were invited. Fish is a staple diet of a majority of the Brahmins of the Mithila region. It is unlikely that anybody will turn up for the said feast.

Costly slip

The Karnataka CM, Basavaraj Bommai, has had a rough ride ever since he replaced BS Yediyurappa. Bommai has been stretching every sinew to prove that he is worth the assignment, but he unfortunately blurted out that "no post is permanent". This triggered talks about his exit from the top job. Bommai's socialist moorings under his late father, SR Bommai, have been a blotch on his otherwise impeccably saffron hues. Perhaps Bommai will now learn to weigh his words.
The Kerala fisheries minister, Saji Cherian, has caused a stir by getting Rs 4.10 lakh sanctioned to revamp the toilet at his office. What is really striking is that the amount is more than the Rs 4 lakh sanctioned for each house for the poor under the ambitious Life Mission housing programme. The two-time lawmaker otherwise known for his good work certainly has a tough task ahead of him of cleaning up the dirt being flung at him by the Opposition and the media.