Splendid Cézanne exhibition at Tate Modern
EYE ON ENGLAND | Call for Big B's knighthood, British home secretary's decision on illegal immigrants and overstayers from India and more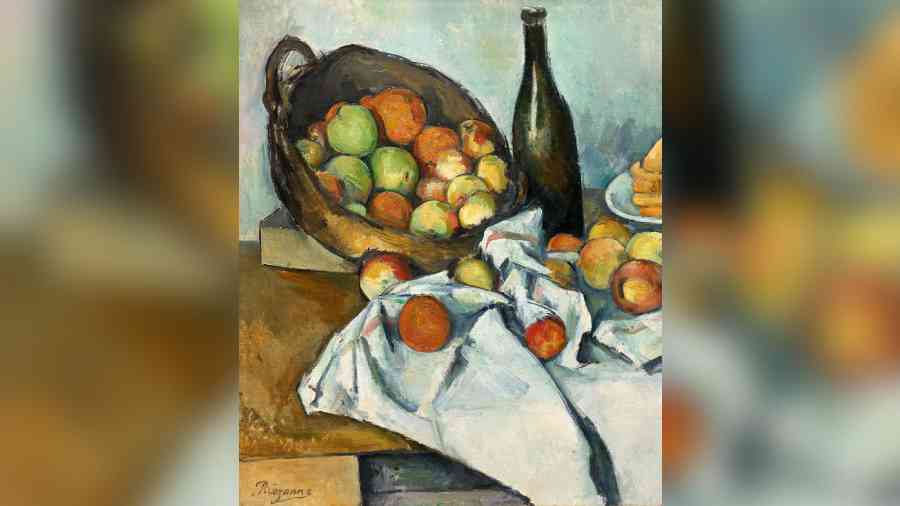 Detail from The Basket of Apples by Paul Cézanne: Artistic delicacy
---
Published 15.10.22, 02:59 AM
|
---
Art and life
Here I go again, pleading for a spacious museum of modern art in Calcutta. What else can I say after seeing a new "once-in-a-generation" Cézanne exhibition at Tate Modern with 80 carefully selected works. Cézanne, who loved painting apples, once boasted, "With an apple I will astonish Paris" — which he did. He used blue textiles as background, with the design inspired by indigo tapestries imported from India. Cézanne's father does sound traditionally Indian in his attitudes. Paul Cézanne (1839-1906) was one of the greatest painters the world has produced, but his father, Louis Auguste Cézanne (1798-1886), didn't think much of his son's talents. A successful banker himself, he wanted his son to become a lawyer. "Meanwhile, his best friend, the celebrated author, Émile Zola, was trying to convince him to join him in Paris," said Michael Raymond, one of the exhibition's curators. "Thankfully for us, he decided to follow Zola and move to Paris." Another influence on Cézanne was the artist, Camille Pissarro, whom he considered a father figure.  For me, an added attraction is the Tate Modern restaurant which is offering French cuisine from Provence, where Cézanne spent much of his life. The menu includes "Duck 'Cassoulet', Toulouse sausage, brioche crumbs" and, for dessert, "Cézanne Inspired Tarte Tropezienne".
Tall figure
To me it seems a lovely idea that the veteran Labour politician, Keith Vaz, has written to Liz Truss, encouraging the British prime minister to bestow an honorary knighthood on Amitabh Bachchan to mark his 80th birthday in "recognition of his notable work in the field of art by bringing cultures together". Addressing her rather sweetly as 'Liz', Vaz points out that the acting legend has promoted numerous UK charities, including one to combat diabetes and is "an international icon whose personality, passion and performances have inspired millions". Vaz has written separately to Lord Woolley, principal of Homerton College, Cambridge, asking him to establish an annual lecture to remember Bachchan's late poet father, Harivansh Rai Bachchan, who got his PhD in English literature from the university. The last Indian to get an honorary knighthood was the sitar maestro, Ravi Shankar, in 2001, I am reminded by Vaz, who represented Leicester East for 32 years. In July 2006, I went to the city to see Bachchan being conferred an honorary degree by De Montfort University. Huge crowds gathered as Bachchan was given a tour of the city by Vaz, who later took him to the House of Commons, where Big B received a sketch of parliament autographed by Tony Blair, the then prime minister. Vaz told Truss that Bachchan is called the "Shahenshah (Emperor) of Bollywood". Ironically, Bachchan hates the word, 'Bollywood', but his preference, 'Indian film industry', hasn't caught on.
Cruel distinction
The difference between a refugee and an illegal immigrant is all a matter of perspective. Although an Indian herself, Britain's home secretary, Suella Braverman, has indicated that she is going to be tough on illegal immigrants and overstayers from India. She told the recent Tory party conference: "It's not racist for anyone, ethnic minority or otherwise, to want to control our borders." Sometime recently, I went to the National Theatre in London for the first night of The Boy with Two Hearts, which dramatises the real life story of an Afghan family who fled Herat in 2000 after being threatened by the Taliban. They took a dangerous journey across Europe hidden in the boots of cars and boxes inside lorries, and found sanctuary finally in Cardiff in Wales. I found the second half of the play heart-rending as the boy's life ebbs away. He was born with a defective heart, and had an early operation in India. Devoted care freely lavished on him by the NHS, especially by Navroz Masani, an Indian consultant cardiologist, gave him 17 extra years of life. Under the rules Braverman is planning, the family would have been denied asylum.
Twist of taste
Here's proof of climate change: in August, London was hotter than Calcutta on some days. The latest gardening advice is that we can have fun by growing mango plant from seed although "we are unlikely to become mango farmers in this country".  Meanwhile, the Royal Horticultural Society has recruited two celebrity Indian chefs, Cyrus Todiwala and Atul Kochhar, for its "festival of flavours". Their challenge is to make Indian recipes using vegetables and fruits from RHS gardens. Todiwala has in mind "apple sabji" while Kochhar is planning "a Kashmiri apple dish in which aubergine and apples are cooked together. Absolutely unusual but an amazing combination.
Footnote
In response to a request from Lord Swraj Paul, I have looked up as many photographs as I can find of his late wife, Aruna, who passed away, aged 86, in May, after 65 years of happy marriage. Swraj, who misses her more and more, tells me a sculptor needs the images for Aruna's statue which will be put up in the Indian Gymkhana Club in west London. There is a Lady Aruna Paul wing at Loreto College, her alma mater in Calcutta.