Play the saviour
Putin's war in Ukraine has been counter-productive not only for Russia but also for its friends like India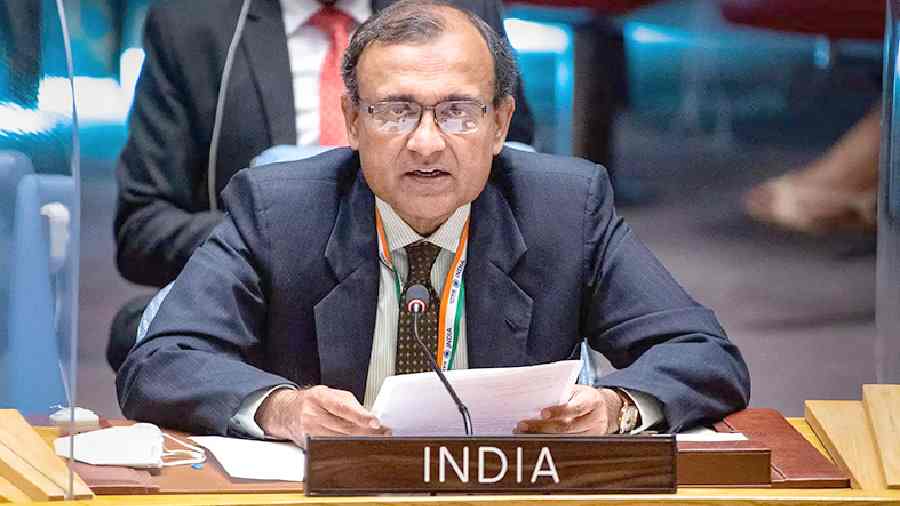 India's Permanent Representative to the United Nations, T.S. Tirumurti, during a vote on Ukraine
File picture
---
Published 30.06.22, 03:00 AM
|
---
If 'India first' has to become the signature tune of the country's foreign policy, then the Narendra Modi government has no reason to play easy with either Vladimir Putin's Russia or the West, especially the United States of America and the United Kingdom. Putin's war in Ukraine has been counter-productive not only for Russia but also for its friends like India. The Russian army may be close to securing the Donbas region but the losses it has suffered militarily and economically would make even Putin's closest supporters wonder if the war is really worth it.  Instead of dividing the West over NATO, it has re-energised the US-led military alliance, with  neutral nations like Finland and Sweden pushing to join it. For India, the  Ukraine war and its possible escalation have led to unprecedented import prices on energy and edible oils. It also means substantial disruptions to Russian nuclear energy projects like that in Kudankulam, joint development of military platforms, and spare part supplies for existing Russian military equipment. So Modi has very good reasons to tell 'friend' Putin that continuing the war is not acceptable for India.
But India also has valid reasons to oppose the West.
The US defence secretary, Lloyd Austin, candidly asserted during his last Europe trip that the weakening of Russia through a festering war was the desired objective rather than ending it.  From rising energy prices that made US exports to Europe viable to a heightened demand for US weapons in Europe, the war in Ukraine works fine for the US. It has created a new fervour in Europe for an expanded NATO  as smaller east European nations begin to dread the hungry Russian bear.
But for India, the longer the war drags on, not only does it undermine economic recovery but it also creates serious strategic challenges — a weakened Russia entering China's embrace. India thus has good reasons to tell the West that its 'weaken Russia' agenda works to China's advantage and is against India's strategic interests. No amount of American assurances to stand by India in the event of a conflict with China can assuage Delhi, especially if the Ukrainian example is anything to go by. India is in Quad but not in NATO — so the US has no compulsion of joining a war against China if it attacks India. Weapons and real-time intelligence are the most that India, like Ukraine, can expect.
There is now worrying evidence that the US and the UK are intent on trapping Putin in an Afghanistantype conflict. The Ukrainian news outlet,  Ukrayinska Pravda, has reported that the British prime minister, Boris Johnson, used his two visits to Kyiv to put pressure on the president, Volodymyr Zelensky, to cut off peace negotiations with Russia even after the two sides appeared to have made tenuous progress towards a settlement to end the war. Citing unnamed sources from Zelensky's 'inner circle', Pravda reported that "Johnson brought two simple messages to Kyiv": "The first is that Putin is a war criminal… And the second is that even if Ukraine is ready to sign some agreements on guarantees with Putin, they are not. We can sign [an agreement] with you [Ukraine], but not with him."
The foreign minister, S. Jaishankar, and the UN representative, T.S. Tirumurti, have done a great job talking back to Western leaders seeking to pull up India for not jumping on to the anti-Putin bandwagon. But it is time for India to do more. India has to save the world from Cold War 2.0. But in pursuit of its national interests and those of other developing nations, New Delhi has to get out of its defensive mindset of merely defending its abstentions in voting on UN resolutions aimed at Russia. It has to make a strong effort to get Russia and Ukraine on the table and talk peace. Never before has India needed to wear the Gandhi cap and push for global peace. 
Subir Bhaumik is a former BBC correspondent