New home for Gir lions
The Kuno Palpur wildlife sanctuary in Madhya Pradesh is ready to become the new home for the Asiatic lions in Gir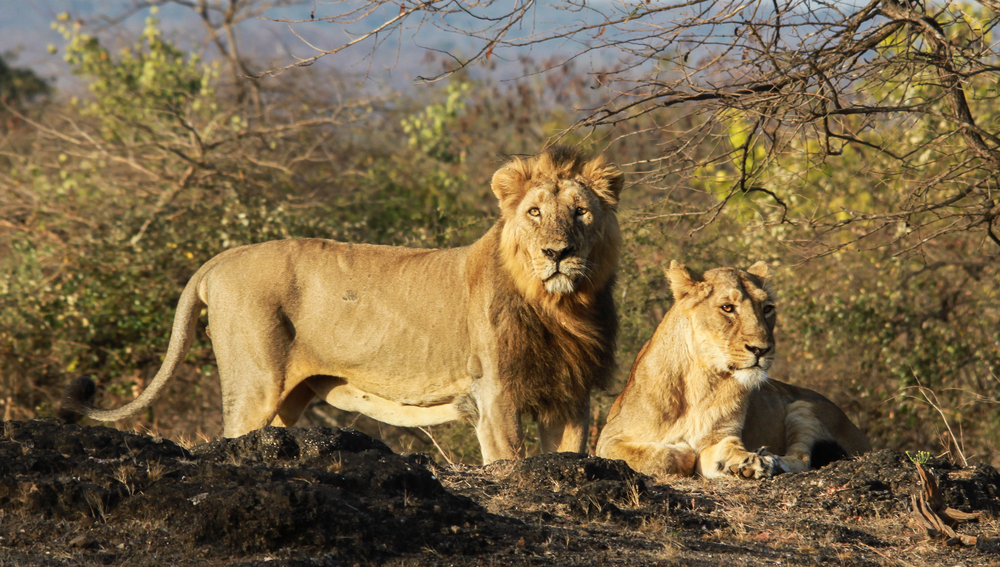 ---
---
Sir — It is heartening that the Kuno Palpur wildlife sanctuary in Madhya Pradesh is finally ready to become the new home for the Asiatic lions in Gujarat's Gir. So far, Gir had been the only habitat for the endangered Asiatic lion. It was, thus, distressing that it took more than two decades filled with obstacles for the new sanctuary to finally become functional.
The onus is now on the government and wildlife officials to ensure the safe relocation of the big cats — Kuno has asked for just two prides of lions to begin with — and their subsequent protection. Providing a new habitat for these majestic creatures will mean little if they cannot be protected from poachers.
Shariqua Kalim,
Calcutta
Required skill
Sir — The report "Language-lab call to upgrade English skills" (Nov 24), rightly highlighted the need for such laboratories in government schools. After all, even though these schools produce students who are academically sound, they often lose out on jobs on account of their poor communication skills in English. Some might say that it is ironic that a knowledge of English is considered mandatory in our country for successfully pursuing higher studies. Moreover, in order to assess a lot of digital work, a working knowledge of English is imperative.
The truth is that most multinational corporations and big businesses demand that their employees communicate in English. Proper communication skills in this language also help in overcoming geographical barriers, as English is spoken and understood in many places outside India where the regional language is not familiar to Indians.
As such, language labs can go a long way in helping students acquire an efficient knowledge of English — or any other language — fairly quickly. These labs will be equipped with modern teaching tools that focus on improving communication skills in a language within a short span of time. Many private schools have such labs for other foreign languages. It is also important that schools make it mandatory to introduce vocational subjects for skills development in Classes IX and X. Most government schools ignore English as a subject for primary school students, thereby weakening their knowledge base in languages and making it difficult for them to grasp it as as they grow up. Unfortunately, government schools in India's rural areas suffer from an overall lack of proper resources and infrastructure. As such, the Centre and state governments should focus on bringing about improvement.
Kiran Agarwal,
Calcutta
Danger zone
Sir — Several police stations across Calcutta have allegedly become unofficial dumping grounds for impounded vehicles. These seized cars and motorcycles have been piling up on the pavements and roads in front of the police stations. Many of these vehicles eat into road space and also turn into breeding sites for mosquitoes.
There have been recent instances in which residents of police quarters were diagnosed with dengue. Last month, a number of officers in a police station in a northern suburb got the disease.
Earlier, in Salt Lake, the Bidhannagar Municipality had found stagnant water and mosquito larvae in some abandoned tyres and vehicles inside a police station complex.
As more and more cases of dengue surface in the city, the mayor of Calcutta has said that he will talk to the city police chief to dispose of the impounded cars. But the disposal process is long and complicated. Many of these vehicles do not have legitimate papers and a number of them have been seized from accident sites. A tender process through proper notification involves a lot of file work, which is time-consuming.
Given the complex situation, all stakeholders must find a prompt solution. For example, seized vehicles would be kept at a safe warehouse just outside the city till the time of their disposal. The court cases for these vehicles should be fast-tracked. Auctions for selling seized vehicles need to be prioritized, and suitable petitions can be filed before the court for the early disposal of cases involving unclaimed vehicles.
Khokan Das,
Calcutta