In other news: Assembly polls 2021
How far would India's national political map be affected by these mandates?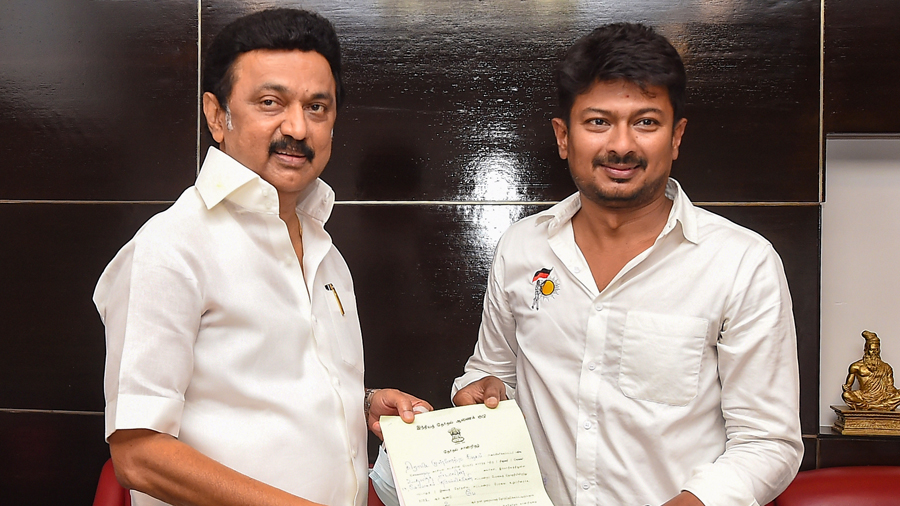 DMK youth wing secretary Udhayanidhi Stalin shares his victory with his father and party president MK Stalin after winning the Tamil Nadu Assembly polls at his residence ,in Chennai, Sunday, May 2, 2021.
PTI
---
Published 03.05.21, 12:52 AM
|
---
The psephologists must be relieved. The results of the assembly elections in four states and one Union territory seem to be consistent with the predictions made by the pundits in the exit polls. But this is not to suggest that every outcome has been unremarkable. In Kerala, the Left Democratic Front has stormed back to power, defying the decades-old ritual of governments formed by the Left and the Congress sharing alternate terms. The Bharatiya Janata Party has also become the first non-Congress party to win power in Assam for two consecutive terms. Bengal — the jewel in the crown of the electoral contests in the public eye — has also witnessed an unprecedented sweep by Mamata Banerjee and her Trinamul Congress. Tiny Puducherry has had a surprise in store too, with the National Democratic Alliance making a mark. Only Tamil Nadu, it can be argued, has yielded to the predictable. The Dravida Munnetra Kazhagam has knocked its traditional rival, the All India Anna Dravida Munnetra Kazhagam, off its perch. The DMK's resounding victory had been expected.
How far would India's national political map be affected by these mandates? It is too early to draw conclusions in this respect. But there are undoubtedly some broad pointers. First, in spite of the acute suffering that India is undergoing at the moment, Narendra Modi and the BJP remain the nation's primary political force. The BJP has regained Assam and left its imprint in Puducherry. The setback in Bengal notwithstanding, it is now the principal Opposition party in the state. The foremost loser has been the Congress, once again; it has ceded Kerala, failed to regain Assam, and performed woefully in Bengal. The Congress is now the rump of a party that it was once, and can hope to oppose the BJP only in solidarity with regional parties. This is where Ms Banerjee's call for an alliance of Opposition parties at a national level against the BJP for the parliamentary elections in 2024 assumes significance. The other notable feature about these state elections has been the bipolar nature of the contests. In the four states at least, the lion's share of the votes has been cornered by the two strongest contenders. The shrinking of alternative political choices cannot be a healthy sign for democracy.