Fallen city: Editorial on China's growing influence in Hong Kong
Beijing has been the biggest beneficiary of the 'one country, two systems' approach, which allowed Hong Kong and Macau to retain their British-era political, economic and legal models while belonging to the communist country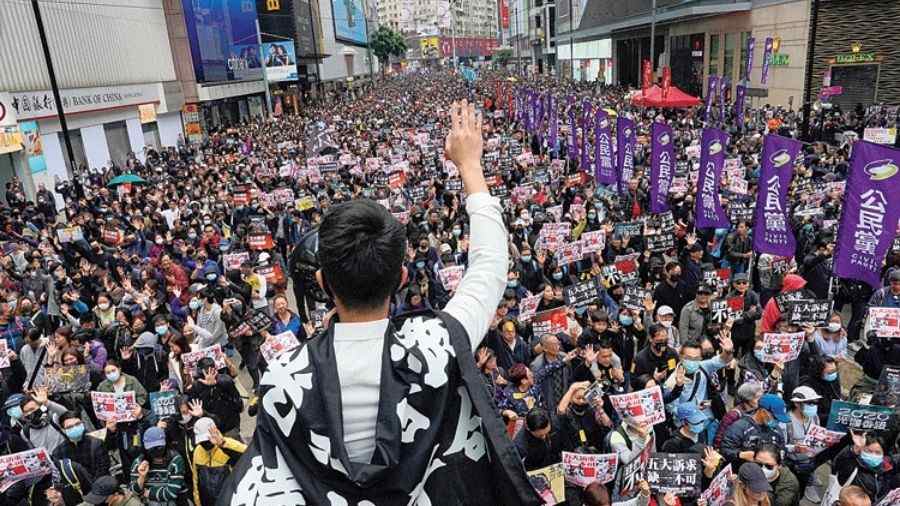 A protester in Hong Kong gestures as demonstrators take part in a pro-democracy march in 2020.
File picture
---
Published 10.05.22, 02:19 AM
|
---
Hong Kong has served as a gateway to China since the British handover of the city a quarter of a century ago. On Sunday, Beijing took its latest step towards slamming that door shut. John Lee, a former police officer hand-picked by the Chinese Communist Party to lead Hong Kong, was chosen as its chief executive after a sham election in which he had no opponent and ordinary residents of the city could not vote. Mr Lee, who was effectively the second-in-command under the outgoing Hong Kong chief executive, Carrie Lam, has been a central figure in China's attempts to crush pro-democracy protests in the city since 2019, and especially after Hong Kong's controversial national security law was enacted in 2020. Since then, the city government has forced independent media organizations to shut shop, arrested journalists and dissidents, and crushed all democratic opposition. After his 'election' on Sunday, Mr Lee again emphasized national security as the cornerstone of his governance plans. But trying to cage the Asian Tiger — as Hong Kong was known, along with Singapore, Taiwan and South Korea, for its rapid economic development in the second half of the 20th century — could end up hurting China the most.
Beijing has been the biggest beneficiary of the 'one country, two systems' approach, which allowed Hong Kong and Macau to retain their British-era political, economic and legal models while belonging to communist China. This approach allowed Beijing to attract global industry, banks, law firms and media outlets otherwise wary of the mainland's opaque courts and regulations to Hong Kong (and so to China) without needing to institute reforms on the mainland. As China's economy has surged over the past two decades, Beijing appears to have concluded that it no longer needs the city as an attractive alternative to its State-led autocratic policies. Yet, it is the open, cosmopolitan and democratic character of Hong Kong that fundamentally turned it into one of the world's biggest financial and shipping hubs; not China's smart politics. Already, the curbs of the past three years, including strict Covid-19 restrictions, have sparked a mass migration from the city. Foreign businesses are rethinking investments in Hong Kong, where one of the busiest airports on the planet has in recent weeks resembled a ghost town. The rigged selection of Mr Lee will only reinforce fears of the demise of an iconic city and the death of a political model that served China — and the world — well.