Naveen visits Titli-hit Gajapati
CM visits the worst affected district by Titli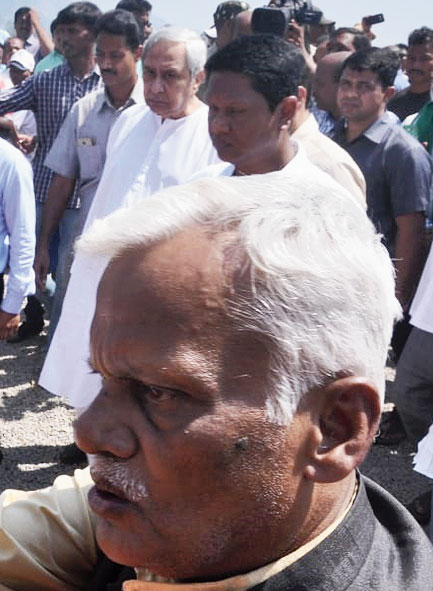 In Titli-ravaged village: Chief minister Naveen Patnaik during his visit to Gangabada village in Gajapati district on Wednesday.
Telegraph picture
---
Bhubaneshwar
|
Published 17.10.18, 06:37 PM
|
---
Chief minister Naveen Patnaik visited Gangabada gram panchayat in Gajapati, where 16 people had perished in a landslide triggered by cyclone Titli last Thursday.
At least 52 persons have lost their lives and the state has suffered loss to the tune of Rs 2,200 crore due to Titli that has left trail of devastation in Odisha. Titli had made a landfall between Odisha and Andhra Pradesh coast in the early hours of Thursday.
The highest number of death was reported from the worst-hit Gajapati district. While 39 people had succumbed to the cyclone in Gajapati, 12 died in Ganjam and one in Kandhamal. However, the unconfirmed sources said the toll would cross 60.
In Gangabada, Naveen spoke to the people and assured them that his government would do everything possible to restore normalcy.
After meeting the people, Naveen announced that the next of the kin of those who lost their lives would get a compensation of Rs 10 lakh instead of Rs 4 lakh announced earlier.
"The additional Rs 6 lakh will be given from the chief minister's relief fund," he said.
Naveen also announced that the state would provide for education and meet other expenses of those children who have been orphaned due to the natural calamity. "Vulnerability mapping of all villages and habitation located in the hilly and difficult regions will be done. All facilities will be extended to people wherever they shift to other locations," said Naveen.
According to the announcements, these new settlements will be declared as village and all basic amenities such as drinking water, anganwadi centres, schools, community centres and health facilities will be provided.
"Provision of connectivity, homestead land, house building assistance, social security cover will be made immediately," Naveen said.
While the chief minister was in the cyclone hit Gajapati district to get direct feedback from the people, chief secretary Aditya Prasad Padhi on Wednesday reviewed restoration and rehabilitation work.
Padhi said: "So far the death toll due to drowning, landslide and other reasons post-Titli is 52. Besides, process is on to verify reason for 10 other deaths."
Speaking about Titli-triggered damages, Padhi said: "According to preliminary assessment, the state has incurred a loss of Rs 2,200 crore. The road infrastructure has been badly affected with a loss to the tune of Rs 500 crore. The damage to the electricity systems is estimated to be around Rs 133 crore and the losses to the house would be around Rs 150 crore. The state has suffered a loss of Rs 233 crore because of crop damage."
The BJP on Wednesday announced that Union petroleum minister Dharmendra Pradhan would visit the cyclone-hit Gajapati district on Thursday. Earlier, the BJP had also sent a delegation there. The Congress delegation has already visited the area.