Biggest mall comes to town
With Esplanade One starting operations, Bhubaneswar can now boast to have the state's biggest mall. Anwesha Ambaly of The Telegraph finds out what's trending at the city latest attraction, which has brought together a number of big brands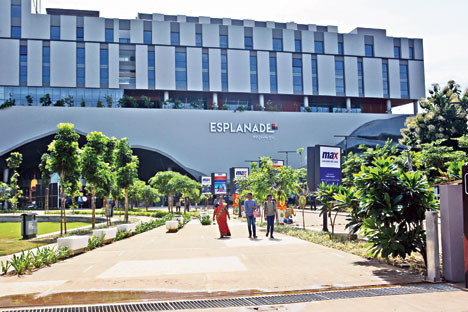 ---
---
Size matters
Esplanade One is spread over 4.5lakh sqft at Rasulgarh. It is home to over 100 top international and national shopping brands.
"We are very proud to bring several brands to Odisha for the first time. With Esplanade One, we now have nine operational malls in our Nexus Malls portfolio," said Nexus Malls senior vice-president Jayen Naik.
Brand value
Biggies such as Lifestyle, Marks and Spencer, Home Centre and Iconic have set shop at the mall. Many of these brands are first time entrants to the state. To add to the count, already established desi brands such as Max, Reliance Stores, Big Bazaar and Manyavar have added to the range of options for buyers.
"I can't wait to see such a mall in the city with such good infrastructure and facilities. Rasulgarh is a perfect place given its vicinity and population," said, Ashish Nayak, a local resident.
Check out the menu
The food court can sit around 750 people. While Chilli's has started business, international biggie Burger King is not going to make you wait for long.
Cinema & more
For film lovers, the mall will be the place to head to with Mexican multiplex chain Cinepolis coming up with seven screens. Cinepolis is one of the key anchor tenants of the mall.
Park it right
Over 600 vehicles can park within the premises at one time. Despite the claim of adequate parking space, civic experts are wary of the mall having the potential to trigger a lot of traffic congestion.
"Despite the large parking space, one cannot stop traffic flow in and around the mall. The road in front of the mall is narrow and there are chances of accidents," said urban planner Amit Jena.
The rush
The average weekday footfall at Esplanade One is around 1,000 and it rises to over 3,000 on weekends and holidays. The security aspect of the mall has been given special emphasis with plans to employ dog squad and have a firearms chest on the anvil.
"The biggest mall of Odisha is finally open. I loved the infrastructure and the spacious surrounding. I am eager to see it fully functional with all the stores operating," said Juzi Raza, a visitor.
Old ones
Esplanade One adds to the list of seven prominent malls in Bhubaneswar. The predecessors to the biggest one include Forum Mart, Pantaloons, Pal Heights, BMC Bhawani Mall, The World and Maruti Mall.
A few malls are also in the pipeline. It includes Symphony Mall on Bhubaneswar-Cuttack NH, Bhubaneswar One near Sainik School and Utkal Kanika Galleria Near Kalpana Square.
Pictures by Ashwinee Pati