6 cities in Odisha fail air quality tests
Bhubaneswar and Cuttack among 102 across India that do not meet CPCB standards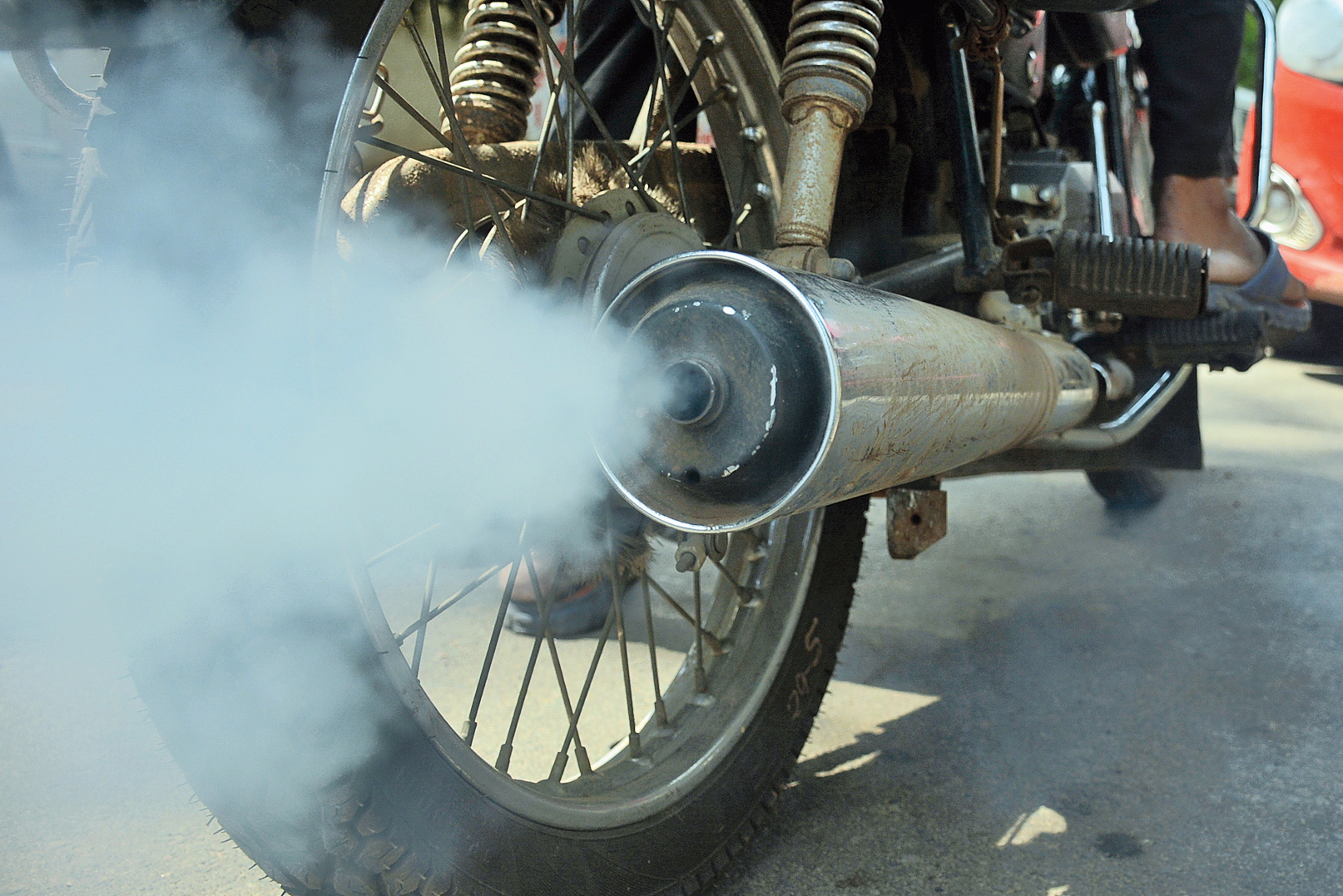 Alarming: A motorcycle emits smoke in Bhubaneswar.
Picture by Ashwinee Pati
---
Bhubaneswar
|
Published 08.11.18, 06:52 PM
|
---
Six cities in the state, including Cuttack and the state capital, are among the 102 cities in the country that have failed to maintain the national ambient air quality standards fixed by the Central Pollution Control Board.
This was revealed after the Central Pollution Control Board (CPCB) sent a communication to the state pollution control board directing the officials to prepare an action plan for attaining air quality standards. The directive was issued in line with the order passed by National Green Tribunal in October asking the 102 cities to maintain air quality standards.
"It is to bring to your attention that 102 cities in the country are considered non-attainment cities with reference to the National Ambient Air Quality Standards wherein Odisha has six such cities (Cuttack, Bhubaneswar, Balasore, Angul, Talcher and Rourkela). As per the order of honorable NGT, all states with non-attaining cities shall prepare appropriate action plan within two months," the direction read.
According to national ambient air quality standards, the suspended particulate matter (SPM) mapped beyond the 100-mark is considered as severe air pollution in any locality. It leads to serious aggravation of heart or lungs diseases and increases the risk of premature death. It could also lead to serious risk of cardio respiratory diseases.
The NGT in its hearing last month observed that in Odisha, primary reasons for air pollution are vehicular emission, road dust, industrial pollution, pollution from construction and demolition work. It had asked the state government officials to draft an action plan to address the situation.
"We have got the directive of the Central Pollution Control Board and decided to form a six-member committee to draft an action plan to curb air pollution. The six cities, including Bhubaneswar and Cuttack, will remain in focus. The plan will be prepared within a month and implemented simultaneously," said a board official.
"The air quality monitoring committee will function under the overall supervision and coordination of the principal secretary of the forest and environment department. This will further be supervised by the chief secretary of the state," said a senior government official.
Environmentalist Sailabala Padhi said the air quality standard was degrading in the city mainly due to vehicular population and construction activities.
"Deforestation is adding to the problem. The officials need to come up with rigorous plan to combat the pollution level before it gets too late," said Padhi.