Where Kali Puja, Id overcome religious divide
Muslims join Hindus in Tripura's Durgapur village to organise festival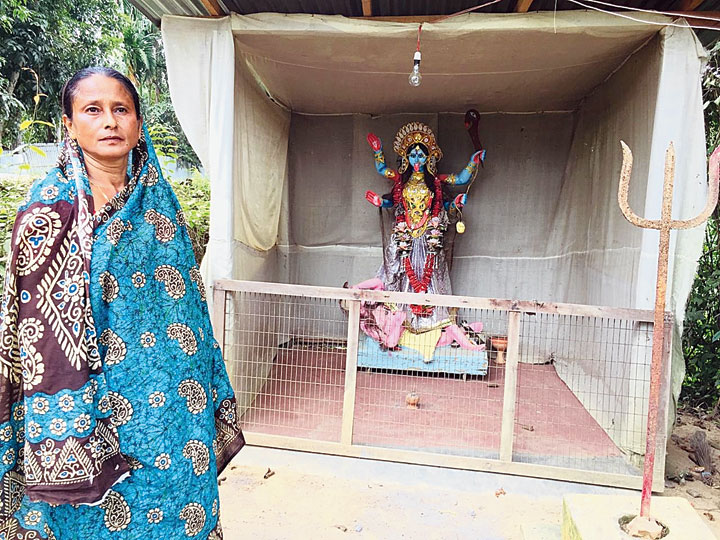 ---
|
Agartala
|
Published 26.10.19, 07:19 PM
---
Rising above religious constraints, members of the Muslim community have organised Kali puja at Durgapur village in Sonamura sub-division along the Indo-Bangladesh border in Tripura's Sephaijala district.
Muslims constitute eight per cent of the total population in the state and mostly live in this sub-division. At Durgapur village, where Muslims constitute 90 per cent of the population, villagers actively participate in making the idols, building pandals and arranging funds to organise the puja.
Speaking with The Telegraph, Idrish Miah, 56, a resident of Durgapur, said a Hindu Brahmin used to earlier live in the village and would conduct Kali puja in the temple he owned.
"When he left the village around 15 years ago, the puja was stopped. We found the temple in a broken condition. We then decided to continue holding the puja every Diwali. Members of the Muslim community have been organising this puja since the last seven years. We contribute funds from our own pockets. Hindus also participate but they are very less in number," he said.
Abdul Sattar, a journalist from Sonamura, around 3km from Durgapur, said the temple belonged to Devendra Chandra Chatterjee, an Ayurvedic doctor, who sold his property, including a pond and a Kali temple, to Abdul Motin Miah 12 years ago.
Rajib Pal, another villager, said they are happy that Kali puja is being celebrated in their village with the help of Muslim families.
"There are around six Hindu families in Durgapur. We also participate in Id. The villagers decided to help organise each others' festivals and share good vibes. Without the support of the Muslim families, we could not have dreamt of celebrating our festival in such a big way as the Hindu population is sparse," he said.
Another resident, Sahanara Begum, said no one ever interferes in their Kali puja or tries to obstruct it.
"God is one. The festival is for everyone. Why should we not organise this with everyone else? We would like to live here together and share everything among ourselves," she said.
Another Kali Puja is being organised by Sastrik Club, whose members are mostly from the Muslim community, in Sonamura, around 3km from Durgapur. Club secretary Billal Miah said they have been organising the puja since 1963. "I have been involved in organising this Kali Puja since childhood. I have never felt that it is only for Hindus," he said.