Union minister shown black flags in Assam
Police detained the protesters but said that the detention was symbolic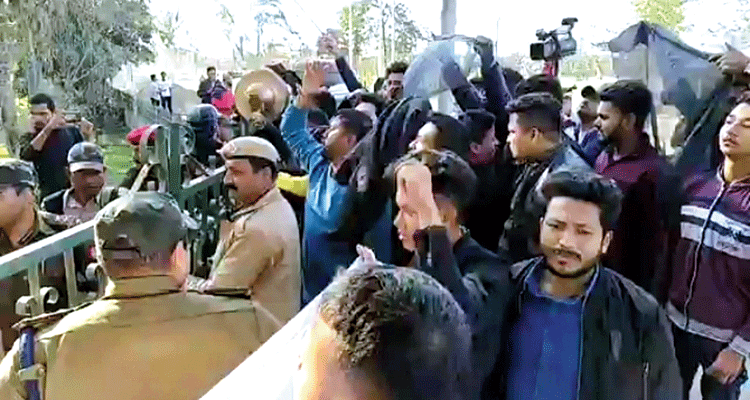 ---
---
Black flags were shown to Union minister for food processing and industries Rameswar Teli and Dibrugarh BJP legislator Prasanta Phukan by the All Assam Students' Union at Dibrugarh circuit house in Upper Assam on Friday for supporting the Citizenship Amendment Act (CAA).
Hundreds of AASU activists assembled in front of the circuit house, waved black flags and shouted slogans against the BJP government while a meeting of the party was under way there. Later, police detained the protesters.
Dibrugarh superintendent of police Sreejith Tiraviam told this correspondent that the detention was symbolic. "We detained the AASU activists but later released them," he said.
AASU activists also waved black flags at Teli near Tengakhat main road when he was on way to his Duliajan residence in the district on Friday night. They also shouted slogans against the BJP.
Those opposing CAA have been using the black flag as a symbol of protest against BJP leaders for their alleged indifference to the people's anti-CAA sentiments. BJP leaders, including chief minister Sarbananda Sonowal, finance minister Himanta Biswa Sarma and state BJP president Ranjeet Kumar Dass have been shown black flags recently. Former Dibrugarh BJP president Indra Gogoi said, "We had organised a meeting to discuss the development of Dibrugarh. So anybody wanting to disrupt the meeting was against development, their protest was against development."
AASU members, however, said the BJP had organised a party meeting at the circuit house. "We showed the black flags to Teli and other BJP leaders in protest against CAA. We demand that the government repeal the unconstitutional, non-secular Act," AASU district president Sankor Jyoti Baruah said.
Earlier too, during the anti-CAA movement, protesters have thrown petrol bomb at Teli's house and pelted stones at Phukan's house. Chabua MLA Binod Hazarika's house was also set ablaze. Dibrugarh, the home district of the chief minister, has witnessed massive protest against CAA with the protesters vandalising several government installations.
Dance protest
Dancers and musicians brought the Upper Assam town of Doomdooma alive on Friday, yet they performed not to entertain but to protest.
The dance protest, Nrityre Pratibad, was organised by the Doomdooma units of Bir Lachit Sena and Asam Sahitya Sabha in association with the artiste fraternity, including Nritya Bharati and Dipti Nrityalaya, and other organisations at Gandhi Chowk, the heart of the town, in protest against CAA.
Addressing the gathering, Asam Sahitya Sabha's Doomdooma unit secretary Deben Deka, Bir Lachit Sena vice-president Hemanta Bora, theatre activist Joysurjya Bora, dancer Dipti Gohain, trade union activist Tarini Deka, social activist Wasif Ahmed and many others strongly opposed CAA and urged the people to continue their struggle till the end.
"We urge the people to continue the movement till CAA is scrapped. We adhere to the Assam Accord and will never accept CAA," Deka said.
Suchitra Goswami, a protester, echoed the mood, "We will never accept CAA. It should be repealed with immediate effect."
Near the Nrityre Pratibad venue, at another protest organised by the AASU's Doomdooma unit, people converged, braving the chill and the drizzle. The protesters played folk instruments like the doba, sankha, nagara, dhol and taal. Radio artiste Madhurjya Mahanta and singers Banashree Bailung and Bidyut Jyoti Mohan, among others, contributed to the protest with their songs.
During the protest, teachers sat with the students as did many others. Former principal of Doomdooma College Abdul Qadir, assistant professor of Doomdooma College Shivajit Dutta, president of Asam Sahitya Sabha's Tinsukia and Doomdooma units Arjun Barua, AASU's Tinsukia unit assistant general secretary Rana Sonar and the Asom Jatiyatabadi Yuba Chatra Parishad's Tinsukia unit joint secretary Tomal Gupta were among those who addressed the gathering. Similar programmes were organised at Kakopathar, Makum, Dirak and Lekhapani.
In other places of Tinsukia district too — from the sandbars of Sadiya to Kakopathar, from Daisajan to Baghjan-Dighaltarang, from Dihing Patkai wildlife sanctuary to Dibru Saikhowa National Park, from Makum to Panitola — thousands spontaneously hit the streets.
They came from all communities and from all walks of life, from near and from far to lend their voices to the roar against the "anti-Assam and unconstitutional" CAA.
Additional reporting by Pradip Kumar Neog in Duliajan