Assam: Two elephants found dead in paddy field at Borbhetagaon
Cases have been registered under relevant sections of the Wildlife Protection Act, 1972 but officials said it was very difficult to find clues in such man-animal conflict cases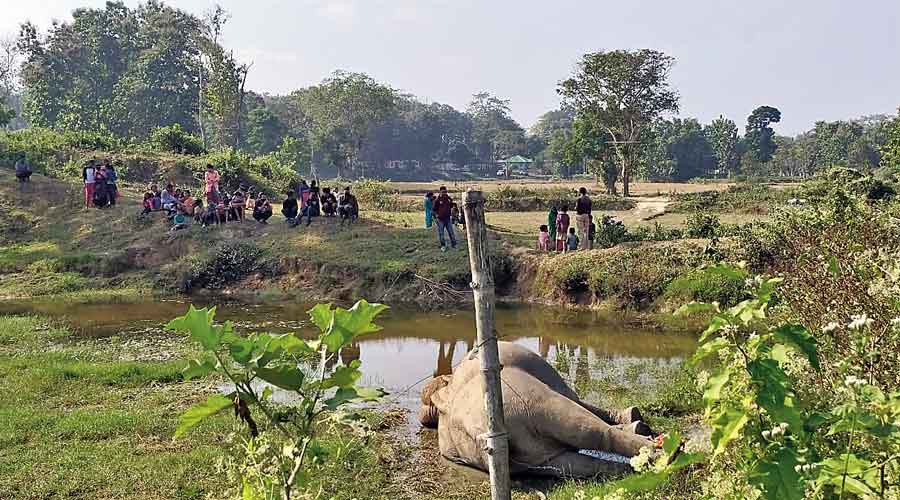 The carcass of one of the dead elephants in Assam's Karbi Anglong.
Telegraph photo
---
Guwahati
|
Published 14.12.21, 12:10 AM
|
---
The death of two elephants because of suspected poisoning in Assam's Karbi Anglong district on Sunday has taken the number of jumbos dying of natural and unnatural causes to 70 this year, reflecting their "growing distress" over shrinkage of space and fodder.
Forest officials said the toll was four less than the overall elephant deaths in 2020 but it remained a cause for concern unless measures such as exclusive plantation drives and awareness campaigns yield the desired results.
The carcasses of a pregnant elephant (aged around 20) and a male calf (aged four) were found in a paddy field at Borbhetagaon bordering Kaziranga National Park on Sunday morning. The normal life span of an elephant is around 40 years.
"The post-mortem was conducted by wildlife veterinarians from the Centre for Wildlife Rehabilitation and Conservation in Kaziranga. Preliminary findings suggest suspected poisoning. Body parts such as liver and skin have been sent for forensic examination," one of the officials said.
Cases have been registered under relevant sections of the Wildlife Protection Act, 1972 but officials said it was very difficult to find clues in such man-animal conflict cases. It takes two to three hours before an elephant dies of poisoning.
"By the time the poison takes effect, the animal may have moved to another location. It is very difficult to find evidence unless someone spills the bean. We see people turning up in huge numbers to pay their respect to the dead elephants but someone from them has caused the injury or death. It is a strange situation," a forest official said.    
Another official said growing tea and rubber plantations in the foothills of Karbi Anglong, shifting cultivation and mining activities are few reasons for the elephants to venture out of their habitat in search of food and bringing them in conflict with humans.
There are over 5,700 elephants in Assam. 
Of the 70 elephants that have died so far this year, three have died of poisoning.
"Altogether 24 died of natural causes, 18 of lightning, four in train hits, three of electrocution, one due to injury and 17 due to unknown reasons," an official said.   
Man-animal conflicts take place across Assam but most cases are reported from Karbi Anglong, Golaghat, Udalguri, Sonitpur, Goalpara and Darrang districts. Altogether 77 persons had died in man-elephant conflict in 2020 and the toll in 2021 is 62 so far.  
"Even when we drive elephants away, they are bound to venture out in search of food and water. The distress level of wildlife is increasing and we need to check this before it is too late," a field official said.