Tourists flock to Meghalaya, Scotland of the East
Meghalaya seeks rs 4340 from centre for infrastructure growth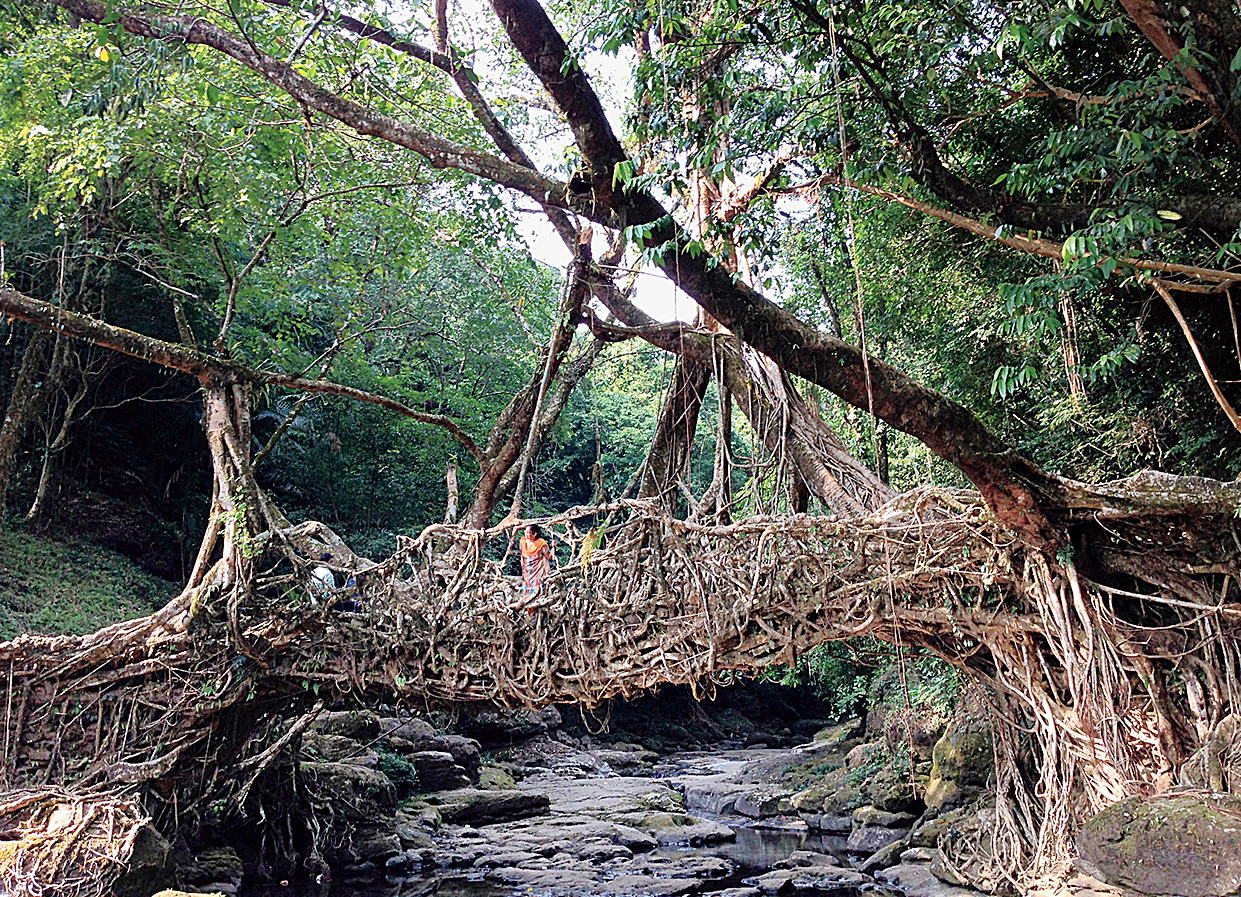 A living root bridge in Meghalaya
(The Telegraph file picture)
---
Shillong
|
Published 12.08.19, 11:16 PM
|
---
Railhead: Only at Mendipathar. Airport: Semblance. Yet, visits by domestic and foreign tourists to "the abode of clouds" have seen a substantial increase.
With no proper rail and air transport, Meghalaya surprisingly has tourists flocking to its scenic destinations.
Tourism department statistics state that 11,97,768 domestic and 18,047 foreign tourists visited Meghalaya last year, with a major chunk of them visiting East Khasi Hills where the state capital is located. West Garo Hills, the main centre of the entire Garo Hills region, received 74,729 domestic tourists during that period.
Of the foreign tourists, 14,729 landed in East Khasi Hills alone.
In 2017, 989,628 domestic and 12,051 foreign tourists visited Meghalaya while the corresponding figures for 2016 are 844,646 and 8,449 respectively.
Around 750,470 domestic and 8,027 foreign tourists visited Meghalaya in 2015, while in 2014, 717,814 domestic and 8,652 foreign tourists visited the state.
So far this year, the tourism department statistics state that 184,429 domestic and 7,506 foreign tourists visited Meghalaya.
The tourism department said there are 426 registered lodging facilities across the state. These include 215 hotels, 80 homestays, 72 guest houses, 25 resorts, 24 lodges, six circuit houses and six accommodations with bed and breakfast facilities.
Of the 426 facilities, 339 are in East Khasi Hills, 18 in West Garo Hills, 15 in Ri Bhoi, 12 in South West Khasi Hills, 11 in West Jaiñtia Hills, while the remaining are spread across the other districts.
From living root bridges to one of the cleanest villages in the country, a village which uses tunes instead of names while calling out their near and dear ones to breathtaking waterfalls and caves, Meghalaya is home to several tourist attractions spread across 11 districts. It recently sought additional assistance of Rs 4,340 crore from the 15th Finance Commission to develop the state as a "high-value tourism destination" among other projects.
Recently in Parliament, Rajya Sabha MP Rakesh Sinha asked the government to ensure that the unique practice by the inhabitants of Kongthong, which is known as a whistling or singing village be preserved.
The village has also been attracting many tourists for the past many years.
Increased tourist footfall has prompted district administrations to issue advisories over keeping tourist spots clean. Hefty fines await offenders.
The Meghalaya Registration of Tourist Trade Bill, 2019, has been proposed to streamline and regulate tourism. Among others, the bill provides for registration of new and existing hotels.
The legislation will not apply to government guest houses, dak bungalow, inspection bungalow, circuit house and tourist lodges managed and run by the government.