Selenghat women seek Akhil release
Priyada Gogoi was forced to break the fast on December 22 because of deteriorating health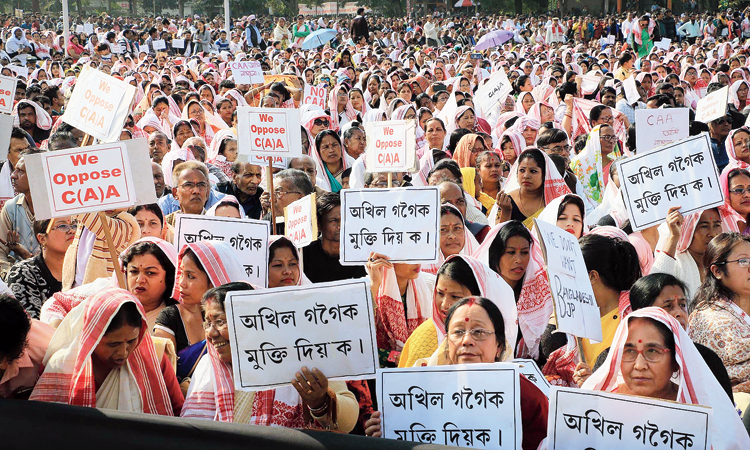 ---
|
Guwahati
|
Published 24.12.19, 06:58 PM
---
The women of Selenghat in Assam's Golaghat district on Tuesday demanded immediate release of Krishak Mukti Sangram Samiti (KMSS) leader and son of the soil Akhil Gogoi, who is in the custody of the National Investigation Agency (NIA), as they staged a protest against the Citizenship (Amendment) Act.
Akhil's 81-year-old mother, Priyada Gogoi, had begun an indefinite hunger strike in front of her house at Selenghat on December 20, demanding her son's immediate release and asserting that he had no link with Maoists as charged by the NIA.
She was forced to break the fast on December 22 because of deteriorating health but wishes to sit on hunger strike again, she told The Telegraph on Tuesday. She joined the protest, which was held on the premises of her house, in the afternoon.
"My son has been put behind the bars because the government is scared that he might unite the people of Assam against the Citizenship (Amendment) Act. We will not support the Act at any cost and, at the same time, we demand Akhil's unconditional release," she said.
Rashmi Konwar, one of the protesters, said the women of Selenghat want to "stand" with the people of Assam in the protest against the Act, which will change the demography of the state.
"Akhil has been put behind the bars because he had been vocal about the bill for a very long time. The lawmakers are scared because he has the ability to unite the people of Assam. We believe his arrest is a conspiracy and an attempt to keep anti-CAA voices gagged," she said.
Gitima Baruah, another protester, said the Act was a threat to the Assamese community and this was clear as the government had excluded several protected regions from its ambit. "If the people are already in Assam, as the government says, then why don't we see them? Where are these refugees that the government is taking about? The government has given a list of districts but where are the refugee camps. This seems to be vote-bank politics," she added.
Akhil was first arrested by Assam police on December 12 and then handed over to the National Investigation Agency which arrested him under the Unlawful Activities (Prevention) Act (UAPA). On December 17, a special court sent him to 10-day custody.