Plea to free people of objections onus
MLA urges CJI, Hajela to reform verification system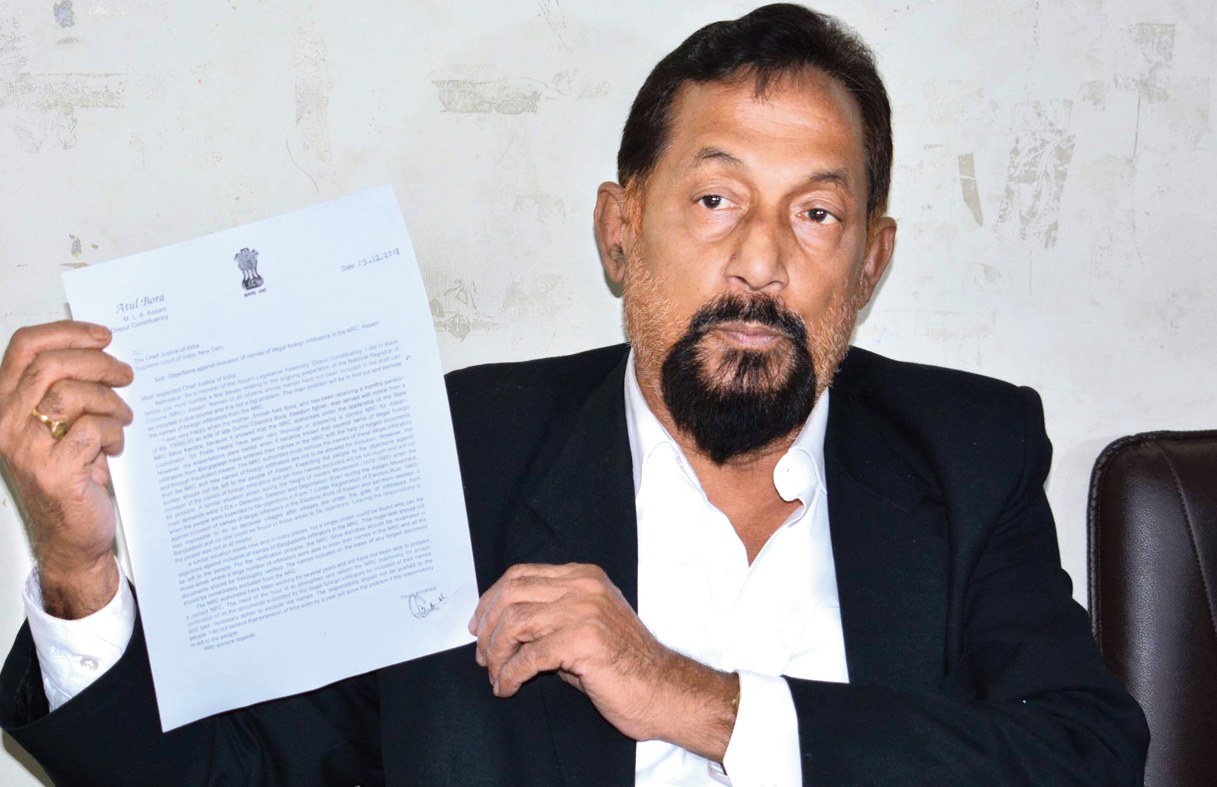 Dispur MLA Atul Bora at the news conference in Guwahati on Thursday.
Picture by UB Photos
---
Guwahati
|
Published 13.12.18, 06:59 PM
|
---
Dispur MLA and AGP president Atul Bora has written to Chief Justice of India Ranjan Gogoi and NRC state coordinator Prateek Hajela not to burden the people of Assam with the onus of removing the names of illegal foreigners from the NRC.

In a letter on Thursday, Bora said the people were finding it tough to file objections to the inclusion of lakhs of "illegal foreign infiltrators" in the draft NRC "with the help of forged documents and through fraudulent means" and that the NRC authorities must remove these names through verification.
"All citizens, whose names have not been included in the draft, can be included in due course. It is not a big problem. The main problem is to find out and exclude the names of foreign infiltrators from the NRC. I was under the impression that Prateek Hajela has been very thorough in preparing a correct NRC for Assam. My hopes were belied when it became known that lakhs of illegal foreign infiltrators from Bangladesh have entered their names in the NRC with the help of forged documents and through fraudulent means. The NRC authorities must remove the names of these illegal infiltrators from the NRC and new names of foreign infiltrators are not to be allowed for inclusion. However, this burden should not be left to the people of Assam. Expecting the people to file objections against inclusion of the names of foreign infiltrators will be too much. It will not be possible," he wrote.
Bora alleged that inclusion of these names would not have been possible without the connivance of some officials and that the entire exercise of NRC update would be a waste of money and time if foreigners were not excluded. "An accurate NRC will not be possible even after extension of one more year," he said.
The last date for filing claims and objections has been extended by the Supreme Court from December 15 to 31.
"A similar situation had arisen during the height of the Assam Movement when the main demands were the three Ds — detection, deletion and deportation. People then were expected to file objections in form 7 (under Registration of Electors Rule, 1980) against inclusion of names in the electoral rolls of Assam to get them deleted. It was impossible to do so because village after village was grabbed by infiltrators from Bangladesh and no one could be found in those areas to file objections," Bora wrote. The situation is the same now and only around 250 objections have been filed so far, he added.
"The need of the hour is to strengthen and reform the NRC machinery for proper verification of all the documents submitted by the infiltrators and take action to exclude these," Bora said.