Nonagenarian calls for anti-CAA satyagraha
'People's movement gives Hope'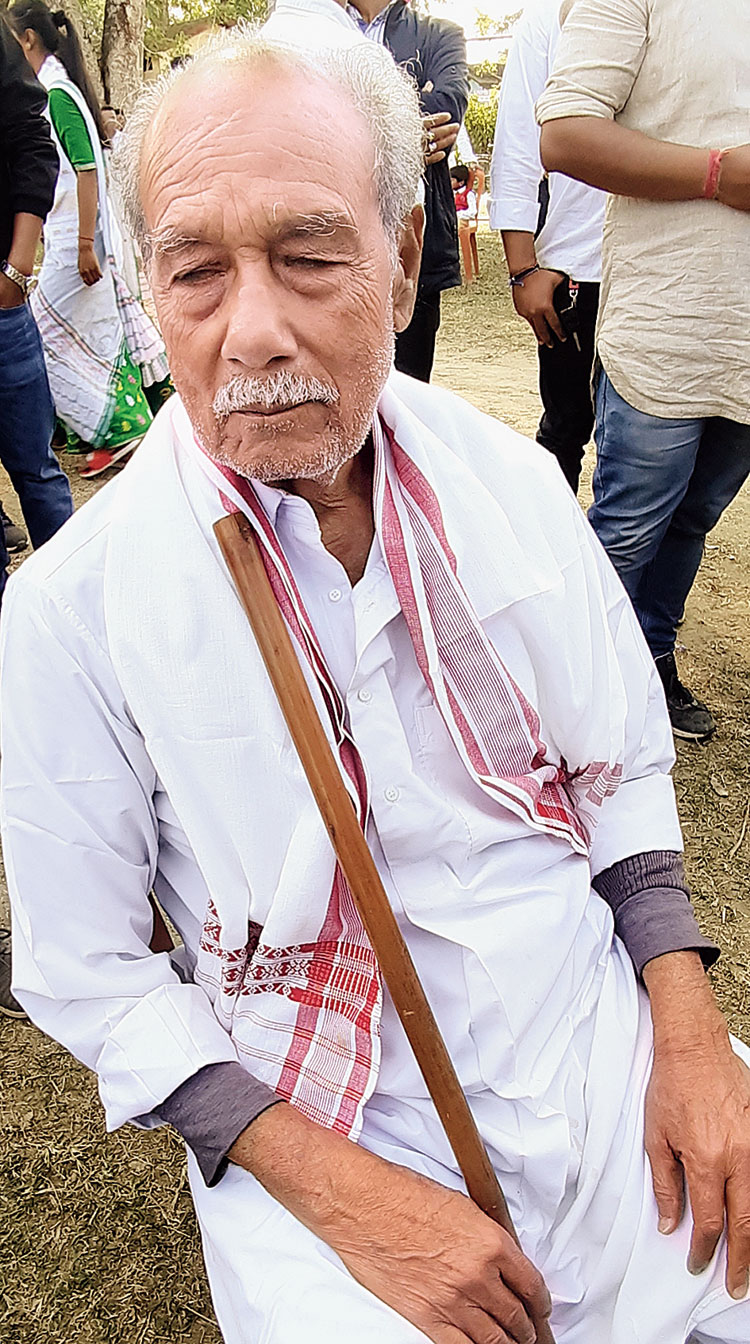 Runidhar Deka at an anti-CAA rally in Upper Assam.
Picture by Manoj Kumar Ojha
---
Doomdooma
|
Published 10.02.20, 06:38 PM
|
---
Runidhar Deka, 91, who has taken part in the Indian freedom struggle, Assam Agitation and anti-CAA movement, on Monday said he had started losing hope when the Citizenship (Amendment) Act was passed last year but the people's movement had revived his optimism.
Deka, a social activist and farmer from Nalbari district who has settled at Kakopathar in Tinsukia district, had met Mahatma Gandhi at Sualkuchi in 1946 as a 17-year-old who used to go to almost every protest meeting against the British. "I was mesmerised by the divine charm in his personality. It was he who encouraged the handloom tradition at Sualkuchi," Deka, a follower of Gandhiji's policy of truth and non-violence, said.
"We got Independence after a long struggle and thought here ends our movement. We will see a new dawn of peace, prosperity and happiness. However, the next year, on January 30, 1948, Bapu was assassinated, that gave the message that divisive powers yet existed in the country," Deka said.
"I was 50 when the Assam movement (1979-1985) started. Assured of an infiltration-free Assam, we took part in processions, holding our children's hands. After 34 years, we are protesting once again. This time, we are holding the hands of our grown-up children who are still struggling against illegal foreigners.
"I have taken part in almost every anti-CAA movement in the district. I find hope in seeing the issue turn into a people's movement. It is enough to defeat divisive powers. I believe India can still be the country Gandhiji and B.R. Ambedkar envisioned — having humanity, equality, love and brotherhood," he said.
Deka called for satyagraha against CAA. "Those who believe in divisive ideology will be defeated and the Act will be withdrawn. An illegal foreigner is a foreigner, Hindu or Muslim. They must be detected and deported."
He said instead of trying to solve the problems of hunger, water, unemployment, education and health, the government was bringing in divisive laws. "Prime Minister Narendra Modi and chief minister Sarbananda Sonowal should understand that this was not the dream of Gandhi, Ambedkar, Rajendra Prasad and Jawaharlal Nehru."