City mourns boys' death in inferno
Two boys were burnt to death when a fire broke out in their house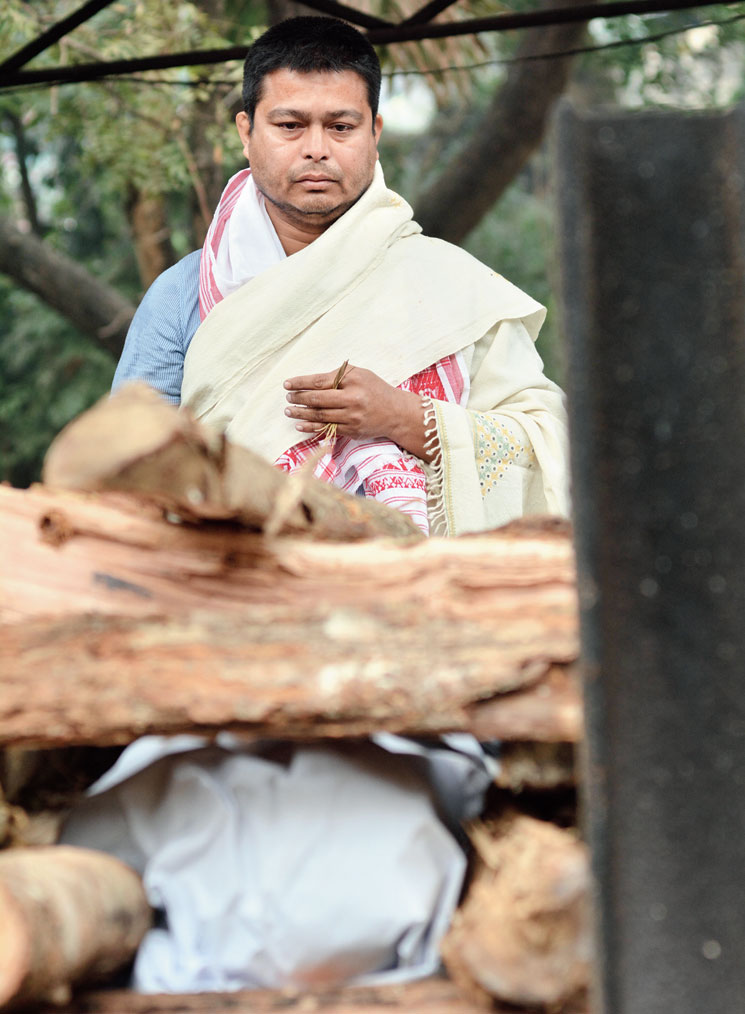 The boys' father, Tushar Goswami, performs the last rites at Navagraha crematorium in Guwahati on Friday
Picture by UB Photos
---
Guwahati
|
Published 24.01.20, 06:38 PM
|
---
Hundreds gathered at Wireless here to offer condolences to the family members of the two minor boys who died in an inferno that broke out in their house on Thursday.
Most had moist eyes, shaken by the tragedy that affected neighbours and even strangers.
The two boys, eight-year-old Ishan and three-year-old Ibon Krishnatreya, were burnt to death when a fire broke out in their house at Basisthapur bylane 1.
People came from different parts of the city and gathered at the ravaged house at noon while forensic officials took samples of burnt items inside the house.
A pall of gloom descended in the area as those gathered were left with teary eyes while offering condolences to the family members.
"It is unbearable. I couldn't watch the TV when the news came by. May such grief never come upon anyone. The intensity of the heat of the fire was so powerful that it could be felt from the road. One could hear the voices of the boys crying out for help to their mother. Their mother was running helplessly on the courtyard yelling and crying," a local resident said.
"When they found the boys' bodies they were found hugging each other under a bed," he added.
"A few of them tried to go inside but they were not able to do so. One of them braved the fire but when his trousers caught fire he backed off helplessly," a neighbour said.
"Many steps could have been taken to save the kids. If a blanket soaked in water is wrapped around one's body, a fire can be braved," a policeman deployed in the area said.
Some even rued the fact that onlookers were busy clicking pictures and recording videos when the fire broke out. Two bicycles belonging to the two brothers were seen parked on the verandah of the ground floor of the house.
Family members said the boys' mother, Silpi Goswami, was in a state of complete shock since Thursday.
The father, Tushar Goswami, performed the last rites of the boys at Navagraha crematorium.
Preliminary findings suggest that the fire on the first floor of the house was triggered by the explosion of an LPG cylinder following a short-circuit.