GenNext weightlifters aim to keep torch burning
Manipur contingent believes scientific infrastructure is key to success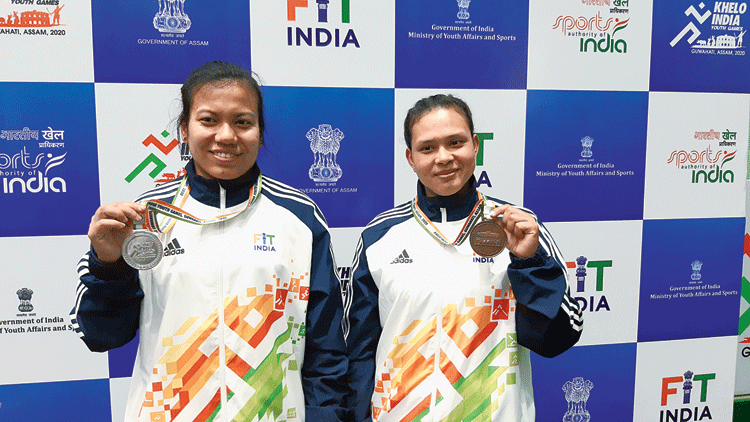 ---
|
Guwahati
|
Published 21.01.20, 07:27 PM
---
Young Manipuri weightlifters participating in the third Khelo India Youth Games (KIYG) here are determined to continue the legacy of legends such as N. Kunjarani Devi, Sanjita Chanu and Mirabai Chanu.
Though weightlifting is not a very popular sport in Manipur like football or boxing, this bunch of young weightlifters is all set to change the scene.
The 14-member team of the weightlifters has won nine medals so far and is placed third, but is striving hard to make it big in the days to come.
The state has a legacy of producing some of the big names of Indian sports, including in boxing, football and weightlifting, among others.
In weightlifting, after Sanjita and Mirabai, the state has not produced any world champions.
On Sunday, the Manipuri lifters won two silver and a bronze. On Monday, they added yet another medal in the tally with A. Anju Devi wining a silver in the 76kg category of Under-21.
"I am feeling good but was expecting gold. Fever affected my performance," P. Umeshwori Devi told this correspondent on Sunday after winning a silver.
She is also part of the national camp that will participate in the Asian Youth Weightlifting Championship to be held in Uzbekistan in February.
"There are some problems, but I am focused on the training so that I can do better. Obviously I would like to carry forward the legacy of Kunjarani Devi," Umeshwori, who won the medal in under-21 64kg weight category, added.
Arjuna awardee Kunjarani Devi, the most decorated Indian sportsperson in weightlifting, is from Manipur. After that the state has produced two world beaters — Sanjita Chanu and Mirabai Chanu.Sanjita has won two back-to-back gold medals in 2014 and 2018 Commonwealth Games in 48kg and 53kg weight categories respectively.
Mirabai has won a silver and a gold in 2014 and 2018 Commonwealth Games respectively in 48kg-weight category on both occasions.
On Sunday, Y. Shilheinganbi Chanu won a bronze as she fainted and fell down during her final turn in the 64kg category of under-21.
"Maybe I could have done better but it's alright. Since my childhood, I wanted to participate in weightlifting. This is my first love and I want to achieve my goals through this. Every athlete wants to represent the country in the Olympics and I also wish to do the same in the days to come," she added.
Sansam Brojendro Singh, one of the coaches of the Manipuri weightlifting contingent, said though weightlifting does not attract as many children as boxing or football, things are changing.
"Basically, we need scientific infrastructure where these youngsters can practise. The youths are coming up and they are determined to go to the next level," Brojendro said.
Speaking about Ch. Rishikanta Singh, one of the promising weightlifters of the state, Brojendro said he had won medals in international tournaments in recent times. Brojendro, along with T. Bobo Singh, who coaches youngsters at the National Sports Academy in Manipur, is accompanying the team here.