First northeastern state to propose such restrictions
BJP-led Assam government tables bill to ban cow slaughter
The Assam Cattle Preservation Bill, 2021, increases the jail term for unauthorised slaughter and transport of cattle and sale of beef from six months to up to eight years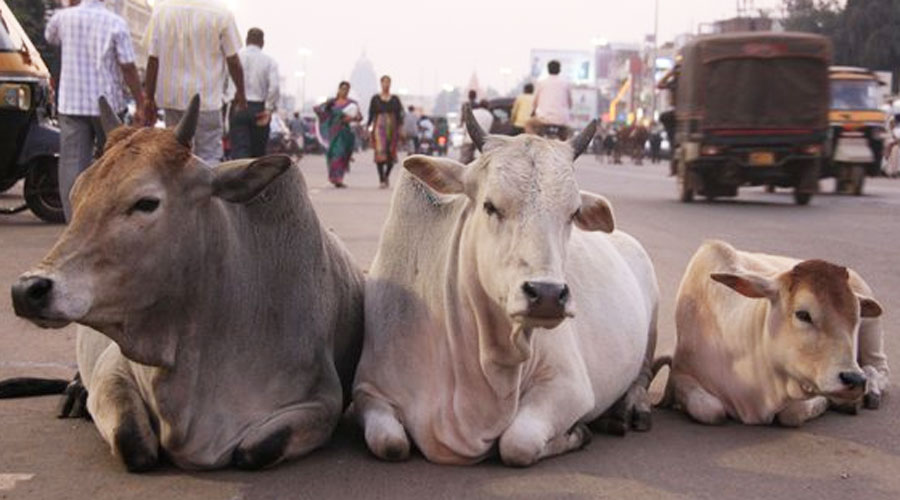 Assam, which has a 34 per cent Muslim population, is the first north-eastern state to plan such restrictions on slaughter and transport of cattle and the sale of beef.
File picture
---
Guwahati
|
Published 13.07.21, 02:12 AM
|
---
The BJP-led Assam government on Monday tabled a bill in the Assembly that imposes restrictions on the sale of beef and the transport of cattle, sharply increases the punishment for cattle slaughter without a permit and appears to suggest that no permit will be given to slaughter cows.
Assam, which has a 34 per cent Muslim population, is the first northeastern state to propose such restrictions. Beef is widely consumed in the region, which has a large Christian population.
Although cow protection is a pet project of the BJP and the wider Sangh family across India, it was not part of the party's vision document that was released before the March-April Assembly polls.
The Assam Cattle Preservation Bill, 2021, increases the jail term for unauthorised slaughter and transport of cattle and the sale of beef from six months to up to eight years and the fine from Rs 1,000 to up to Rs 5 lakh.
Beef and beef products will no longer be permitted to be sold in specified areas, it says. Sale will not be allowed in areas predominantly inhabited by Hindus, Jains, Sikhs and other non-beef-eating communities or within 5km of a temple, satra or other religious institutions belonging to the Hindu religion or any other institution or area as may be prescribed by the competent authority.
Assam chief minister Himanta Biswa Sarma, who tabled the bill that was approved by the cabinet last week, said there was an "imperative" to enact a legislation to include sufficient legal provisions to "regulate the slaughter, consumption and transportation of cattle" by repealing the Assam Cattle Preservation Act, 1950.
The 1950 law allowed the slaughter of cattle on certain conditions, such as that the animal is over 14 years of age or is permanently incapacitated. A fit-for-slaughter certificate issued by the competent authority was required.
While these conditions for cattle slaughter remain in the bill, the reference to cattle is followed by the words "not being a cow" or "not being a cow or heifer or calf". The suggestion appears to be that a blanket ban is being imposed on the slaughter of all cows.
The Opposition parties in Assam said they were going through the bill and that there was scope for a lot of amendments.
Cattle meant for slaughter will not be allowed to be transported without a valid permit to and from Assam or to pass through the state. A specific mention is made of transport of cattle from Assam to states where slaughter is not regulated.
This could cast a cloud on the cattle imports of Meghalaya, Mizoram and Nagaland. Beef is widely consumed in these three Christian-dominated states that also buy cattle from Assam and elsewhere for agricultural purposes.
The Meghalaya government has said it will take the matter up with Assam and the Centre if its supplies are affected. Meghalaya chief minister Conrad Sangma had said two days ago that the transit of cattle from states like Bengal, Bihar and Telangana should not be hampered because of the proposed Assam law.
Punishment
Those violating the bill's Sections 5 (prohibition of slaughter of cattle without certificate from competent authority), 6 (prohibition of slaughter of cattle in places other than a slaughterhouse) and 7 (restrictions on transport of cattle) shall be jailed for periods ranging between three and eight years, and/or fined amounts between Rs 3 lakh and Rs 5 lakh.
However, a trial court will have the authority to impose a punishment lighter than the minimum jail sentence. Repeat offenders will have to undergo "double" the prescribed punishment for the first offence.
The offences under the bill will be cognisable and non-bailable. Offences under the Assam Cattle Preservation Act, 1950, were bailable.
Photographs of absconding offenders will be put up at prominent places in the areas where they live and also other public places.